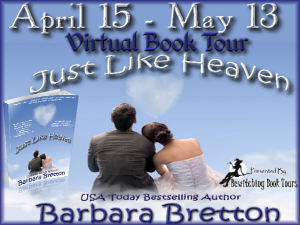 I am so Thrilled to have Barbara Bretton here for a chat today!!
Also Please make sure to check out my review of
1.   Please start by telling us a little bit about yourself. 
My name is Barbara Bretton and yes, I write under my real name. I was first published when I was nine years old in Katy Keene the Fashion Queen comic books and from that moment on I knew my destiny. And speaking of destiny, I met my husband when I was fifteen, experienced the romance novel standard of "love at first sight," married him at eighteen and remain happily married to him forty-something years later. How could I write anything but romance?
2.  When did you know that you wanted to write professionally and how did you take the leap to get into the business? 
See above. I always knew I would publish a book someday but spent my 20s writing and selling short stories, confession stories, articles and opinion pieces. It took a successful bout with cancer when I was 29 to remind me that life is short and maybe it was time to follow the rest of my dream. Two years later I sold my first novel to Harlequin and I was off and running.
3. Can you tell me a little bit about your book and what inspired it?
A good friend had a minor heart attack and was in a =very= embarrassing position (not to mention outfit) when the EMT team showed up. Let's just say that her mother was right about always wearing nice underwear. . .  It became a running joke with our crowd and ultimately the jumping-off point for Just Like Heaven. (With her blessing, I might add.) (And yes, she wishes to remain anonymous!) I love the opposites-attract theme and what could be more opposite than a widowed Episcopal priest and a happily-divorced lapsed Catholic? This isn't a book about religion, not by a long shot, but it is a book about love and being brave enough to step out of your comfort zone and take a chance on happiness.
4. What do you hope that readers take way with them after reading your book? 
Life is short. Enjoy it while you can. And embrace second chances!
5. What has been the toughest criticism given to you as an author? What has been the best compliment?
The toughest criticism came from my wonderful first agent who told me to stop writing from my head and start writing from my heart. It took me a few years to fully understand what she meant, but the advice proved to be invaluable. The best compliment? Any time someone spends a few hours of his or her life with my words.
6. What book is currently on your nightstand? And who are some of your favorite authors?
I'm currently rereading my beloved Robert B. Parker's Spenser books. "Hush Money" to be specific. A day spent with Spenser, Susan, and Hawk is definitely a great day. I'm looking forward eagerly to Barbara Delinsky's new release and wish our alphabet were longer so Sue Grafton could write another twenty-six Kinsey Milhones.
7. What do you like to do when you're not writing?
Knit, catch up on my favorite guilty pleasure TV shows, go for long drives with my husband.
8. Do you have any advice for aspiring writers?
Get your work out there and keep it out there. Rejection is part of the process. Allow yourself to learn from criticism but never lose sight of what makes your writing special. Your "voice" is the most important tool you have. And if you're looking to publish novels, write one first. Prove to yourself (and to prospective agents and editors) that you have what it takes to make it to the finish line. You won't regret it.
9. What can we expect from you next?
Audiobooks! JUST LIKE HEAVEN is in production right now. I found a fabulous narrator in Mary Ann Jacobs and can't wait for the finished product to get out there — maybe in time for beach listening!
This summer a dozen or so of my titles will be released through Audible.com, Amazon, and iTunes in audio form and I am excited beyond belief at the prospect. I've found some truly wonderful narrators in Moe Egan (AT LAST), Nan McNamara (THE EDGE OF FOREVER), Janine Hegarty (CROSSE HARBOR TIME TRAVELS), Christa G. Lewis (BUNDLE OF JOY)), Wendy Tremont King (SECOND HARMONY, A SOFT PLACE TO FALL), Braden Wright (MIDNIGHT LOVER), L. C. Kane (THE PAX SERIES, HER BAD BOY BILLIONAIRE LOVER), Yaz Manley (I DO, I DO . . . AGAIN), Mary Ann Jacobs (THE MARRYING MAN, JUST LIKE HEAVEN) and Patricia Fructuoso (CHARMED: A SUGAR MAPLE SHORT STORY).
10.  Do any animals share your life? Please tell us about them.
Three wonderful parrots who keep us in line. The youngest has been with us twenty years, the oldest forty years. It's an amazing thing to be able to share so much of your life with animals you love and who love you (and tell you so!) in return.
And now for a little bit of fun:)  This or That? 
Coffee or Tea?   TEA
Sweet or Salty?   SALTY
Beach or Lake?   BEACH
Winter or Summer?  WINTER
Cats or Dogs?   DOGS
Zombies or Vampires?   VAMPIRES
Country or City?  COUNTRY
Shower or Bath?   BATH
Morning or Evening?  EVENING (PREFERABLY DEAD OF NIGHT)(HMM. NO WONDER I LIKE VAMPIRES)
M&Ms or Skittles?  M&Ms (NEVER HAD A SKITTLE)
Trains or Planes?  TRAINS
Comedy or Drama?  DEPENDS ON MY MOOD. SOMETIMES I'M IN THE MOOD FOR "MY COUSIN VINNY" AND SOMETIMES I'M IN THE MOOD FOR "THE NOTEBOOK."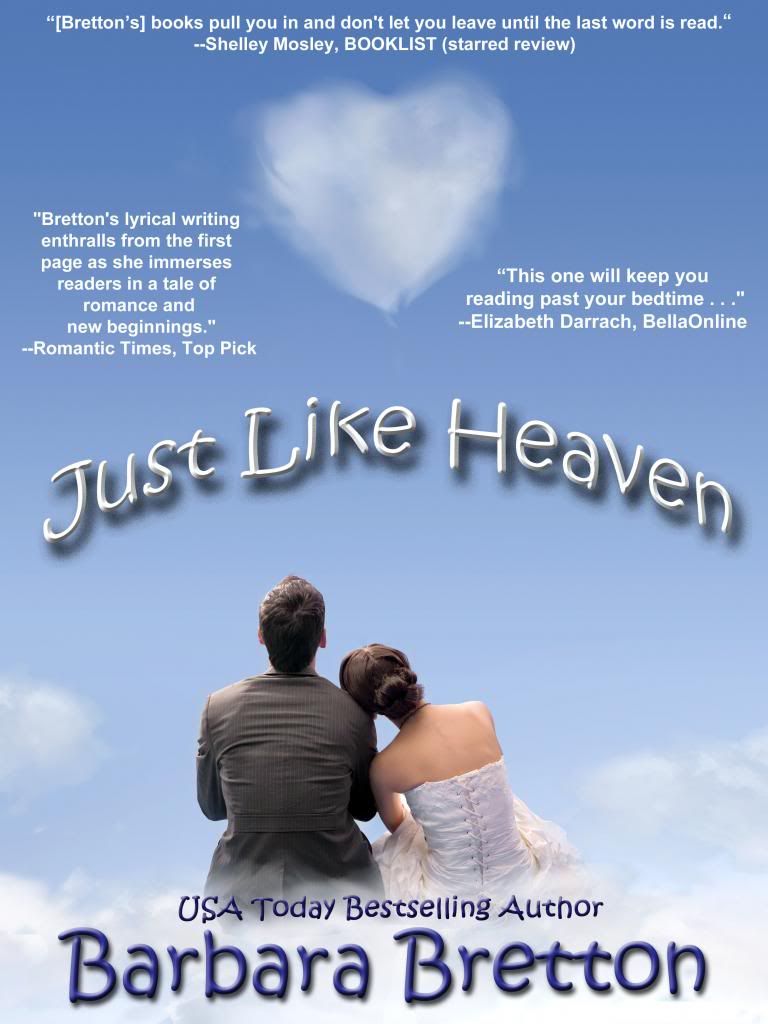 Genre:

  Contemporary romance/women's fiction
Publisher:

 Free Spirit Press 
previously pub.  by Berkley
Source:
Received for tour in exchange for an honest review
Because love can happen anywhere . . .

A beautiful morning in early spring. What could possibly go wrong?

Just returned from a buying trip in England, Kate French was jet-lagged and exhausted and running on fumes. She was already running late for an appointment but a wave of dizziness forced her to pull into the shopping mall parking lot in search of a quick fix of caffeine and protein.

When the pain first hit, she ignored it and continued racing across the parking lot toward the food court. But within moments she realized something was terribly wrong as her wobbly legs gave out and she dropped to the ground. The last thing she remembered as she started to fade away was the guy in the Grateful Dead T-shirt who held her in his arms and promised he'd never let her go.

Mark Kerry didn't think of himself as a hero but the story of a Good Samaritan who had saved a woman's life in the parking lot of the Princeton Promenade was attaining the status of suburban legend. Determined to return a stack of documents that had been left behind when the ambulance swept her away, he called in some favors and tracked her down at home one week later.

The moment Kate saw him again, the world and everyone in it disappeared. She knew his voice, the smell of his skin, the way his hands felt against her skin, the taste of his mouth, everything that mattered. All the things she would ever need to know about him.

And then she took another look . . . 

Coburn, New Jersey – 9:30 a.m.
Kate French shifted the phone from her left shoulder to her right and plunged her hand deeper into her lingerie drawer.
"Mom!" Her daughter Gwynn was no longer a teenager, but you would never know it from her tone of voice. "Are you listening to me?"
"I heard every syllable." Kate pulled out an orphaned hand-knit sock and a silky pink camisole carbon-dated from the Disco Era and tossed them on the bed behind her.
"So what should I do?"
Unfortunately Kate had shifted into maternal auto-pilot five minutes into the conversation and had lost track. Was Gwynn still debating her roommate Laura's excessive devotion to the New York Giants or had she segued into an old favorite of all the French women: a dissection of Kate's non-existent love life.
She bent down and peered deeper into the perfumed recesses. One pair of plain cotton panties. Was that too much to ask for? "Run it by me again, honey."
"I know what you're doing," Gwynn said. "You're answering emails while I'm pouring out my heart to you. I really wish you wouldn't do that."
"Gwynnie, I'm not on the computer."
"I can hear the keys clicking."
"What you hear is the sound of your mother searching her lingerie drawer for a pair of —"
"Hold on! I have another call."
The distance between the thirteen-year-old girl her daughter used to be and the twenty-three year old woman she was hadn't turned out to be quite as wide as Kate had hoped. She glanced over at the clock on her nightstand. Come on, Gwynnie. I have things to do.
"That was Andrew." Gwynn the daughter had been replaced by Gwynn the girlfriend. She sounded almost giddy with delight. The sound hit Kate's ears like fingernails on a chalkboard. "He called from the boat! Isn't that the—"
"I'm going to hang up now," Kate said. "I have an appointment down in Princeton and I'm running late. We can pick this up another time, can't we, honey?"
"But, Mom, I still haven't—"
"I know, I know, but this can't be helped. I want to hear everything you have to say, honey, but not right this minute."
"You're going to Princeton?"
"Yes, but not if I don't get out of here in the next ten minutes."
"If I leave now I could meet you for lunch at the Mexican place and I can tell you my news in person."
"I thought you were working lunch shift at O'Malley's during the week."
"Mondays are slow. They won't miss me."
"You can't just not show up, Gwynn. That's how you lost your last job." And when you do show up, you're always late. That's not how you get ahead.
"You always do that to me."
"Do what?" She glanced at her watch. Was she the only one in the family who believed in punctuality?
"Keep score. Why can't you just accept that my career path isn't like yours and let me live my life my own way?"
"Gwynnie, do we need to have this conversation right now?" She was still on London time and not up for a discussion of individual rights and freedoms with an independent young woman who still expected mommy to foot the bill for her car insurance.
"You sound pissed."
"What I sound is jetlagged." She waited for the appropriate response from her only child but none was forthcoming. "Did you forget I've been in England for almost ten days? I got home very late last night and I'm still on London time." Does any of this ring a bell, Gwynn? She liked to believe most daughters would notice when their mothers were out of the country.
"You've been gone forever. That's why I have so much to talk to you about."
"Honey, this can't be helped. I really have to go."
"Are you okay?" Gwynn asked. "You're not acting like yourself."
"We'll talk later, honey," she said and then disconnected.
Normally Kate would have felt guilty for cutting her daughter short but today she only felt relieved. She loved Gwynn more than life itself but her daughter's melodramatic outbursts had a way of sucking the oxygen right out of her lungs.
"Okay," she said as she tossed the cell onto the bed. "Let's get down to business."
There had to be something wearable in the house. A ten-day trip to the U.K. shouldn't deplete a woman's reserves. She pulled out the second drawer of her lingerie chest and dumped the contents in a pile. T-shirts from various island paradises. A garter belt with tiny roses embroidered across the handmade lace, remains of a long ago Valentine's Day celebration. More bras than any one 34B woman needed in three lifetimes. A puka shell necklace. The black lace mantilla she had found in a shop in Seville during her last married vacation. Ticket stubs, a McCarter playbill, a deflated balloon dachshund, and what was easily the worst birthday present her mother had ever given her: the infamous red lace thong.
Maeve had come of age at the start of the turbulent 60s and she believed in shaking up the status quo whenever she had the chance. How better to ignite some passion in her forty-year-old daughter's life than to present her with outrageously sexy underwear in front of friends, colleagues, relatives, and a half-dozen prospective boyfriends. Unfortunately the passion Maeve ignited in her daughter had nothing to do with romance and everything to do with embarrassment. Kate had tried to be a good sport about it but it had taken every ounce of self-control at her command to keep from throttling her own mother.
She held up the thong. It wouldn't cover a Barbie doll, much less a full-size woman. What on earth had Maeve been thinking?
She considered making a quick run to Target for a three-pack of Jockey for Women but the clock was ticking and Professor Armitage wasn't known for his patience. And there was the fact that she was way beyond exhausted. Jet lag rarely bothered her, but today she was having trouble keeping her eyes open long enough to finish getting dressed.
She cringed her way into the scrap of lace and elastic then peered at herself in the mirror opposite the bed. That was better than a jolt of caffeine. The thong should have come with a warning sticker. This much reality so early in the morning was hard to take.
She looked closer. That couldn't possibly be right. The human body wasn't supposed to have quite so many indentations. Maybe they should add an instruction label too for the lingerie-impaired. She slipped off the thong, spun it around, then tried again.
A forty-one year old woman with a red lace wedgie was a sight to behold.
Thank God it was a sight nobody else on the planet would likely ever see.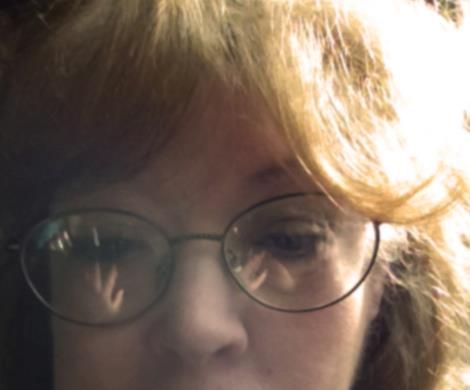 Barbara Bretton is the USA Today bestselling, award-winning author of more than 40 books. She currently has over ten million copies in print around the world. Her works have been translated into twelve languages in over twenty countries.
Barbara has been featured in articles in The New York Times, USA Today, Wall Street Journal, Romantic Times, Cleveland Plain Dealer, Herald News, Home News, Somerset Gazette,among others, and has been interviewed by Independent Network News Television, appeared on the Susan Stamberg Show on NPR, and been featured in an interview with Charles Osgood of WCBS, among others.
Her awards include both Reviewer's Choice and Career Achievement Awards from Romantic Times; Gold and Silver certificates from Affaire de Coeur; the RWA Region 1 Golden Leaf; and several sales awards from Bookrak. Ms. Bretton was included in a recent edition of Contemporary Authors.
Barbara loves to spend as much time as possible in Maine with her husband, walking the rocky beaches and dreaming up plots for upcoming books.

Barbara is offering a signed copy of Just Desserts to one lucky reader.
Open to US Shipping only.
Content ©2011-2013 Melissa's Eclectic Bookshelf ~ ~
If you are reading this anywhere other than Melissa's Eclectic Bookshelf, a feed reader, or via email subscription, then this content has been stolen.