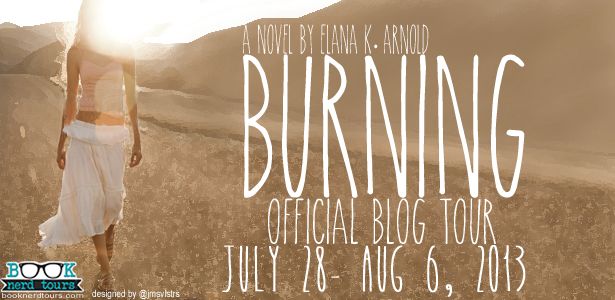 I am happy and pleased to welcome Elana K Arnold to Melissa's Eclectic Bookshelf today! Follow the rest of the tour here!
The Interview


1. Please start by telling us a little bit about yourself.
Okay, how's this… Elana K. Arnold, nee Elana Kuczynski, always wanted a twin. Sadly, that was not in her cards. Though this dream was destined to remain unfulfilled, not all of her aspirations have gone unanswered. She has managed to collect a frightening assortment of pets, she gets to homeschool her kids, and her love of coffee has remained unchecked. Now, if only she could manage to grow her hair out, once and for all, she could probably lay to rest her disappointment over her continued lack of an identical twin.

2. When did you know that you wanted to write professionally and how did you take the leap to get into the business?
I have always wanted to write professionally. The harder question was if I wanted to write even if I couldn't guarantee I could make it a profession. It took me until I was 35 to determine that yes, I had stories I was determined to tell, whether or not I sold them. It was this first story—SACRED—that got me an agent and an editor. My brain changed, I think, in my early 30s, and I was better able to see the big picture, and the connections I needed to be able to make in order to finish a novel. I have been on fire ever since. I am a little fearful that the fire I've felt may burn out, but I really hope that doesn't happen.

3. Can you tell me a little bit about your book and what inspired it?
When I sold SACRED, I also sold its unwritten sequel, SPLENDOR. But I was terrified to write it… I didn't feel that I was a good enough writer, yet, to take on a sequel. Everything in a sequel has to be bigger, and deeper, and more nuanced than the first book, and I also had a lot of Kabbalah research to do. So, I avoided writing it, and decided to play with this idea I had, about a Romani girl—a gypsy—but not a cliché, a real girl with real desires and fears. Lala White was born. Then, I heard on NPR about a small mining town in Nevada that was on the edge of closing town. The town mined gypsum. Those words—gypsum, and gypsy—made my Scooby ears stand up. I was hooked.

4. What do you hope that readers take way with them after reading your book?
I think BURNING is really a story about choices, and consequences. It's about freedom, and the responsibility that comes with freedom. One blogger said about BURNING, "When I finished reading the last words of this book my initial thoughts were: "that is probably the most beautiful thing I have ever read." I FELT liberated, I FELT free… I feel like conquering the world now, like choosing things because it is what I WANT to choose… Often times we live our life the way it is "supposed to be lived." But this book empowers you!"
Of course I love that she thought the ending was so beautiful, but even more I am thrilled that BURNING left her feeling empowered and on fire to life her life.

5. I find it interesting to know what environment authors find most productive… Do you use a pen and paper or laptop? Quiet room at home or bustling café? Basically, what gets your creative juices flowing?
I always write on my laptop, but I write everywhere: curled up on my couch surrounded by animals. In a café. In my car while my kids are at their Kung fu lessons. At the park. In bed. In the bath. As a mom and animal hoarder, I don't really have the luxury of waiting for my creative juices to flow. I just get to work, wherever I can.


6. What has been the toughest criticism given to you as an author? What has been the best compliment?
I think the most meaningful feedback I've gotten was from a teen who felt inspired by Scarlett's journey in SACRED to take a serious look at her own eating disorder, and to take ownership over her personal journey back to healthfulness. The toughest criticism (so far!) was from Kirkus, a big-time book reviewer, who called SACRED "schlock," which is Yiddish for "shit." This seemed kind of a smarmy thing to say about a book that explored Jewish mysticism, and it was my first "real" review, so it hurt.

7. What book is currently on your nightstand? And who are some of your favorite authors?
Right now, I am reading a stack of books about Christian religious sects in preparation for a new novel idea, and there are always one or two Agatha Christies flung about my house. Reading her mysteries sets my mind into problem solving mode, and even though I never figure out whodoneit (no matter how many times I read her books!), I always come away from reading her mysteries ready to see my own stories from a new angle.

8. What do you like to do when you're not writing?
Well… I like to get massages and pedicures and ride horses and eat rare steaks. But what I do when I'm not writing is dishes and laundry and litterbox detailing and grocery shopping and chauffeur my kids to their classes. And dream about my next book.

9. Do you have any advice for aspiring writers?
Of course, read. Find out what you like, and then write the book you'd be thrilled to discover on a library shelf. Write what you love, not what you think you should write. And, be gentle with yourself. There is time.

10. What can we expect from you next?
I finally did write SACRED's sequel, SPLENDOR! It will be published in November. I am so excited for this book to come out. I love its ending so, so much.

11. Do any animals share your life? Please tell us about them.
Ha! This is a funny question. Yes. I have a dog, two hairless cats, two baby tortoises, three chickens, a little parrot, and a ferret named Vegas. Plus two children.


And now for a little bit of fun:) This or That?


Coffee or Tea? Coffee in the morning, tea at teatime
Sweet or Salty? Sweet
Beach or Lake? Beach
Winter or Summer? Summer
Cats or Dogs? Can I say both?
Zombies or Vampires? Zombies, all the way
Country or City? Country
Shower or Bath? Shower
Morning or Evening? Mid-afternoon
M&Ms or Skittles? M&Ms
Trains or Planes? Trains
Comedy or Drama? Drama

The Book
Title: Burning
Author: Elana K Arnold
Age Group: New Adult
Genre: Contemporary
Pages: 320
Publisher:Delacorte Press
ISBN: 978-0385743341
Publication Date: June 11, 2013
Available Formats: Hardcover, E-Book
Add the book: Goodreads
Buy the book: Amazon | The Book Depository | B&N
Synopsis:
Ben: Having just graduated from high school, Ben is set to leave Gypsum, Nevada. It's good timing since the gypsum mine that is the lifeblood of the area is closing, shutting the whole town down with it. Ben is lucky: he's headed to San Diego, where he's got a track scholarship at the University of California. But his best friends, Pete and Hog Boy, don't have college to look forward to, so to make them happy, Ben goes with them to check out the hot chick parked on the side of Highway 447.
Lala: She and her Gypsy family earn money by telling fortunes. Some customers choose Tarot cards; others have their palms read. The thousands of people attending the nearby Burning Man festival spend lots of cash–especially as Lala gives uncanny readings. But lately Lala's been questioning whether there might be more to life than her upcoming arranged marriage. And the day she reads Ben's cards is the day that everything changes for her. . . and for him.
ELANA K. ARNOLD completed her M.A. in Creative Writing/Fiction at the University of California, Davis. She grew up in Southern California, where she was lucky enough to have her own horse–a gorgeous mare named Rainbow–and a family who let her read as many books as she wanted. She lives in Long Beach, California, with her husband, two children, and a menagerie of animals. She is represented by Rubin Pfeffer of the East/West Literary Agency. Sacred is her debut novel.
3 Winners will receive a Copy of Burning by Elana K. Arnold.
1 Winner will receive a Surprise ART Poster and Bookmark by James Vallesteros.
5 Winners will receive a Surprise ART Bookmark by James Vallesteros.
Must be 13+ to Enter
International Giveaway