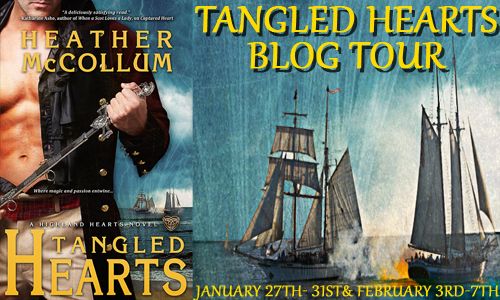 Interview
1. Please start by telling us a little bit about yourself. 
Thanks so much for having me here today on Melissa's Eclectic Bookshelf! I'm a mom of three, a dog-mom of one rescued golden retriever, wife of my own Highland hero, a teal warrior who beat ovarian cancer, and a romance writer. TANGLED HEARTS makes my sixth full-length romance out, all of them historical paranormal. I love peppermint hot chocolate with whipped cream, creating elaborate birthday parties for my kids, dragonflies, and walking with my very bouncy dog.
2. When did you know that you wanted to write professionally and how did you take the leap to get into the business? 
When my first child was born fifteen years ago I decided, after surviving the first 4 months as a new mom, to go to a local romance writer's meeting. There I met a wonderfully supportive group of writers. They gave me encouragement to finish the book I had been writing on and off for several years. It seems I have always written, since I was young, but I'd never finished an entire book. They told me I should and I could, and I did.
It wasn't really "leaping" though until I first sent in my manuscript to a publishing house a year later. It was rejected, but it was a start. Christina Dodd once said "submitting your manuscript is like standing on stage, pulling down your pants, and asking for comments." Scary! And true.
3. Can you tell me a little bit about your book and what inspired it?
TANGLED HEARTS combines the opulence and court intrigue of The Tudors and the raw adventure and humorous essence of the Pirates of the Caribbean. Dory is a witch, pirate, heiress on an impossible mission. Ewan is simply fulfilling a promise with a goal of returning to a familiarly comfortable life in the Highlands. When their adventures collide and they must work together to survive Henry VIII's court, their worlds and then their hearts become irreparably tangled together.
The first book set in this 16th century world, CAPTURED HEART, takes place up in Scotland, but in TANGLED HEARTS, the action takes place down in England. Mostly because I wanted a chance to write King Henry VIII. The man fascinates me. I was addicted to the TV show, The Tudors, and I read several biographies on this twisty, powerful monarch. During my recent trip abroad to Britain my muse and I were able to walk the very halls he strode down. It was spine-tingling amazing!
4. What do you hope that readers take away with them after reading your book? 
I'd love for them to learn a bit about Henry Tudor and his court, and how dangerous it was to play within the circles of intrigue. The gowns and opulence may have been fabulous, but it all came at a price.
I also hope my readers just really love Ewan and Dory as much as I do. I want you to be sitting on your comfy couch reading and suddenly laugh out loud at some of Dory's comments. I want you to understand her vulnerability despite her rowdy mouth and snapping eyes. And I want you to appreciate the strength in Ewan, haunted by his past but refusing to let it make him bitter and angry. Sigh…I just love them.
5. I find it interesting to know what environment authors find most productive… Do you use a pen and paper or laptop? Quiet room at home or bustling café? Basically, what gets your creative juices flowing?
Over the last few years I've undergone monumental changes in the way I live due to an ovarian cancer diagnosis and 15-month chemo adventure. Something like that changes every aspect of a person, including what lures my muse out to play. I used to write with loud music (my soundtrack) playing in my ears at a café or bookstore. Now I like to write at home on my back porch or at my lovely desk whom I've named Eleri. I have a lap top so that makes it quite easy to sit on the back screened porch on nice days and listen to the birds while I write.
One thing hasn't changed though. I must have a hot beverage to entice my muse out of her cozy den. Usually a cinnamon-rich Chai Latte or a Toasted-Almond tea with cream. I'm sipping a latte right now, actually : )
I also used to create (and still do) a collage at the beginning of each new project. I cut out pictures and words that remind me of my characters. While creating this visual I get wonderful plot ideas and the characters develop as I cut and paste.
6. What has been the toughest criticism given to you as an author? What has been the best compliment?
Before I was published, an editor and judge in the Maggie Writing Contest told me she didn't believe my heroine would act like she did at the end, that my motivation was flawed. This was really hard for me to accept, but after I stepped back from the work for a week and then looked again, I realized she was dead-on right. I changed the book, made it much stronger and went on to publish it (PROPHECY, Book 1 of The Dragonfly Chronicles). I saw this editor once at a conference and made a point to thank her personally.
I think the best compliment I've received so far was from an 80-year-old grandmother who e-mailed me to say that I wrote just like her favorite author, Julie Garwood! Squee! Since I've grown up reading Julie Garwood, and loving her books, I was over-the-moon thrilled!
7. What book is currently on your nightstand? And who are some of your favorite authors?
I am currently reading Gena Showalter's Alice in Zombieland and loving it! I love Darynda Jones's grim reaper series, Karen Marie Moning, Julie Garwood and Jenna Black's YA series just to name a few.
8. What do you like to do when you're not writing?
Like I mentioned briefly, I have three kids and a very rambunctious rescued golden retriever who take up most of my non-writing time. I also spend a lot of time educating women about the symptoms of ovarian cancer. I speak to women's groups and medical students, and I sponsor tables at educational shows where I can hand out symptom cards. What are the symptoms you ask (because any sane woman should)?
Bloating that is persistent
Eating less & feeling fuller
Abdominal pain
Trouble with your bladder
Other symptoms may include fatigue, constipation, menstrual issues, pain during intercourse, back pain, and indigestion. If you have even just one of these symptoms consistently for more than three weeks, please go see your GYN.
9. Do you have any advice for aspiring writers?
Keep moving forward. Even a sentence a day is moving forward. Keep your story in your head and keep writing. We improve with each sentence we write.
10. What can we expect from you next?
I have a long novella coming out after TANGLED HEARTS and then the third full-length novel in the series, CRIMSON HEART. I also have my first YA paranormal romance (SIREN'S SONG) coming out in about a month.
11.  Do any animals share your life? Please tell us about them.
Sophie is my rescued golden retriever. We took her in from a rescue organization four years ago. She'd been abused and it took about a year for her to trust me to even touch her tail. Now we walk everyday together. She rolls around with my three kids and husband and is loved VERY much. She's very protective of us and sounds like she will rip off the Fed Ex guy's head when he comes to the door. I sleep well with Sophie in the house : )
And now for a little bit of fun:)  This or That? 
Coffee or Tea?   Tea most definitely. I often make up a pot and sip from a china tea cup in the afternoon. And I'm not even British!
Sweet or Salty?   Oh, I have a terrible sweet tooth. No amount of veggie green juice that I make will tame it either.
Beach or Lake?  Both, but I guess I'd say beach because there are less bugs.
Winter or Summer?  Winter most definitely. Where I live summers are brutal. Don't ever touch a kid's balloon to a car in the summer here. Wailing will ensue as the balloon explodes.
Cats or Dogs?  Dogs, but kitties sure are cute. I love that show Too Cute! But alas…I'm allergic.
Zombies or Vampires?   I'm a huge Edward Cullen fan so vampires – the sparkly kind.
Country or City?  I'm a country lover. Quiet, with soft breezes and walking trails. Ahh…
Shower or Bath?   I love baths but rarely have time.
Morning or Evening?  Mornings are so full of potential. I just love them unless they are too early. I also suffer from insomnia so as evening falls I start to get anxious about not being able to fall asleep.
M&Ms or Skittles?  Chocolate all the way!
Trains or Planes?  Trains. If the engine stops working you don't fall 30,000 feet to your death.
Comedy or Drama?  Comedy. I LOVE to laugh. It is one of the best medicines. I feel so much better after watching a hilarious movie. I really don't like crying over fiction. There is enough to cry about in reality, so I'd rather lose myself in something fun.
Thanks again for having me here today. What fun questions! For more info about me, my books, or ovarian cancer please check out my web site: www.HeatherMcCollum.com. I'm also on Twitter at @HMcCollumAuthor and on Facebook at HeatherMcCollumAuthor. Have a fabulous, fairies-leave-you-four-leaf-clovers kind of day!
The Book
Title:Tangled Hearts
Series: Highland Hearts #2
Author: Heather McCollum
Age Group: Adult
Genre: Historical Romance
Pages: 300
Publication Date: January 28, 2014
Publisher:Entangled Select
Available Formats: Paperback, E-book
Find it: Goodreads
Buy it: Amazon | Barnes & Noble

Synopsis:
The Tudors take on The Pirates of the Caribbean in this 16th century romantic adventure!
Pandora Wyatt is the most complicated woman alive. Raised by a pirate captain, Dory risks exposure of her magic to free the only father she's ever known from the Tower of London. But when she's tied to a smoldering witch's pyre, her powers aren't enough to save her.
Ewan Brody is on a mission to deliver a traitor's corpse to King Henry VIII when he rescues a beautiful spitfire from a horrific fate. Saving the lass's life leads him on an adventure he never intended. Thrust together in the roles of husband and wife, they dodge royal intrigue, dark twists, and secrets as they attempt to find the true traitor at the Tudor court.
Magic and adventure spark, igniting a fire between Ewan and Dory, consuming them and tangling their hearts together forever. But to reach forever, they first need to survive the day.
The Author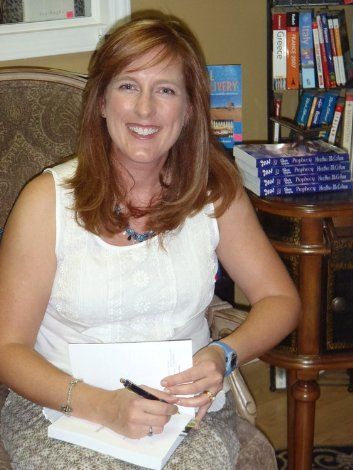 Heather McCollum is an award winning, historical paranormal romance writer. She earned her B.A. in Biology from the University of Maine, much to her English professor's dismay. She is a member of Romance Writers of America and was a 2009 Golden Heart Finalist. Ms. McCollum has four full length historical, paranormal romances released in both electronic and digital formats. She also has one short novella released in electronic format.
When she is not busy writing and answering calls of "Mom", she can be found educating women about ovarian cancer. She is a teal warrior herself and just finished slaying the ovarian cancer beast.
She currently resides with her very own Highland hero and three spirited children in the wilds of suburbia on the mid-Atlantic coast.
More information about Ms. McCollum and her books can be found at www.HeatherMcCollum.com.
Find the author:   Website/Twitter/Facebook/Goodreads
The Giveaway
1 $25 Amazon Gift Card US Only
3 eBooks of TANGLED HEARTS International
Week 1:
1/27/2014- A Step to the Side– Review
1/27/2014- Review From Here– Interview
1/28/2014- Dandelionn Wine Book Blog – Review
1/28/2014- Preternatura– Interview
1/29/201- My Book Addiction and More– Review
1/29/2014- Manga Maniac Café– Guest Post
1/30/2014- Doing Some Reading– Review
1/30/2014- Literary Escapism– Guest Post
1/31/2014- Melissa's Eclectic Bookshelf– Interview
1/31/2014- Sarah's Bookshelf– Review
Week 2:
2/3/2014- Swept Away By Romance– Review
2/3/2014- Reader Girls– Guest Post
2/4/2014- Always Reiding– Review
2/4/2014- Mundie Moms– Interview
2/5/2014- To Read or Not To Read– Guest Post
2/5/2014- 3 Partners in Shopping, Nana, Mommy, & Sissy, Too!– Review
2/6/2014- In Vogue with Books– Review
2/6/2014- All Things Urban Fantasy– Guest Post
2/7/2014- a chick who reads– Review
2/7/2014- Fade Into Fantasy– Interview