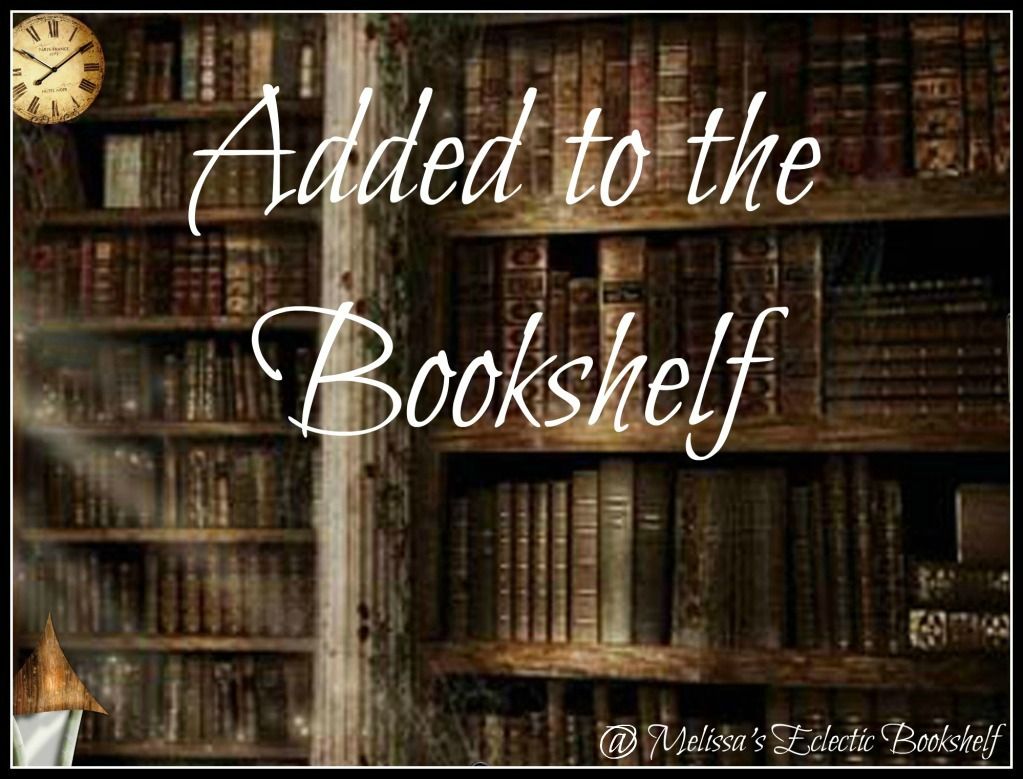 (Inspired by Mailbox Monday, IMM, Clock Rewinders and the like)
Notes from Melissa
Another week flown by! Where in the wold is Autumn going?!  I am actually progressing well with my NetGalley Challenge for this month.  Feel free to checkout my progress by clicking on the button.
I wish that I could say the same about the Blog Ahead Challenge…but as I am currently sitting here on Sunday morning preparing this post for today and have nothing else scheduled …period…that is a big failure so far. I have a busy work week coming up but  I am still hoping that I'll be able to turn it around by end of month.  If noting else there is a nice long weekend after Thanksgiving:)
Recently on Melissa's Eclectic Bookshelf:
What I Finished Last Week:
The Sweetest Thing (Lucky Harbor #2) – Jill Shalvis
Head Over Heels (Lucky Harbor #3) – Jill Shalvis
Afterworlds – Scott Westerfeld (Audiobook)
What I Am Reading Today:
Beautiful Disaster (Beautiful #1) – Jamie McGuire
A Sudden Light – Garth Stein (Audiobook)
Ongoing Giveaways:
♥ $50 Amazon Gift Card or Paypal Cash (11/30)
♥ Paperback Copy of WHILE BEAUTY SLEPT (11/25)
♥ $10 Amazon Gift Card, SIGNED copy of GAME ON (11/16)
♥ 10 Copies of TAINTED BLOOD and Custom Made Vampire Stakes (11/18)
♥ 5 Print Copies of WITCH RESURRECTED (11/25)
Added to the Bookshelf Last Week:
For Review:
Title: A Sudden Light
Author: Garth Stein
When a boy tries to save his parents' marriage, he uncovers a legacy of family secrets in a coming-of-age ghost story by the author of the internationally bestselling phenomenon, The Art of Racing in the Rain.

In the summer of 1990, fourteen-year-old Trevor Riddell gets his first glimpse of Riddell House. Built from the spoils of a massive timber fortune, the legendary family mansion is constructed of giant, whole trees, and is set on a huge estate overlooking Puget Sound. Trevor's bankrupt parents have begun a trial separation, and his father, Jones Riddell, has brought Trevor to Riddell House with a goal: to join forces with his sister, Serena, dispatch Grandpa Samuel—who is flickering in and out of dementia—to a graduated living facility, sell off the house and property for development into "tract housing for millionaires," divide up the profits, and live happily ever after.

But Trevor soon discovers there's someone else living in Riddell House: a ghost with an agenda of his own. For while the land holds tremendous value, it is also burdened by the final wishes of the family patriarch, Elijah, who mandated it be allowed to return to untamed forestland as a penance for the millions of trees harvested over the decades by the Riddell Timber company. The ghost will not rest until Elijah's wish is fulfilled, and Trevor's willingness to face the past holds the key to his family's future.

A Sudden Light is a rich, atmospheric work that is at once a multigenerational family saga, a historical novel, a ghost story, and the story of a contemporary family's struggle to connect with each other. A tribute to the natural beauty of the Pacific Northwest, it reflects Garth Stein's outsized capacity for empathy and keen understanding of human motivation, and his rare ability to see the unseen: the universal threads that connect us all.
Title: You
Author: Caroline Kepnes
How far would you go for the perfect love? A young man's dark obsession with an enigmatic, gorgeous writer leads to murderous consequences in this erotic psychological thriller.

You walk into the bookstore and you keep your hand on the door to make sure it doesn't slam. You smile, embarrassed to be a nice girl, and your nails are bare and your V-neck sweater is beige and it's impossible to know if you're wearing a bra but I don't think that you are. You're so clean that you're dirty and you murmur your first word to me—hello.

When aspiring writer and recent Brown graduate Guinevere Beck strides into the bookstore where Joe works, he's instantly smitten. Beck is everything Joe has ever wanted: she's gorgeous, tough, razor-smart, and sexy beyond his wildest dreams. Joe needs to have her, and he'll stop at nothing to do so.

As he begins to insinuate himself into her life—her friendships, her email, her phone— she can't resist her feelings for a guy who seems custom-made for her. So when her boyfriend, Benji, mysteriously disappears, Beck and Joe fall into a tumultuous affair. But there's more to Beck than her oh-so-perfect façade, and their mutual obsession quickly spirals into a whirlwind of deadly consequences…

Dark, masterful, and timely, debut novelist Caroline Kepnes's You is a perversely romantic thriller that's more dangerously clever than any you've heard before. A chilling account of unrelenting passion, this tale of love, sex, and death will stay with you long after the story ends…
For Review Consideration:
Title: Game On
Author: Collette West
Pitching phenom Bruce "Jilly" Gillette has a hard time talking to women. His hulking presence of tattoos and muscles is what makes him an intimidating closer on the mound, yet off the field, he's painfully shy, uncomfortable in his own skin.

Desperate to revamp his loner image, the New York Kings hold a dream date contest, granting the lucky winner a night on the town with their surly reliever, doing whatever it takes to force Jilly out of his comfort zone.

Hailey Halpert enters the contest on a whim, looking for answers as to why her high school relationship with Jilly hit the skids. Now she's a popular romance author writing under a pen name, and her reappearance in Jilly's life is no accident. It turns out that her novels are all about the sexy players on the Kings, and Jilly has no clue that he's about to become her new leading man.
Library Finds:
Title: Beautiful Disaster (Beautiful #1)
Author: Jamie McGuire
INTENSE. DANGEROUS. ADDICTIVE.

Abby Abernathy is a good girl. She doesn't drink or swear, and she has the appropriate number of cardigans in her wardrobe. Abby believes she has enough distance from the darkness of her past, but when she arrives at college with her best friend, her path to a new beginning is quickly challenged by Eastern University's Walking One-Night Stand.

Travis Maddox, lean, cut, and covered in tattoos, is exactly what Abby wants—and needs—to avoid. He spends his nights winning money in a floating fight ring, and his days as the ultimate college campus charmer. Intrigued by Abby's resistance to his appeal, Travis tricks her into his daily life with a simple bet. If he loses, he must remain abstinent for a month. If Abby loses, she must live in Travis's apartment for the same amount of time. Either way, Travis has no idea that he has met his match.
Won:
Title: Chorus Lines, Caviar, and Corpses (Happy Hoofers Mystery #1)
Author: Mary McHugh
First In A New Series–With Recipes!

There's no pussy-footing around murder . . .

It's never too late to kick up your heels. Just ask Tina, Janice, Pat, Mary Louise, and Gini–aka the Happy Hoofers. After posting a video of their tap-dancing routine on the Internet, the leggy ladies find themselves booked to perform on a Russian river cruise up the Volga from Moscow to St. Petersburg.

But when murder cuts in, the five fabulous friends find it's not so easy to tap their troubles away. A crew member has been killed, and a passenger is missing. With a killer on board, the Hoofers need to watch their step. But with a little fancy footwork, these soft-shoe sleuths may get a leg up on a killer who's cruising for a bruising. . .

Includes Travel Tips And Tasty Recipes
That's all for me this week!
What new goodies have arrived on your doorstep?
Leave me a link in the comments and I'll come check out your post!