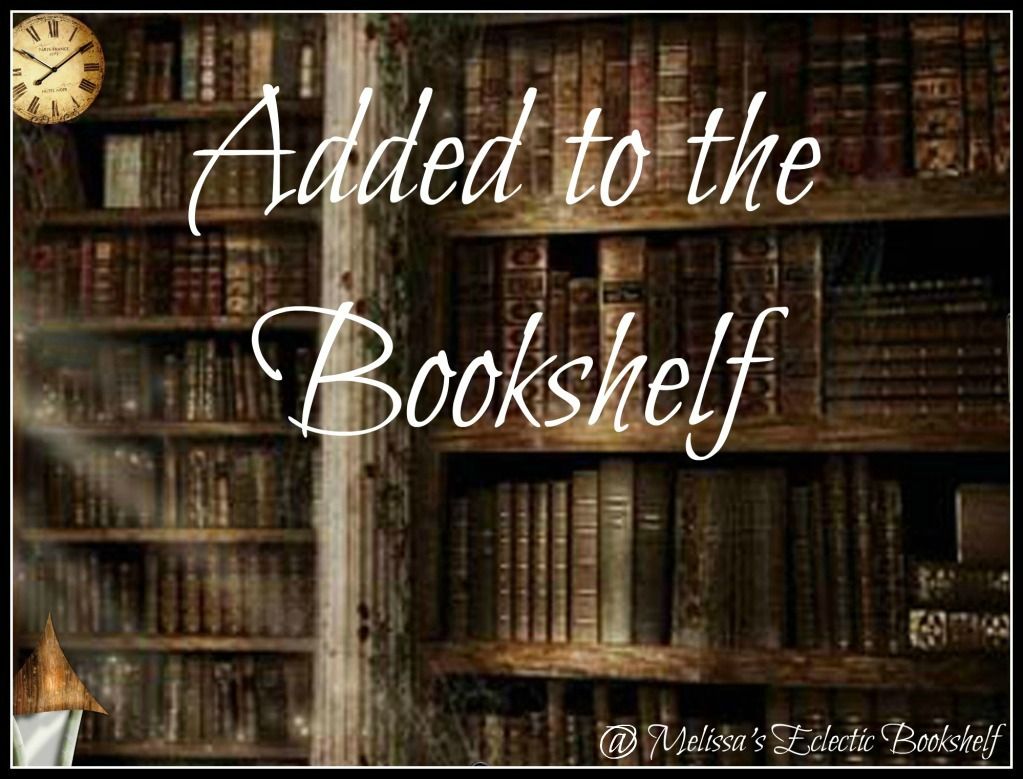 (Inspired by Mailbox Monday, IMM, Clock Rewinders and the like)
Melissa's Notes:
I hope that everyone who celebrated had a wonderful Thanksgiving Holiday! We had everyone over here on Thursday and then went to the in-laws on Saturday so we were lucky enough to stuff ourselves twice. And we are still working on left overs.
Recently on Melissa's Eclectic Bookshelf:
What I Finished Last Week:
Dearly, Departed (Gone With the Respiration #1) – Lia Habel
What I Am Reading Today:
First Frost (Waverley Family #2) – Sarah Addison Allen
A Sudden Light – Garth Stein (Audiobook)
Ongoing Giveaways:
♥ $50 Amazon Gift Card or Paypal Cash (11/30)
♥ $20 Amazon Gift Card & Copy of MAN vs. CAT (12/15)
♥ Paperback Copy of BLEEDING HEART (12/8)
♥ 1-Signed Copy of ENDSINGER +Signed Bookmark, 4-Signed Bookmarks and Book Plates, 3-Copies of ENDSINGER(12/9)
Added to the Bookshelf Last Week:
For Review:
Title: First Frost (Waverley Family #2)
Author: Sarah Addison Allen
From the New York Times bestselling author of Garden Spells comes a story of the Waverley family, in a novel as sparkling as the first dusting of frost on new-fallen leaves…

It's October in Bascom, North Carolina, and autumn will not go quietly. As temperatures drop and leaves begin to turn, the Waverley women are made restless by the whims of their mischievous apple tree… and all the magic that swirls around it. But this year, first frost has much more in store.

Claire Waverley has started a successful new venture, Waverley's Candies. Though her handcrafted confections—rose to recall lost love, lavender to promote happiness and lemon verbena to soothe throats and minds—are singularly effective, the business of selling them is costing her the everyday joys of her family, and her belief in her own precious gifts.

Sydney Waverley, too, is losing her balance. With each passing day she longs more for a baby— a namesake for her wonderful Henry. Yet the longer she tries, the more her desire becomes an unquenchable thirst, stealing the pleasure out of the life she already has.

Sydney's daughter, Bay, has lost her heart to the boy she knows it belongs to…if only he could see it, too. But how can he, when he is so far outside her grasp that he appears to her as little more than a puff of smoke?

When a mysterious stranger shows up and challenges the very heart of their family, each of them must make choices they have never confronted before. And through it all, the Waverley sisters must search for a way to hold their family together through their troublesome season of change, waiting for that extraordinary event that is First Frost.

Lose yourself in Sarah Addison Allen's enchanting world and fall for her charmed characters in this captivating story that proves that a happily-ever-after is never the real ending to a story. It's where the real story begins.
Won:
Title: The Clairvoyant of Calle Ocho
Author: Anjanette Delgado
Two divorces have taught Mariela Estevez that she's better suited to being a mistress than a wife. Whose heart needs all that forever after trouble? Still, her affair with her married lover, Hector, has become problematic especially because he's also a tenant in her apartment building in the heart of Miami's Calle Ocho in Little Havana. But when Hector is found dead just steps from Mariela s back door, on the eve of her fortieth birthday, she s forced to examine her life and come up with a plan to save it, fast.

Complicating matters, Hector's passing sparks the unexpected return of a gift Mariela rejected years ago and thought she'd never have to face again: clairvoyance. Suddenly, Mariela's visions come swiftly and unbidden, as do revelations about her other tenants. Lost loves, hidden yearnings, old jealousies all reside on Calle Ocho. Most of all, Mariela's second sight awakens her not just to the truth about Hector's death and the secrets in others lives but to the possibilities blooming within her own.

With warmth, wit, and insight, award-winning author Anjanette Delgado explores one woman's flawed but heartfelt attempt to live and love well, transporting listeners to the center of contemporary Little Havana and a community of uniquely human, unforgettable characters."
Title: A Second Bite at the Apple
Author: Dana Bate
Sydney Strauss is obsessed with food. Not with eating it–though she does that too–but with writing about the wonders of the gastronomic world, from obscure fruit hybrids to organic farming techniques. Since food journalism jobs are more coveted than Cronuts®, Sydney pays her bills working for one of TV's biggest egomaniacs–until she's left scrambling for shifts at a local farmers' market.

Stacking muffins for the Wild Yeast Bakery isn't going to win her any James Beard awards. But soon Sydney is writing the market's weekly newsletter, and her quirky stories gain attention from a prominent food columnist. After years of putting her love life into deep freeze, she's even dating again. And then Sydney gets a shot at the story, one that could either make her career or burn it to a crisp–along with her relationship and her reputation…
Purchased:
Title: Pretend You Don't See Her
Author: Mary Higgins Clark
Mary Higgins Clark sends chills down readers' spines with the story of Lacey Farrell, a rising star on the Manhattan real estate scene. One day, while showing a luxurious skyline co-op, Lacey is witness to a murder — and to the dying words of the victim…. The dying woman is convinced that the attacker was after her dead daughter's journal — which Lacey gives to the police, but not before making a copy for herself. It's an impulse that later proves nearly fatal.
Placed in the witness protection program and sent to live in the Minneapolis area, Lacey must assume a fake identity, at least until the killer can be brought to trial. There she meets Tom Lynch, a radio talk-show host whom she tentatively begins to date — until the strain of deception makes her break it off. Then she discovers the killer has traced her to Minneapolis. Armed with nothing more than her own courage and clues from the journal, Lacey heads back to New York, determined to uncover who's behind the deaths of the two women — before she's the next casualty.
At once seductive and frightening, Pretend You Don't See Her is the "mistress of high tension" (The New Yorker) at her ingenious best.
That's all for me this week!
What new goodies have arrived on your doorstep?
Leave me a link in the comments and I'll come check out your post!