Sharing the week's bookish news and the books & bookish goodies that I've bought, borrowed, won, or been gifted and have added to my bookshelves over the past week!
(Inspired by Mailbox Monday, IMM, Clock Rewinders and the like)
As I sit at my desk preparing this post, I'm looking out the window and seeing for the first time in what seems like forever: Sunny skies and what I know are warmer breezes…we're supposed to see 60 today.  I am so thrilled that sweater and flip flop season is finally here…I hope it lasts!
In other good news…my work schedule has finally leveled out a bit..hopefully this will last and I'll have more time to devote to other aspects of my life including blogging:)
And one last piece of happy news: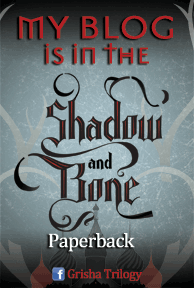 Mine is one of the blogs to be mentioned in the upcoming paperback of SHADOW AND BONE by Leigh Bardugo which releases on May 7th and will include the following bonus material:
Recently on Melissa's Eclectic Bookshelf:
Book Review & Giveaway: The Collector by Victoria Scott (2013 Belongs to Dante)


Interviews:
A Chat & 2 Giveaways with Hell's Hollow Author Summer Stone

Memes:
Cat Thursday – More Piper Cuteness!
Teaser Tuesdays – Fragments by Dan Wells

Reveals:
Cover Reveal & Giveaway: Stars In Her Eyes (Sparkstone Saga #1) by Clare C. Marshall

Promo Posts:
Excerpt & Giveaway: Arrow of the Mist by Christina Mercer

Other Posts:
April 2013 Witches & Witchcraft Review Link Up
What I Read Last Week:
Watership Down – Richard Adams (audiobook)
Fragments – Dan Wells
What I Am Reading Today:
Heart Like Mine – Amy Hatvany (audiobook) 
Letter from a Stranger – Barbara Taylor Bradford
Ongoing Giveaways:
Around the Interwebs:
Added to the Bookshelf This Week:
Clicking on book titles will take you to Goodreads.
That's all for me this week!
What new goodies have arrived on your doorstep?
Leave me a link in the comments and I'll come check out your post!
Content ©2011-2013 Melissa's Eclectic Bookshelf ~ ~
If you are reading this anywhere other than Melissa's Eclectic Bookshelf, a feed reader, or via email subscription, then this content has been stolen.