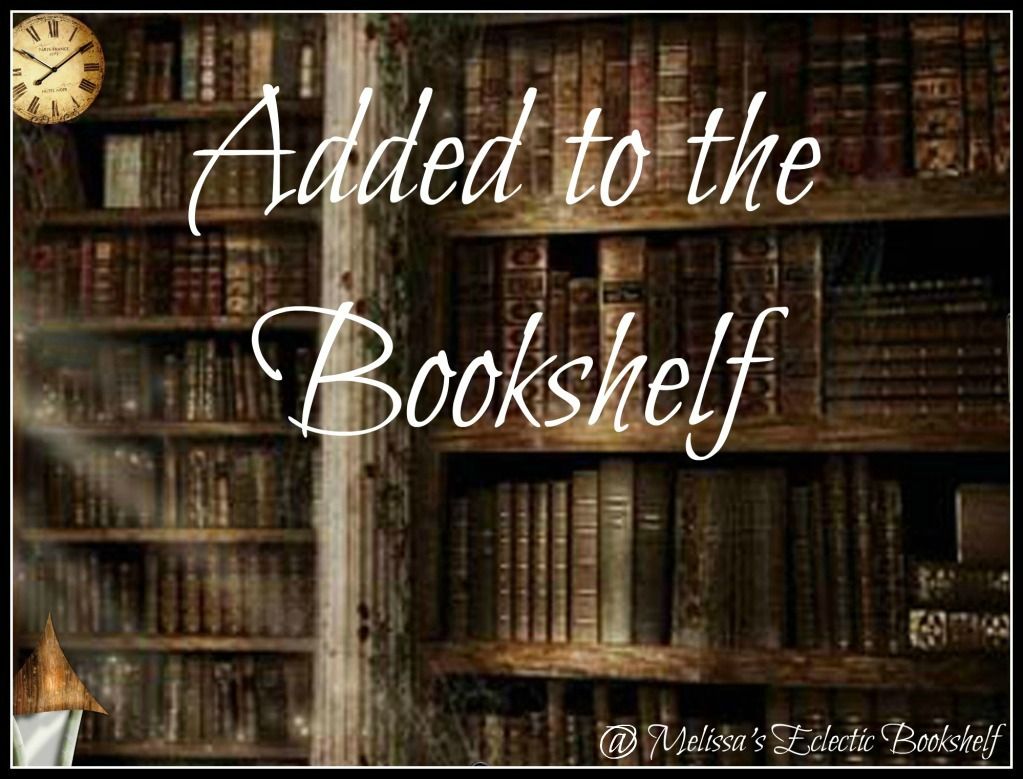 Sharing the books & bookish goodies that I've bought, borrowed, won, or been gifted and have added to my bookshelves over the past week!
(Inspired by Mailbox Monday, IMM, and the like)
Signed Paperback of 
Hearse and Buggy
by Laura Bradford
Claire Weatherly has fled a high-stress lifestyle for a slower pace – in Amish country: Heavenly, Pennsylvania. She only planned a short visit but instead found herself opening an Amish specialty shop, Heavenly Treasures, and settling in. Claire loves her new home, and she's slowly making friends among the locals, including Esther, a young Amish woman who works in the shop. So when the store's former owner, the unlikable Walter Snow, is murdered, and the man Esther is sweet on becomes a suspect, Claire can't help but get involved.


Newly returned Detective Jakob Fisher, who left Heavenly – and his Amish upbringing – as a teenager, is on the case. But his investigation is stalled by the fact that none of his former community will speak with him. Claire's connections make her the perfect go-between.


As Claire investigates, she uncovers more than she wanted to know about her neighbors. And suddenly, everything she had hoped to find in this peaceful refuge is at risk…
ARC of 
Magisterium
by Jeff Hirsch
On one side of the Rift is a technological paradise without famine or want. On the other side is a mystery.
Sixteen-year-old Glenn Morgan has lived next to the Rift her entire life and has no idea of what might be on the other side of it. Glenn's only friend, Kevin, insists the fence holds back a world of monsters and witchcraft, but magic isn't for Glenn. She has enough problems with reality: Glenn's mother disappeared when she was six, and soon after, she lost her scientist father to his all-consuming work on the mysterious Project. Glenn buries herself in her studies and dreams about the day she can escape. But when her father's work leads to his arrest, he gives Glenn a simple metal bracelet that will send Glenn and Kevin on the run—with only one place to go.




Hardcover of 
A Dark Anatomy
by Robin Blake
In 1740s England, the roots of evil run deep…
The year is 1740. George II is on the throne, but England's remoter provinces remain largely a law unto themselves. In Lancashire a grim discovery has been made: a squire's wife, Dolores Brockletower, lies in the woods above her home at Garlick Hall, her throat brutally slashed.
Called to the scene, Coroner Titus Cragg finds the Brockletower household awash with rumor and suspicion. He enlists the help of his astute young friend, doctor Luke Fidelis, to throw light on the case.
But this is a world in which forensic science is in its infancy, and policing hardly exists. Embarking on their first gripping investigation, Cragg and Fidelis are faced with the superstition of witnesses, obstruction by local officials, and denunciations from the squire himself. A Dark Anatomymarks the arrival of a remarkable new voice in mystery and a pair of detectives both cunning and complex.


E-Copy of 
Knee Deep
by Jolene Perry
Shawn is the guy Ronnie Bird promised her life to at the age of fourteen. He's her soul mate. He's more uptight every day, but it's not his fault. His family life is stressful, and she's adding to it. She just needs to be more understanding, and he'll start to be the boy she fell in love with. She won't give up on someone she's loved for so long.
Luke is her best friend, and the guy she hangs with to watch girlie movies in her large blanketopias. He's the guy she can confide in before she even goes to her girlfriends, and the guy who she's playing opposite in Romeo and Juliet. Now her chest flutters every time he gets too close. This is new. Is Ronnie falling for him? Or is Juliet? The lines are getting blurry, but leaving one guy for another is not something that a girl like Ronnie does.
Shawn's outbursts are starting to give her bruises, and Luke's heart breaks as Ronnie remains torn. While her thoughts and feelings swirl around the lines between friendship and forever, she's about to lose them both.

Hardcover of 
The Columbus Affair
by Steve Berry
He was called by many names—Columb, Colom, Colón—but we know him as Christopher Columbus. Many questions about him exist: Where was he born, raised, and educated? Where did he die? How did he discover the New World?
None have ever been properly answered.
And then there is the greatest secret of all.
Pulitzer Prize–winning investigative journalist Tom Sagan has written hard-hitting articles from hot spots around the world. But when a controversial report from a war-torn region is exposed as a fraud, his professional reputation crashes and burns. Now he lives in virtual exile—haunted by bad decisions and the shocking truth he can never prove: that his downfall was a deliberate act of sabotage by an unknown enemy. But before Sagan can end his torment with the squeeze of a trigger, fate intervenes in the form of an enigmatic stranger with a request that cannot be ignored.
Zachariah Simon has the look of a scholar, the soul of a scoundrel, and the zeal of a fanatic. He also has Tom Sagan's estranged daughter at his mercy. Simon desperately wants something only Sagan can supply: the key to a 500-year-old mystery, a treasure with explosive political significance in the modern world. For both Simon and Sagan the stakes are high, the goal intensely personal, the consequences of opposing either man potentially catastrophic. On a perilous quest from Florida to Vienna to Prague and finally to the mountains of Jamaica, the two men square off in a dangerous game. Along the way, both of their lives will be altered—and everything we know about Christopher Columbus will change.

Hardcover of The American Patriot's Almanac
by William J Bennett & John T.E. Cribb


365 reasons to love America 


The fife and drum of history mark the time of each passing day. And within their cadence, personalities, conflicts, discoveries, ideas, and nations peal and fade. American history is no different. From the starving time of Jamestown during the Winter of 1609, through the bloody argument of the Civil War, and to today, the United States is a tale best told one day at a time.
Best-selling author and educator Dr. William J. Bennett is a master of the story that is the United States. And in "The American Patriot's Almanac," Bennett distills the American drama into three hundred sixty-five entries-one for each day of the year. Fascinating in its detail and singular in its grasp of the big themes, Bennett's "Almanac" will make anyone a fan of history, assembling even some of the most obscure details. Even better, it will make of everyone a patriot.
In Destiny: Gabriella must unlock the secrets of her pastand accept the magick that she fears to fulfill her destiny.
In Destiny Unveiled: Gabriella and Darron thought their magickal battle was over when they defeated the evil warlock, Richard. When her Aunt Donna seeks Gabriella's help in rescuing her catatonic daughter from the Dark Coven, Gabriella discovers that her cousin holds a power within her that would be catastrophic in the hands of the evil witches. Gabriella's coven sets out on a journey that may be their last. Along the way, they meet new allies, face devastating treachery, and battle not only the Dark Coven, but the darkness within themselves. When Gabriella finally comes face to face with the cousin she never knew existed, her true destiny is unveiled, and the fate of the mortal world is in her hands.
That's all for me for the past week!
What new goodies have arrived on your doorstep?
Leave me a link in the comments!
Content ©2011-2013 Melissa's Eclectic Bookshelf ~ ~
If you are reading this anywhere other than Melissa's Eclectic Bookshelf, a feed reader, or via email subscription, then this content has been stolen.