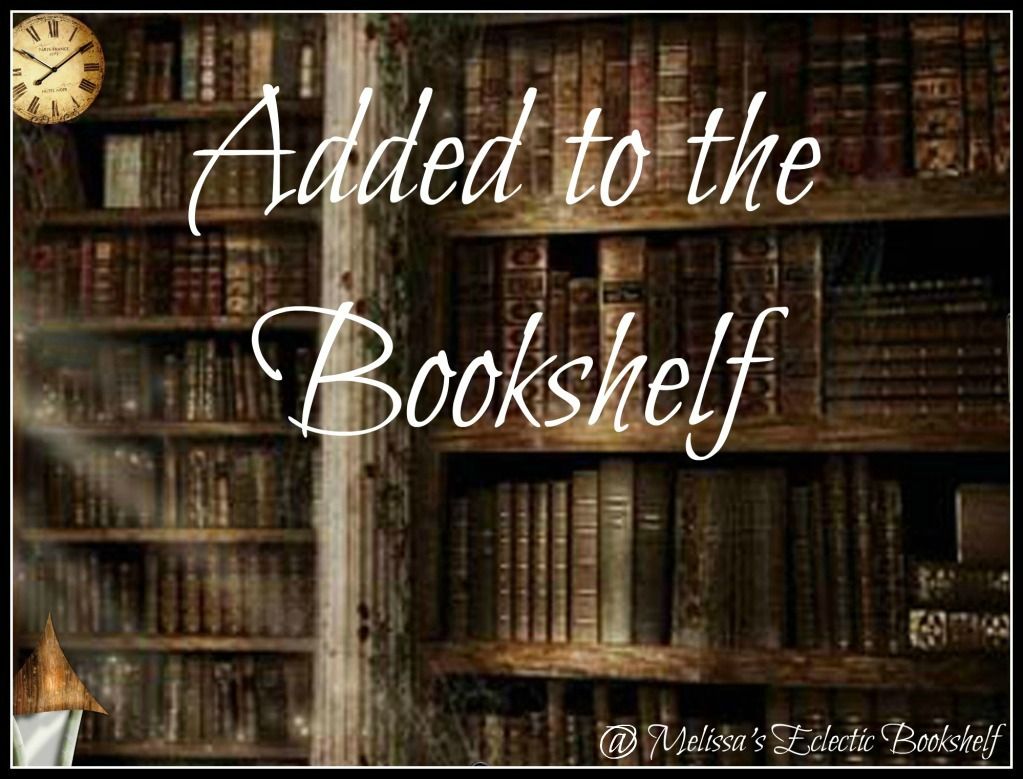 Sharing the week's bookish news and the books & bookish goodies that I've bought, borrowed, won, or been gifted and have added to my bookshelves over the past week!







(Inspired by Mailbox Monday, IMM, Clock Rewinders and the like)
June! Already!! Where is the time going!!  I hope that all of you are having beautiful weather and plenty of time to relax and read…
I wasn't able to get away from work for BookExpo America 2013 Thursday or Friday, but I was able to make it into the city on Saturday.  Look out for my recap and details about the amazing books I brought home to review next week!
Recently on Melissa's Eclectic Bookshelf:
Reviews:
Book Review: Icons by Margaret Stohl
Book Review: Sky on Fire by Emmy Laybourne

Memes:
Cat Thursday – Piper loves…Ice Cream??
Teaser Tuesdays – The Age of Miracles by Karen Thompson Walker

Reveals:
Cover Reveal: MY LIFE AS A LUMBERJACK (or how I fell for the wrong guy(s)) by Sara V. Olds
Cover Reveal: Emerald Isle by Kate Hinderer
Cover Reveal & Giveaway: Resilient by Patricia Vanasse 

Other Posts:
Kindle Free Book Blitz & Giveaway: Hex and the Single Witch by Roxanne Rhoads
Change of Heart by S. E. Edwards: Excerpt & Giveaway
June 2013 Witches & Witchcraft Review Link Up
What I Read Last Week:
Ten Tiny Breaths – K.A. Tucker 

 (audiobook)

The Age of Miracles – Karen Thompson Walker
What I Am Reading Today:
Under the Dome – Stephen King
Clicking on book titles will take you to Goodreads.
The Wishing Thread by Lisa Van Allen
The Van Ripper women have been the talk of Tarrytown, New York, for centuries. Some say they're angels; some say they're crooks. In their tumbledown "Stitchery," not far from the stomping grounds of the legendary Headless Horseman, the Van Ripper sisters—Aubrey, Bitty, and Meggie—are said to knit people's most ardent wishes into beautiful scarves and mittens, granting them health, success, or even a blossoming romance. But for the magic to work, sacrifices must be made—and no one knows that better than the Van Rippers.

When the Stitchery matriarch, Mariah, dies, she leaves the yarn shop to her three nieces. Aubrey, shy and reliable, has dedicated her life to weaving spells for the community, though her sisters have long stayed away. Bitty, pragmatic and persistent, has always been skeptical of magic and wants her children to have a normal, nonmagical life. Meggie, restless and free-spirited, follows her own set of rules. Now, after Mariah's death forces a reunion, the sisters must reassess the state of their lives even as they decide the fate of the Stitchery. But their relationships with one another—and their beliefs in magic—are put to the test. Will the threads hold?
In The After by Demitria Lunetta
They hear the most silent of footsteps.

They are faster than anything you've ever seen.

And They won't stop chasing you…until you are dead.

Amy is watching TV when it happens, when the world is attacked by Them. These vile creatures are rapidly devouring mankind. Most of the population is overtaken, but Amy manages to escape—and even rescue "Baby," a toddler left behind in the chaos. Marooned in Amy's house, the girls do everything they can to survive—and avoid Them at all costs.

After years of hiding, they are miraculously rescued and taken to New Hope, a colony of survivors living in a former government research compound. While at first the colony seems like a dream with plenty of food, safety, and shelter, New Hope slowly reveals that it is far from ideal. And Amy soon realizes that unless things change, she'll lose Baby—and much more.

Rebellious, courageous, and tender, this unforgettable duo will have you on the edge of your seat as you tear through the pulse-pounding narrow escapes and horrifying twists of fate in this thrilling debut from author Demitria Lunetta.
Program 13 by Nicole Sobon
Two identities. One Body.

17-year-old Emile Reed, may have died, but she isn't dead. Her body now belongs to Program Thirteen, where her every thought, every movement, is controlled. Until Emile begins to find her way back inside of Thirteen's core, where she manages to fend off Thirteen's programming to reclaim the life that she lost. But Charles McVeigh, the owner of Vesta Corp, isn't willing to let Thirteen go. And he will stop at nothing to reclaim control of Thirteen's programming. Because without her, McVeigh has nothing.

What makes you human?
Freebies:


Broken Promises by Dawn Pendleton
I'm Not Her by Janet Gurtler
The Light Within Me by Carly Fall
That's all for me this week!
What new goodies have arrived on your doorstep?
Leave me a link in the comments and I'll come check out your post!
Content ©2011-2013 Melissa's Eclectic Bookshelf ~ ~
If you are reading this anywhere other than Melissa's Eclectic Bookshelf, a feed reader, or via email subscription, then this content has been stolen.