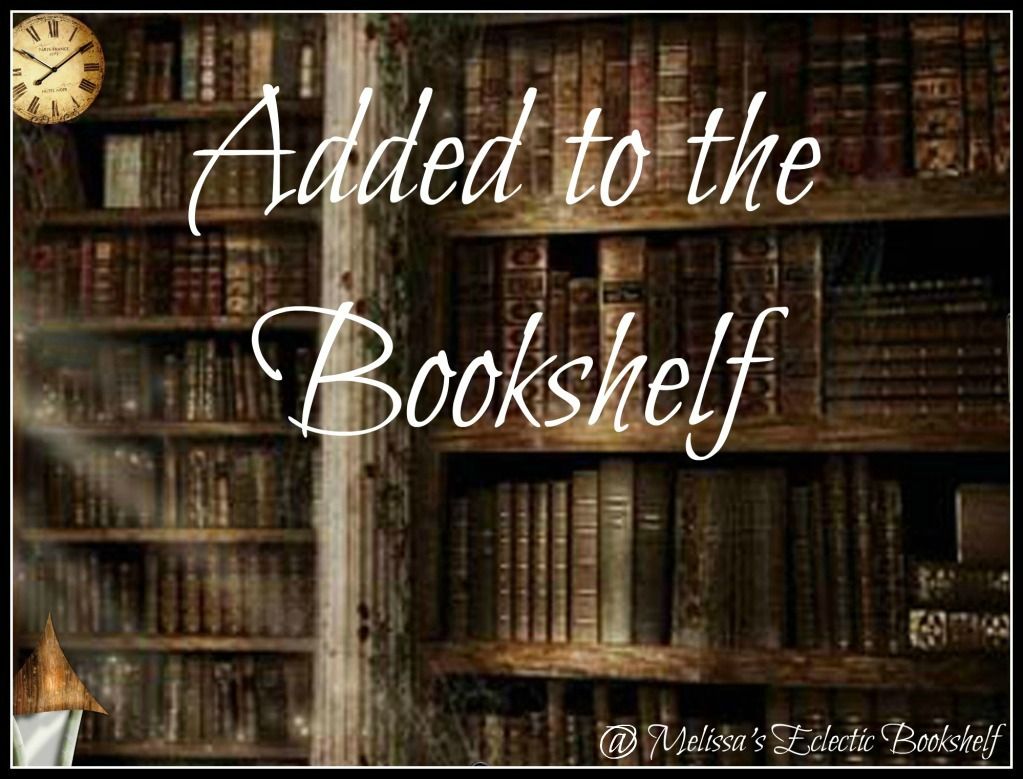 Sharing the books & bookish goodies that I've bought, borrowed, won, or been gifted and have added to my bookshelves over the past week!
(Inspired by Mailbox Monday, IMM, and the like)
Paperback of 
Ten Beach Road
by Wendy Wax
Madeline, Avery, and Nikki are strangers to each other, but they have one thing in common. They each wake up one morning to discover their life savings have vanished, along with their trusted financial manager- leaving them with nothing but co-ownership of a ramshackle beachfront house.
Throwing their lots in together, they take on the challenge of restoring the historic property. But just as they begin to reinvent themselves and discover the power of friendship, secrets threaten to tear down their trust-and destroy their lives a second time.

Hardcover of 
Terminal Point (Strykers Syndicate #2)
by K.M. Ruiz
Blade Runner
 meets
 X-Men
 in this follow-up to 
Mind Storm
 where humanity faces extinction and it's up to a group of rogue psions to save society
Fans of Charles Stross and Hannu Rajaniemi will lose themselves in this adventure as Threnody Corwin and her team of rogue Strykers contend with the aftermath of the events in Mind Storm and the unlocking of a new kind of psion power. They're on the run with Lucas Serca, who is closer than ever to destroying the World Court and his father's grip on the planet. Targeting the hidden cache of the planet's food supply meant to transform Mars into a paradise for the chosen few, Lucas triggers an escalating fight with the ruling government as worldwide chaos ensues. It's up to Threnody to save society before it destroys itself, but the cost is high and in the end, there is no such thing as compromise. 
 
There is only survival.
In Threnody Corwin, K. M. Ruiz has created the coolest and most bad-ass sci-fi heroine since Signourney Weaver portrayed Ripley in the Alien films and Terminal Point takes her to the next level.
ARC of 
Thy Neighbor
by Norah Vincent
At thirty-four, Nick Walsh is a broken, deeply cynical man. Since the violent deaths of his parents thirteen years earlier, he has been living alone in his childhood home in the suburban Midwest, drinking, drugging, and debauching himself into oblivion. A measure of solace is provided by his newly found relationship with Monica, a mysterious woman who seems to harbor as many secrets as he does.
Obsessed with understanding the circumstances surrounding his parents' deaths and deranged by his relentless sorrow, Nick begins a campaign of spying on his neighbors via hidden cameras and microphones he has covertly installed in their houses. As he observes with amusement and disbelief all the strange, sad, and terrifying things that his neighbors do to themselves and to one another, and as he, in turn, learns that he is being stalked, he begins to slowly unravel the shocking truth about how and why his parents died.
At once unsettling and moving, humorous and horrifying, Thy Neighbor explores the nature of grief, the potential isolation of suburban life, and who we really are when we think no one is watching. What readers and critics have admired in Norah Vincent's nonfiction is completely unleashed in this vivid and provocative novel.
Audiobook of 
The Grapes of Wrath
by John Steinbeck
John Steinbeck's Pulitzer Prize-winning epic of the Great Depression follows the western movement of one family and a nation in search of work and human dignity. Perhaps the most American of American classics.
The novel focuses on the Joads, a poor family of sharecroppers driven from their Oklahoma home by drought, economic hardship, and changes in financial and agricultural industries. Due to their nearly hopeless situation, and in part because they were trapped in the Dust Bowl, the Joads set out for California. Along with thousands of other "Okies", they sought jobs, land, dignity and a future. When preparing to write the novel, Steinbeck wrote: "I want to put a tag of shame on the greedy bastards who are responsible for this [the Great Depression and its effects]." The book won Steinbeck a large following among the working class, perhaps due to the book's sympathy to the workers' movement and its accessible prose style.
The Grapes of Wrath is frequently read in American high school and college literature classes. A celebrated Hollywood film version, starring Henry Fonda and directed by John Ford, was made in 1940.
Audiobook of 
Irises
by Francisco X Stork
Two sisters discover what's truly worth living for in the new novel by the author of MARCELO IN THE REAL WORLD.
TWO SISTERS: Kate is bound for Stanford and an M.D. — if her family will let her go. Mary wants only to stay home and paint. When their loving but repressive father dies, they must figure out how to support themselves and their mother, who is in a permanent vegetative state, and how to get along in all their uneasy sisterhood.
THREE YOUNG MEN: Then three men sway their lives: Kate's boyfriend Simon offers to marry her, providing much-needed stability. Mary is drawn to Marcos, though she fears his violent past. And Andy tempts Kate with more than romance, recognizing her ambition because it matches his own. 
ONE AGONIZING CHOICE: Kate and Mary each find new possibilities and darknesses in their sudden freedom. But it's Mama's life that might divide them for good — the question of *if* she lives, and what's worth living for.
IRISES is Francisco X. Stork's most provocative and courageous novel yet.




Audiobook of Sense and Sensibility
by Jane Austen


'The more I know of the world, the more am I convinced that I shall never see a man whom I can really love. I require so much!'
Marianne Dashwood wears her heart on her sleeve, and when she falls in love with the dashing but unsuitable John Willoughby she ignores her sister Elinor's warning that her impulsive behaviour leaves her open to gossip and innuendo. Meanwhile Elinor, always sensitive to social convention, is struggling to conceal her own romantic disappointment, even from those closest to her. Through their parallel experience of love—and its threatened loss—the sisters learn that sense must mix with sensibility if they are to find personal happiness in a society where status and money govern the rules of love.

That's all for me for the past week!
What new goodies have arrived on your doorstep?
Leave me a link in the comments!
Content ©2011-2013 Melissa's Eclectic Bookshelf ~ ~
If you are reading this anywhere other than Melissa's Eclectic Bookshelf, a feed reader, or via email subscription, then this content has been stolen.