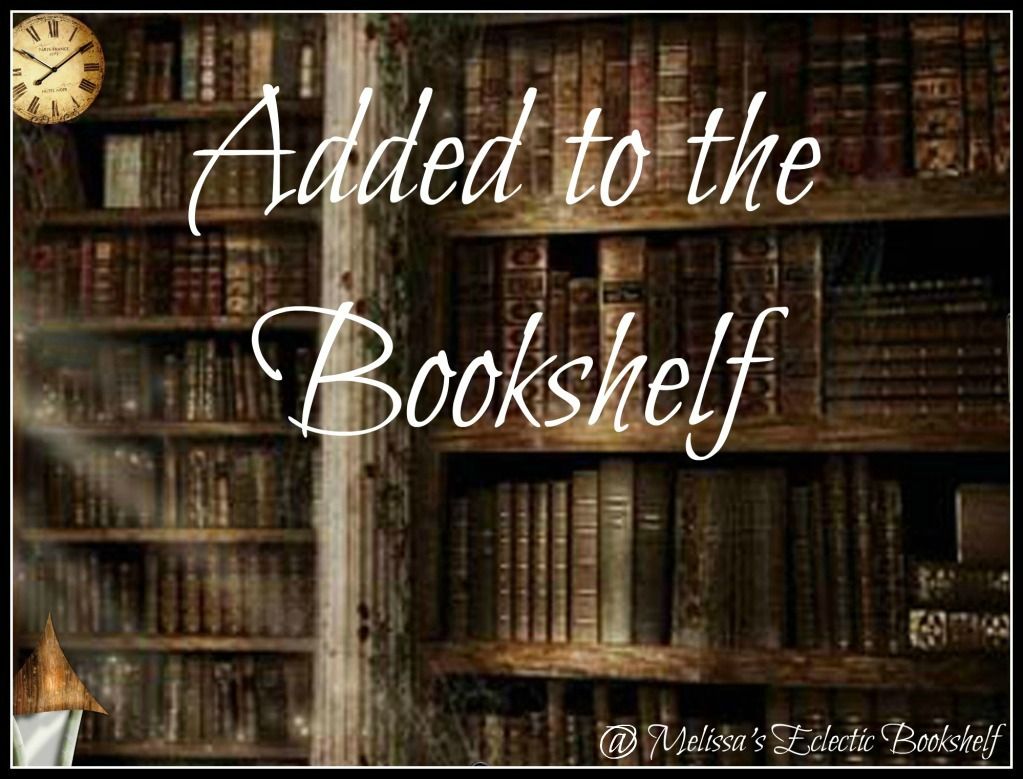 Sharing the books & bookish goodies that I've bought, borrowed, won, or been gifted and have added to my bookshelves over the past week!
(Inspired by Mailbox Monday, IMM, and the like)
OK, so I am going to apologize in advance as this post is going to be long.  I was at BEA this week (my first time) and picked up a ton of great books. I can't thank all of the wonderful Publishers and Authors enough for the opportunity to preview these titles. I also picked up a few at a yard sale and won a few this week in addition to one review book. Therefore, pictures and no summaries..only links to Goodreads this week… 
 So here we go!
Personalized and Signed from BEA
It was absolutely amazing to meet and speak with all of these amazing authors especially Justin Cronin and Deborah Harkness.  I can not wait to start their books.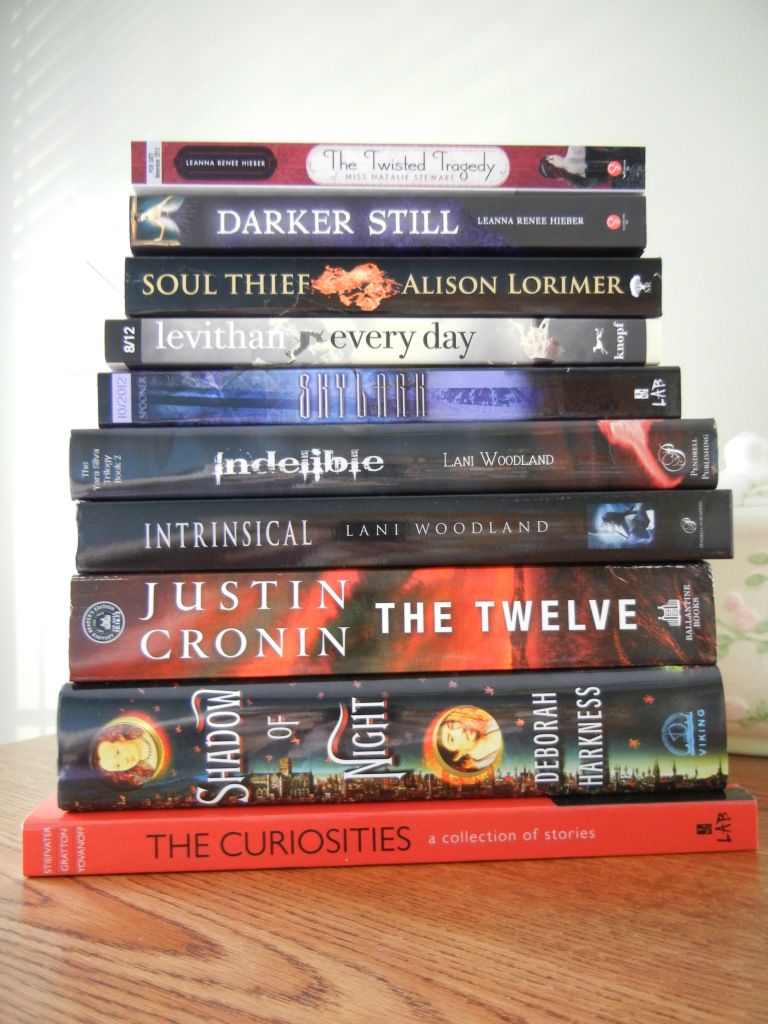 Books Signed to Me!
ARC of The Curiosities: A Collection of Stories – Maggie Stiefvater, Tessa Gratton & Brenna Yovanoff 
Hardcover of Shadow of Night (All Souls Trilogy #2) – Deborah Harkness
ARC of The Twelve (The Passage #2) – Justin Cronin
Hardcover of Intrinsical (The Yara Silver Trilogy #1) – Lani Woodland
Hardcover of Indelible (The Yara Silver Trilogy #2) – Lani Woodland
ARC of Skylark (The Skylark Trilogy #1)- Meagan Spooner
ARC of Every Day – David Levithan
Paperback of Soul Thief – Alison Lorimer
Paperback of Darker Still (Magic Most Foul #1) – Leanna Renee Hieber
ARC of The Twisted Tragedy of Miss Natalie Stewart (Magic Most Foul #2) – Leanna Renee Hieber
ARCs from BEA
ARCs from BEA!
Tigers in Red Weather – Liza Klaussmann
City of Women – David R Gillham
Ashen Winter (Ashfall #2) – Mike Mullin
Eternally Yours (Immortal Beloved #3) – Cate Tiernan
The Darkest Minds – Alexandra Braken
The Ruins of Lace – Iris Anthony
No Peace for the Damned – Megan powell
Beta (Beta #1) – Rachel Cohn
The Shadowy Horses – Susanna Kearsley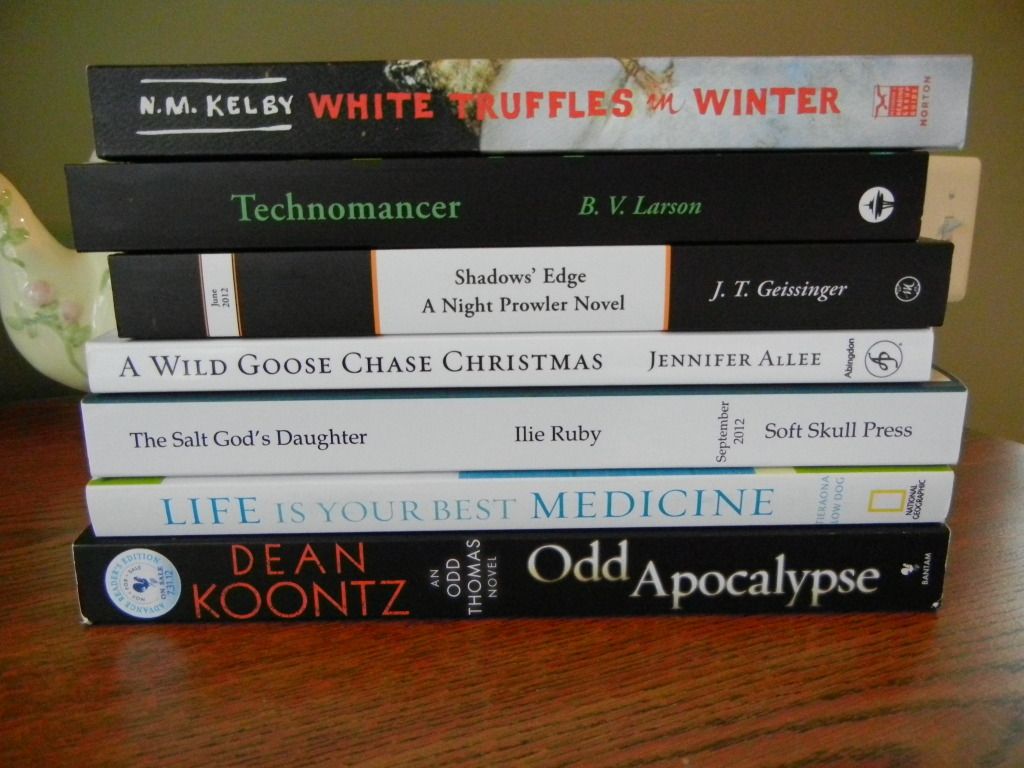 More ARCs from BEA!
Odd Apocalypse (Odd Thomas #5) – Dean Koontz
Life is Your Best Medicine – Tieraona Low Dog, MD
The Salt God's Daughter – Ilie Ruby
A Wild Goose Chase Christmas (Quilts of Love #2) – Jennifer AlLee
Shadows' Edge – J.T. Geissinger
Technomancer (Unspeakable Things #1) – B.V. Larsen
White Truffles in Winter – N.M. Kelby
Finished Copies from BEA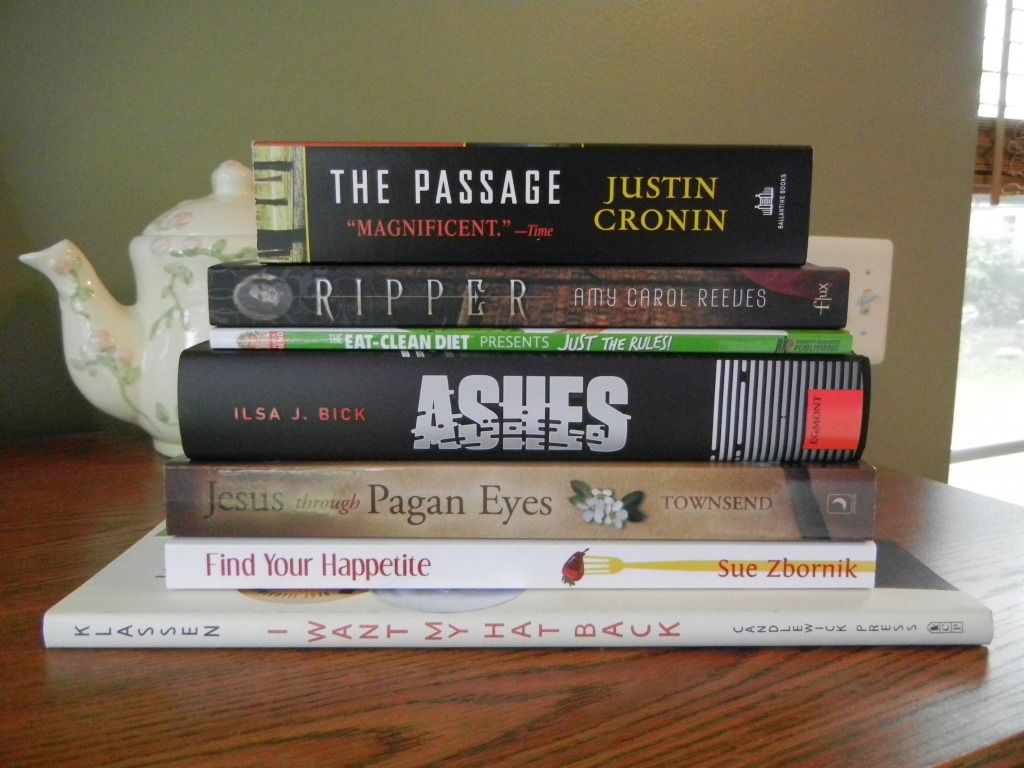 Finished Copies from BEA!
Hardcover of I Want My Hat Back – Jon Klassen
Paperback of Find your Happetite – Sue Zbornik
Paperback of Jesus through Pagan Eyes – Reverend Mark Townsend
Hardcover of Ashes (Ashes Trilogy #1) – Ilsa J. Bick
Paperback of Just the Rules – Tosca Reno
Paperback of Ripper – Amy Carol Reeves
Paperback of The Passage – Justin Cronin
Other BEA Swag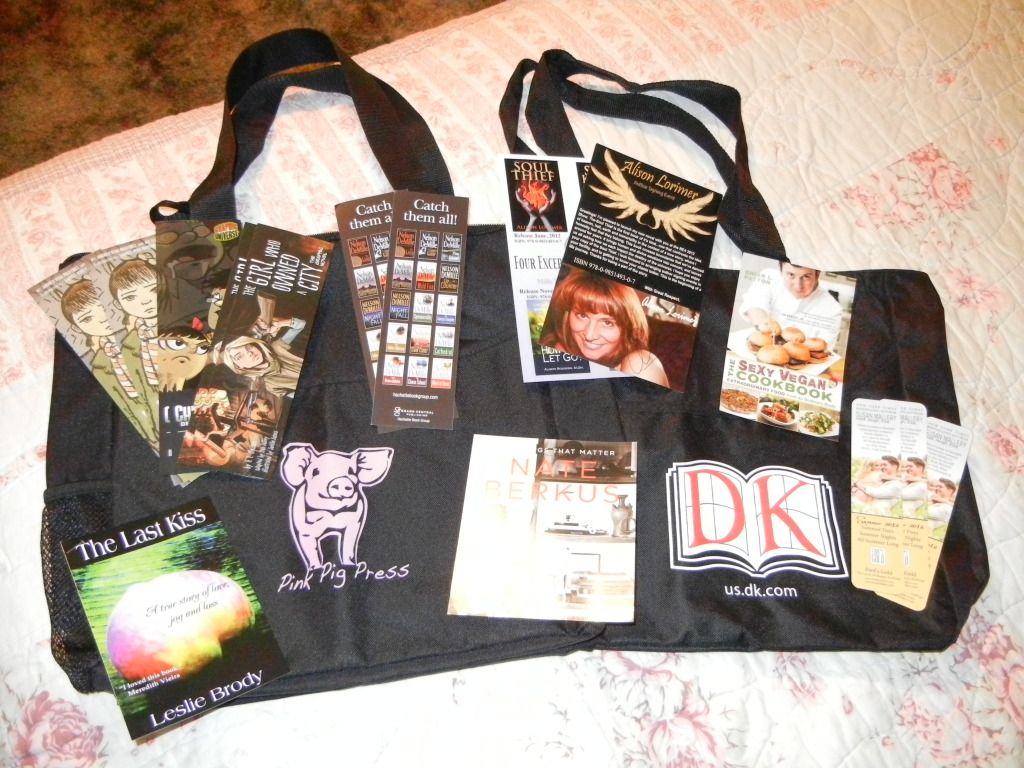 BEA Swag!
More BEA Swag!
For Review

Hardcover of Abdication – Juliet Nicolson


Yard Sale Finds
I've read all of the Harry Potter books and had 1-4 in paperback but am happy to find these as I wanted to add the whole series in hardcover to my collection. 
3 down , 4 to go.



Hardcover of Harry Potter and The Sorcerer's Stone (Harry Potter #1) – J.K. Rowling
Hardcover of Harry Potter and The Chamber of Secrets (Harry Potter #2) – J.K. Rowling
Hardcover of Harry Potter and The Prisoner of Azkaban (Harry Potter #3) – J.K. Rowling


Won
Paperback of The Magician King (The Magicians #2) – Lev Grossman
Paperback of  Isle of Night (The Watchers #1) – Veronica Wolff
ARC of The Farm – Emily McKay
Paperback of Boys that Bite (Blood Coven #1) – Mari Mancusi
Plus a Great Penguin Tote Bag and Other Swag


Well, that was my week in books and such.  I wish I could have shown covers and given blurbs but I didn't want to the post to be forever long.  I should have a BEA recap post up later in the week. 
How was your week?


Content ©2011-2013 Melissa's Eclectic Bookshelf ~ ~
If you are reading this anywhere other than Melissa's Eclectic Bookshelf, a feed reader, or via email subscription, then this content has been stolen.