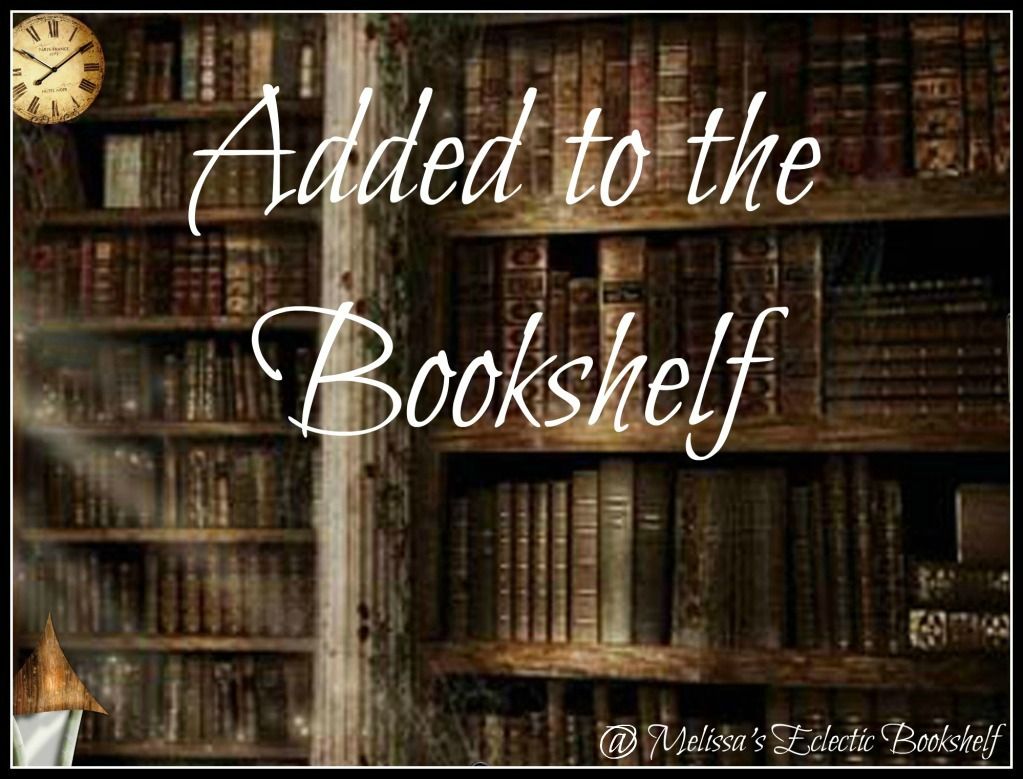 Sharing the books & bookish goodies that I've bought, borrowed, won, or been gifted and have added to my bookshelves over the past week!
(Inspired by Mailbox Monday, IMM, and the like)
Author:
Kelley Armstrong
Format: Signed Hardcover
Find It:
Goodreads
Sixteen-year-old Maya is just an ordinary teen in an ordinary town. Sure, she doesn't know much about her background – the only thing she really has to cling to is an odd paw-print birthmark on her hip – but she never really put much thought into who her parents were or how she ended up with her adopted parents in this tiny medical-research community on Vancouver Island.
Until now.
Strange things have been happening in this claustrophobic town – from the mountain lions that have been approaching Maya to her best friend's hidden talent for "feeling" out people and situations, to the sexy new bad boy who makes Maya feel . . . . different. Combine that with a few unexplained deaths and a mystery involving Maya's biological parents and it's easy to suspect that this town might have more than its share of skeletons in its closet.



Title:
 Carnival of Souls 
Author: 
Melissa Marr
Format: ARC

Find It: 
Goodreads
In a city of daimons, rigid class lines separate the powerful from the power-hungry. And at the heart of The City is the Carnival of Souls, where both murder and pleasure are offered up for sale. Once in a generation, the carnival hosts a deadly competition that allows every daimon a chance to join the ruling elite. Without the competition, Aya and Kaleb would both face bleak futures–if for different reasons. For each of them, fighting to the death is the only way to try to live.
All Mallory knows of The City is that her father–and every other witch there–fled it for a life in exile in the human world. Instead of a typical teenage life full of friends and maybe even a little romance, Mallory scans quiet streets for threats, hides herself away, and trains to be lethal. She knows it's only a matter of time until a daimon finds her and her father, so she readies herself for the inevitable. While Mallory possesses little knowledge of The City, every inhabitant of The City knows of her. There are plans for Mallory, and soon she, too, will be drawn into the decadence and danger that is the Carnival of Souls.
Title:
 Seraphina (Seraphina #1)
Author: 
Rachel Hartman
Format: ARC
Find It: 
Goodreads
Four decades of peace have done little to ease the mistrust between humans and dragons in the kingdom of Goredd. Folding themselves into human shape, dragons attend court as ambassadors, and lend their rational, mathematical minds to universities as scholars and teachers. As the treaty's anniversary draws near, however, tensions are high.
Seraphina Dombegh has reason to fear both sides. An unusually gifted musician, she joins the court just as a member of the royal family is murdered—in suspiciously draconian fashion. Seraphina is drawn into the investigation, partnering with the captain of the Queen's Guard, the dangerously perceptive Prince Lucian Kiggs. While they begin to uncover hints of a sinister plot to destroy the peace, Seraphina struggles to protect her own secret, the secret behind her musical gift, one so terrible that its discovery could mean her very life.
Title:
 Pies and Prejudice (A Charmed Pie Shoppe Mystery #1)
Author: 
Ellery Adams
Format: Paperback
Find It: 
Goodreads


When the going gets tough, Ella Mae LaFaye bakes pies. So when she catches her husband cheating in New York, she heads back home to Havenwood, Georgia, where she can drown her sorrows in fresh fruit filling and flakey crust. But her pies aren't just delicious. They're having magical effects on the people who eat them–and the public is hungry for more. Discovering her hidden talent for enchantment, Ella Mae makes her own wish come true by opening the Charmed Pie Shoppe. But with her old nemesis Loralyn Gaynor making trouble, and her old crush Hugh Dylan making nice, she has more than pie on her plate. and when Loralyn's fiance is found dead–killed with Ella Mae's rolling pin–it'll take all her sweet magic to clear her name.




Title: Reflection
Author: Jessica Roberts
Format: E-Book
Find It: 
Goodreads
Bright, spunky Heather Robbins has escaped her small hometown and is anxiously beginning her freshman year of college. Rising above her rocky childhood, she's found a place where good things are finally starting to happen: her own private apartment, refreshing college classes, and an intense attachment to a mysterious and rugged classmate, Nick Richards.
But when her dreamy college life turns out to be nothing more than a wonderful dream while resting in a coma, questions threaten. 
Now, Heather must press forward to unlock the real past, and find the answers buried deep in her mind. What she unlocks instead is a roller coaster ride through flashbacks, embellished memories, and a whirlwind romance.
And when it's all over and she comes face to face with the truth, will she lose everything she's fallen in love with?


Title: Fairview Felines: A Newspaper Mystery
Author: 
Michele Corriel
Format: E-Book
Find It: 
Goodreads
Thomas Weston has newspaper ink in his veins. Not only that but he also has funny headlines running through his brain 24/7. If he can convince the principal at Fairview Middle School he has what it takes, maybe, just maybe, he'll be able to make his dream of a school newspaper come true. But first he has to figure out why all the cats in Fairview are vanishing!
That's all for me for the past week!
What new goodies have arrived on your doorstep?
Leave me a link in the comments and I'll come check out your post!
Content ©2011-2013 Melissa's Eclectic Bookshelf ~ ~
If you are reading this anywhere other than Melissa's Eclectic Bookshelf, a feed reader, or via email subscription, then this content has been stolen.