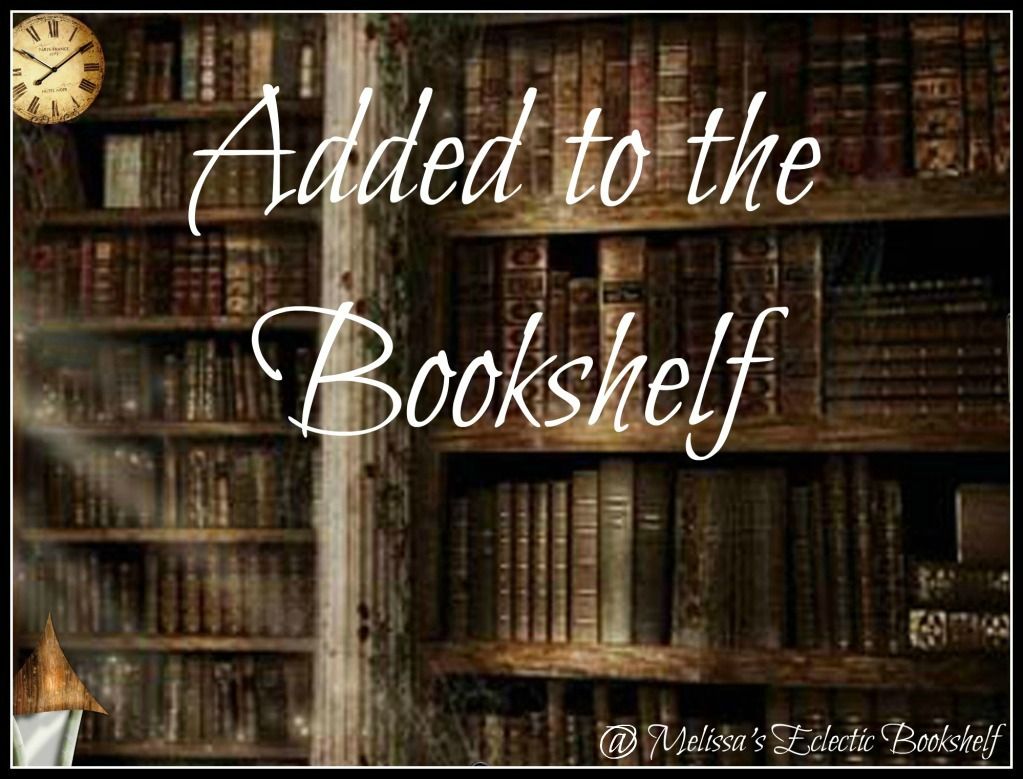 Sharing the books & bookish goodies that I've bought, borrowed, won, or been gifted and have added to my bookshelves over the past week!
(Inspired by Mailbox Monday, IMM, and the like)
It's been a great week:)  
Thanks to everyone who joined me for my 
one year book blogging anniversary!!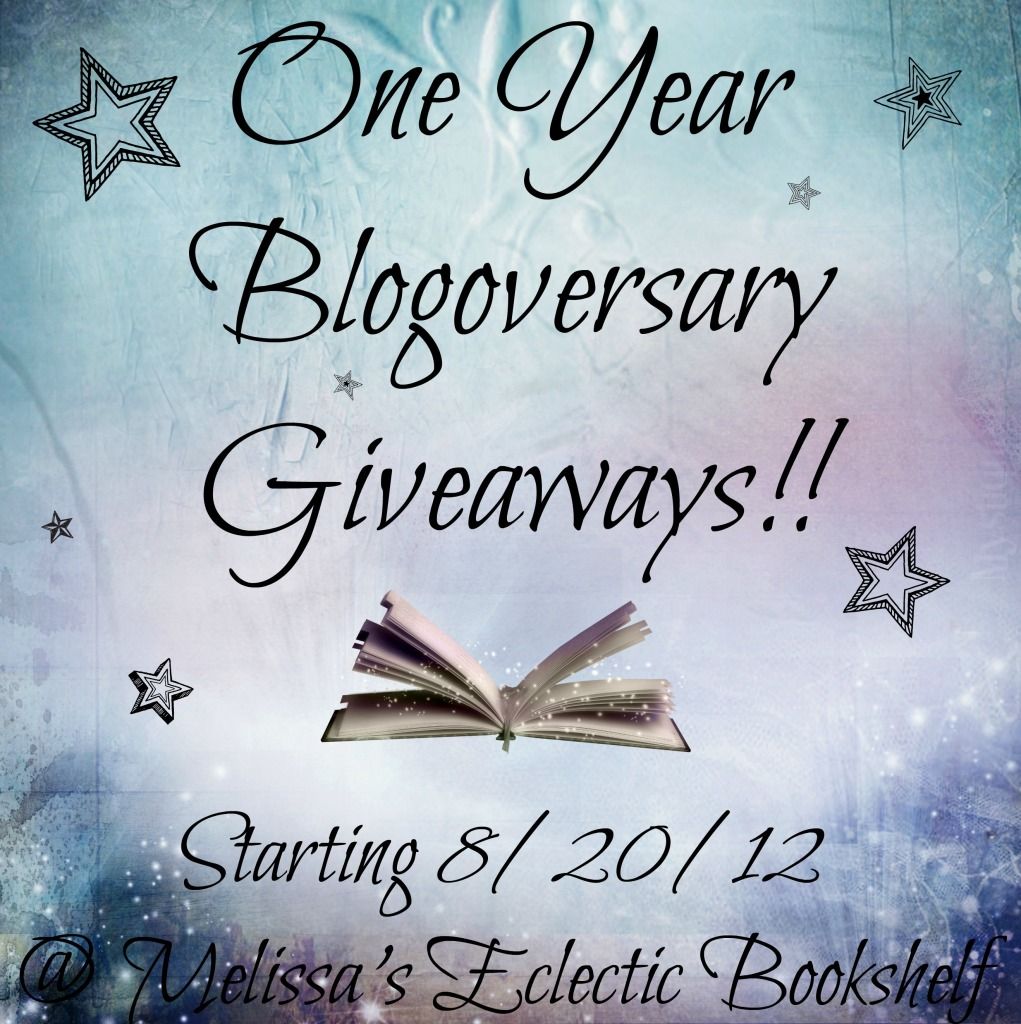 If you missed my Blogoversary and all the Giveaways…just check out the top of my sidebar for all the links to enter:)  I have 11 giveaways going on right now.  (I'll let you in on a secret…for one all you have to do is comment and everyone wins an awesome free e-book) Go check them all out!

Also, I am planning a very special event in October called
 "There are Witches in the Air"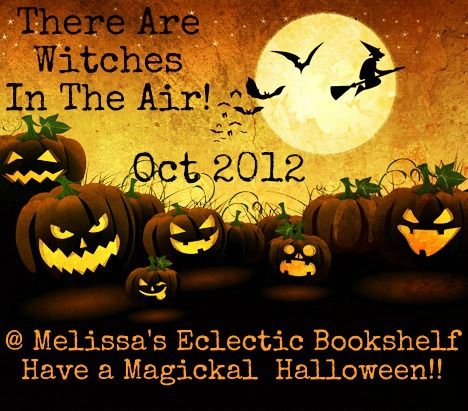 Five little pumpkins sitting on a gate.

The first one said, "Oh, my it's getting late"

The second one said, "There are witches in the air."

The third one said, "But we don't care."

The fourth one said, "Let's run and run and run!"

The fifth one said, "Isn't Halloween fun?"

Then Woooooo went the wind

And five little pumpkins rolled out of sight.

Stay tuned all months for loads of great Guest Posts, Interviews, Spotlights, Reviews & of course Giveaways of great books featuring Witches or Witchcraft!!!  I'll be added a tab under my header for it shortly so you will be able to find out more:)

Anyway–on to this weeks new books:)
Author:
Michael Grant & Katherine Applegate
Publisher: Feiwel and Friends/Macmillan
Release Date: October 2nd 2012
Format: ARC
Find It:
Goodreads
Sixteen-year-old Evening Spiker lives an affluent life in San Francisco with her mother, EmmaRose, a successful geneticist and owner of Spiker Biotech. Sure, Evening misses her father who died mysteriously, but she's never really questioned it. Much like how she's never stopped to think how off it is that she's never been sick. That is, until she's struck by a car and is exposed to extensive injuries. Injuries that seem to be healing faster than physically possible.
While recuperating in Spiker Biotech's lush facilities, she meets Solo Plissken, a very attractive, if off-putting boy her age who spent his life at Spiker Biotech. Like Evening, he's never questioned anything… until now. Solo drops hints to Evening that something isn't right, and Emma-Rose may be behind it. Evening puts this out of her mind and begins her summer internship project: To simulate the creation of the perfect boy. With the help of Solo, Evening uncovers secrets so big they could change the world completely.
Title:
 The Dark Unwinding
Author: 
Sharon Cameron
Publisher: Scholastic
Release Date: September 1st 2012
Format: ARC
Find It: 
Goodreads
A spine-tingling tale of steampunk and spies, intrigue and heart-racing romance!
When Katharine Tulman's inheritance is called into question by the rumor that her eccentric uncle is squandering away the family fortune, she is sent to his estate to have him committed to an asylum. But instead of a lunatic, Katharine discovers a genius inventor with his own set of rules, who employs a village of nine hundred people rescued from the workhouses of London.
Katharine is now torn between protecting her own inheritance and preserving the peculiar community she grows to care for deeply. And her choices are made even more complicated by a handsome apprentice, a secretive student, and fears for her own sanity.
As the mysteries of the estate begin to unravel, it is clear that not only is her uncle's world at stake, but also the state of England as Katharine knows it. With twists and turns at every corner, this heart-racing adventure will captivate readers with its intrigue, thrills, and romance.
Author: 
Tate Hallaway
Publisher: Berkley/Penguin
Release Date: August 7th 2012
Format: ARC
Find It: 
Goodreads
Recent college grad Alex Conner is thrilled to have landed a job as the Hughes County coroner/medical examiner in Pierre, South Dakota. But when her first day on the job ends with a missing corpse, Alex starts to wonder if she would have been better off collecting unemployment…
When the cops made some cryptic comments about being careful with the body they brought in, Alex just thought the boys in blue were messing with her. That is, until something freaky happens that no amount of med school could have prepared her for. By the time Alex gets herself together, the body has disappeared and the other residents of the morgue start talking her ear off.
After working up the courage to report the missing body, Alex is transferred to the mysterious Precinct 13 where she discovers that her new co-workers—including a cute technomage named Jack—are paranormals just like her. Now, Alex is being encouraged to use her ability to speak to the dead to solve crimes. And despite being in the middle of nowhere, Hughes County sure does have a lot of paranormal activity…
Title:
 The Jelly Bean Crisis
Author: 
Jolene Stockman
Publisher: Create Space
Release Date: August 1st 2012
Format: E-Book
Find It: 
Goodreads
A total meltdown. The whole school watching. Now Poppy's an ex-straight-A with no Plan B.
When Poppy Johnson throws away a full scholarship to Columbia, she can only blame the jelly beans. The yucky green ones? Midnight cram sessions and Saturday's spent studying. The delicious red? The family legacy: Columbia, and a future in finance. Except now it's starting to look like Poppy's jelly bean theory is wrong. School has been her life until, but maybe it's time to start living now.
Poppy has thirty days to try a new life. No school, no studying. Just jumping into every possible world. Thirty days to find her passion, her path, and maybe even love. The Jelly Bean Crisis is officially on.
Title: Cold Kiss
Author: 
Amy Garvey
Publisher: HarperTeen
Release Date: September 20th 2011
Format: E-Book
Find It: 
Goodreads
Be careful what you wish for. . . 
When Wren's boyfriend, Danny, died, Wren decided that what she wanted—what she had to do—was to bring Danny back. And so, in a heartbroken fury, armed with dark incantations and a secret power, she did.
But the Danny who returns isn't the boy Wren fell in love with, and she must hide him away while her life unravels around her. Then Gabriel transfers to her school and somehow he knows what she has done—and he wants to help make things right.
But Wren alone must undo what she has wrought—even if it means breaking her heart all over again.



Author: 
Kira Saito
Release Date:
 November 1st 2011
Format: E-Book
Find It: 
Goodreads


Sixteen year old Arelia LaRue lives in New Orleans where the music is loud, voodoo queens inhabit every street corner, and the ghosts are alive and well. Despite her surroundings, all she wants is to help her Grand-mere Bea pay the rent and save up for college. 
When her best friend Sabrina convinces her to take a well-paying summer job at the infamous Darkwood plantation, owned by the wealthy LaPlante family, Arelia agrees. 
However, at Darkwood strange things start to happen, and gorgeous Lucus LaPlante insists that he needs her help. Soon, the powers that Arelia has been denying all her life, come out to play and she discovers mysteries about herself that she could have never imagined.
Title: Glimpse
Author: 
Stacey Wallace Benefiel
Publisher: CreateSpace
Release Date: April 7th 2012
Format: E-Book
Find It: 
Goodreads
Zellie Wells has a devastating crush on Avery Adams, the son of her mom's high school sweetheart. At her sixteenth birthday party, held in the basement of her dad's church, she finally finds the courage to talk to him. Turns out, the devastating crush is mutual. 
As Avery takes her hand and leads her out onto the makeshift dance floor, Zellie is overwhelmed by her first vision of his death; shocking because not only are they both covered in his blood, but they're old, like 35, and she is pregnant.
Afraid to tell anyone about the vision, (she'd just be labeled a freaky black magic witch, right?) Zellie keeps the knowledge of Avery's future to herself and tries to act like any other teenager in love. When they get caught on their way to a secret rendezvous by her mom and his dad, they are forbidden to see each other.
Convinced that their parents are freaking out unnecessarily, Avery and Zellie vow to be together no matter what. They continue their relationship in secret until Zellie learns that their parents are just trying to prevent her and Avery from suffering like they did. The visions are hereditary, they're dangerous, and if they stay together the visions will come true. 
Now Zellie must choose between severing all ties with Avery, like her mom did to prevent his father's death, and finding a way to change Avery's future.
That's all for me for the past week!
What new goodies have arrived on your doorstep?
Leave me a link in the comments and I'll come check out your post!
Content ©2011-2013 Melissa's Eclectic Bookshelf ~ ~
If you are reading this anywhere other than Melissa's Eclectic Bookshelf, a feed reader, or via email subscription, then this content has been stolen.