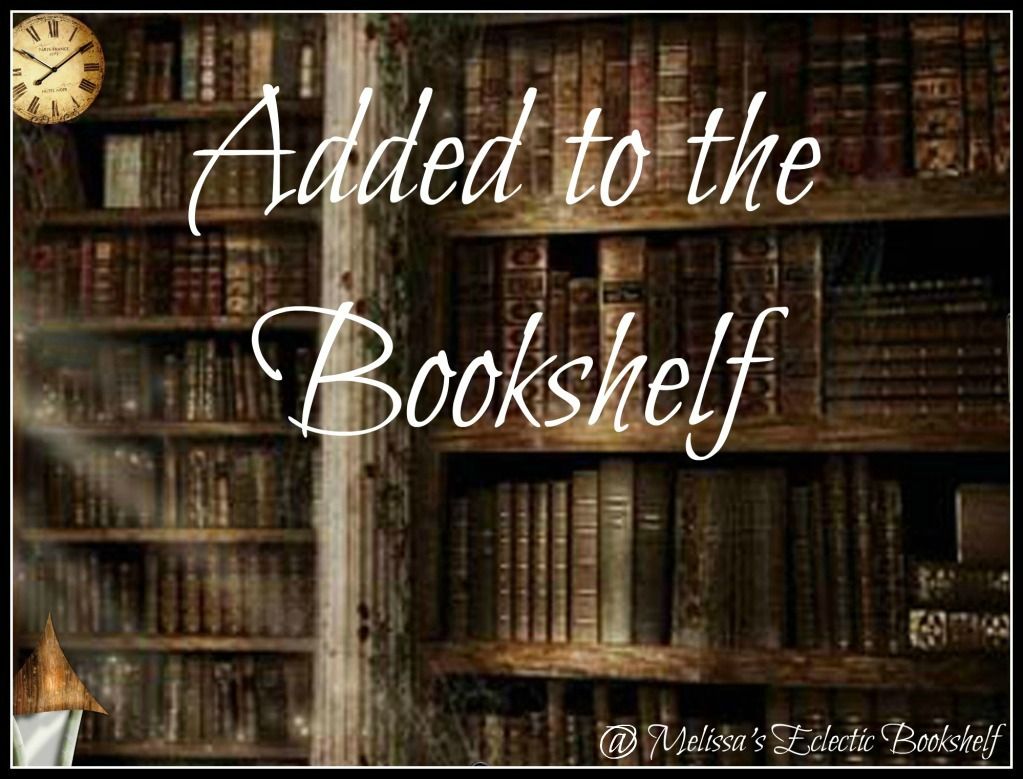 (Inspired by Mailbox Monday, IMM, Clock Rewinders and the like)
Notes From Melissa:
Have you all seen the first episode of Outlander yet? If not you can for free. Details here.  I was pretty impressed with the faithfulness to the original.  Now to convince hubby to subscribe to STARZ! lol
Recently on Melissa's Eclectic Bookshelf:
What I Read Last Week:
All Our Yesterdays (All Our Yesterdays #1) – Cristin Terrill (Audiobook) 
The Book of Life (All Souls Trilogy #3) – Deborah Harkness 
What I Am Reading Today:
Maybe Someday – Colleen Hoover (Audiobook) 
The Longings of Wayward Girls – Karen Brown 
Ongoing Giveaways:
♥ SIGNED Something Strange & Deadly Trilogy or e-copy of Strange & Ever After (8/5)
♥ Paperback of DEADLY ERRORS (E-copy INT) (8/15)
Added to the Bookshelf Last Week:
Purchased:
Title: Here on Earth
Author: Alice Hoffman
In a review of Hoffman's previous novel, Practical Magic, Booklist wrote, "magic, fantasy, and full-tilt love-at-first-sight have figured in all of Hoffman's sexy, funny, and endearing novels. . . . in Hoffman's universe, all boundaries between inner and outer realms are erased. Fear brings whipping winds, a malevolent spirit causes lilac bushes to achieve monstrous proportions, and love turns the air sweet and golden, melts butter, and makes everyone giddy." In Here on Earth, the darker, obsessive side of love is revealed in all of its power, and with all the havoc it wreaks. After nearly twenty years of living in California, March Murray, along with her fifteen-year-old daughter, Gwen, returns to the sleepy Massachusetts town where she grew up to attend the funeral of Judith Dale, the beloved housekeeper who raised her. Yet returning to her hometown also brings her back to Hollis, March's former soul mate and lover. March's father had taken the teenaged Hollis, an abandoned child, and the product of a series of detention homes, into his house as a boarder, and treated him like a son. Yet March and Hollis's passionate love was hardly a normal sibling relationship. When Hollis left her after a petty fight, March waited for him three long years, wondering what she had done wrong.

Encountering Hollis again makes March acutely aware of the choices that she has made, and the choices everyone around her has made—including Mrs. Dale, who knew more of love than March could ever have suspected, and her brother Alan, whose tragic history has left him grief-struck, with alcohol as his only solace. Her attraction to Hollis is overwhelming—and March jeopardizes her marriage, her relationship with her daughter and her own happiness in an attempt to reclaim the past.

"Hoffman conveys the mesmerizing lure of a lost love with haunting sensuality," Publishers Weekly, said in an advance review and Library Journal said: "Hoffman takes great care here to examine the many facets of love and relationships, turning them like a prism to reflect on March and Hollis."

With Here on Earth , Alice Hoffman achieves once again the "iridescent prose, taut narrative suspense and alluring atmosphere" that The Boston Globe cites as her hallmark. Erotic, disturbing and compelling, this is without a doubt Alice Hoffman's most unforgettable novel.
Recent YASYNC Downloads:
By Trent Reedy et al.
Read by Andrew Eiden
Published by Scholastic Audio
By Stephen Crane
Read by Frank Muller
Published by Recorded Books
That's all for me this week!
What new goodies have arrived on your doorstep?
Leave me a link in the comments and I'll come check out your post!