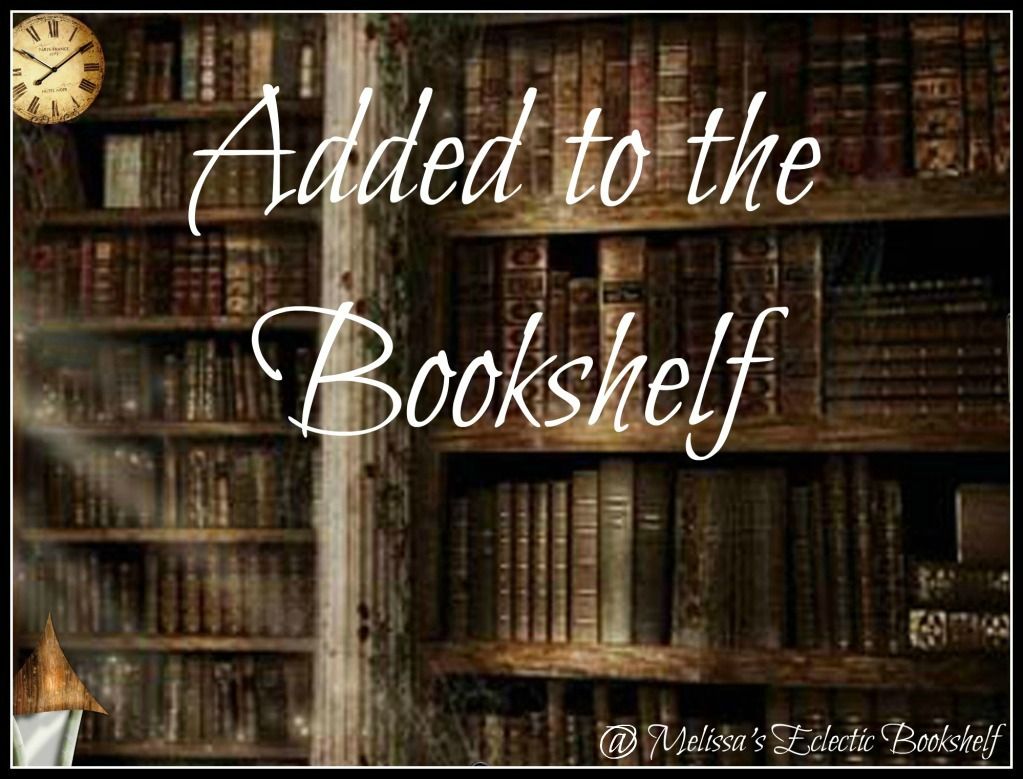 (Inspired by Mailbox Monday, IMM, Clock Rewinders and the like)
Notes From Melissa
Check out my BEA Recap Post:)
 "BookExpo America ( #BEA14 ) Recap Post – The Good, The Bad, & The Frightening!"
Bea was an amazing experience as usual…but as with any conference of this magnitude…there were both positives and negatives!  I've broken it down and given you my honest thoughts and impressions now that I've had a week to mull things over!
Recently on Melissa's Eclectic Bookshelf
What I Am Reading Today:
The Troop – Nick Swain (Audiobook)
A Tree Grows in Brooklyn – Betty Smith
I've Got You Under My Skin – Mary Higgins Clark (Audiobook) (lingering on my list due to the audio version cutting out halfway thru the book…I need to get another copy!)
Ongoing Giveaways
♥ ALL SOULS TRILOGY – Diana's Commonplace Book and a BOOK OF LIFE Button!
♥ Signed copy of HARP'S SONG or HARP'S VOICE & $25 Amazon or B&N GC! (ends 6/9/14)
Added to the Bookshelf Last Week:
BEA HAUL: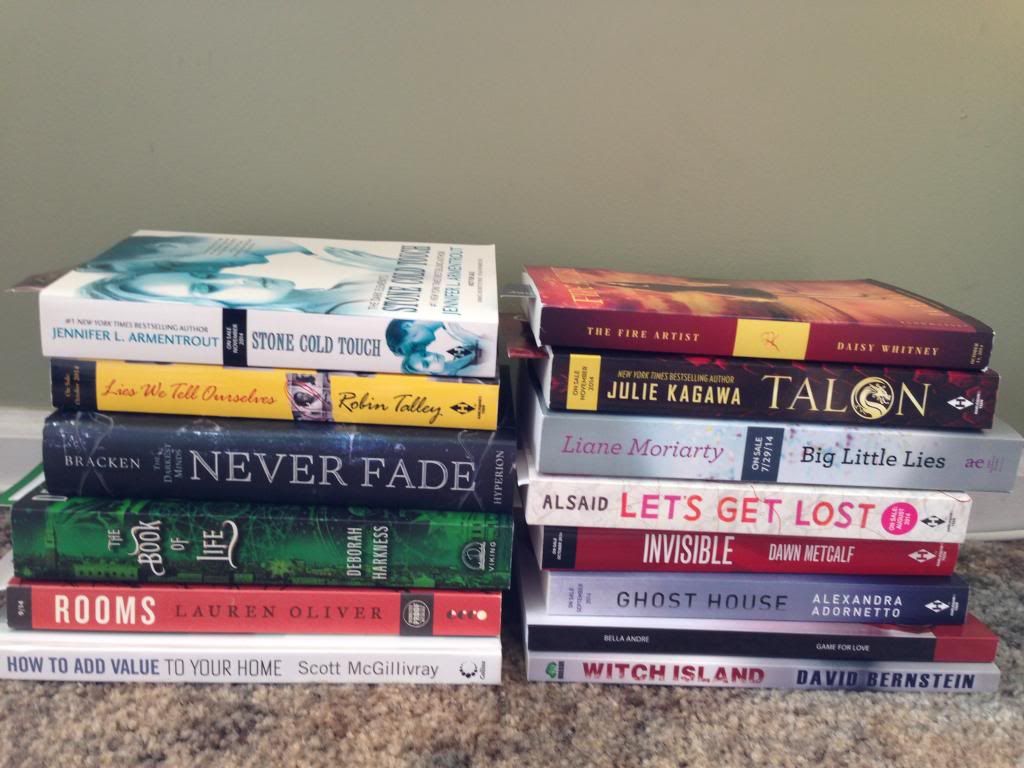 Signed Copies
Stone Cold Touch (The Dark Elements #2)  – Jennifer L Armentrout
Lies We Tell Ourselves – Robin Talley
Never Fade (The Darkest Minds #2)  – Alexandra Bracken
The Book of Life (All Souls Trilogy #3) – Deborah Harkness
Rooms – Lauren Oliver
How to Add Value to Your Home – Scott McGillivray
The Fire Artist – Daisy Whitney
Talon (Talon #1) – Julie Kagawa
Big Little Lies – Liane Moriarty
Lets Get Lost – Adi Alsaid
Invisible (The Twixt #2) – Dawn Metcalf
Ghost House – Alexandra Adornetto
Game for Love (Bad Boys of Football #3) – Bella Andre
Witch Island – David Bernstein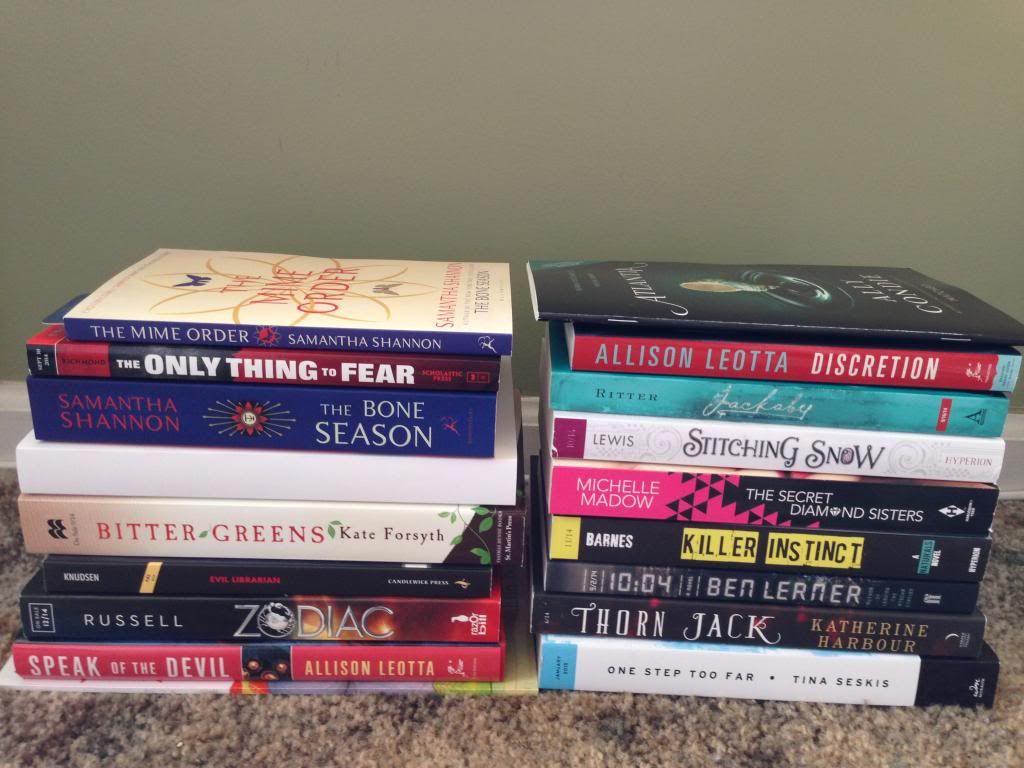 Unsigned Copies
The Mime Order (The Bone Season #2)  – Samantha Shannon (Sampler)
The Only Thing to Fear – Caroline Tung Richmond
The Bone Season (The Bone Season #1) – Samantha Shannon
This Shattered World (Starbound #2) – Amie Kaufman & Meagan Spooner
Bitter Greens – Kate Forsyth
Evil Librarian – Michelle Knudsen
Zodiac – Romina Russell
Speak of the Devil (Anna Curtis #3)  – Allison Leotta
How to Bake a Book – Ella Burfoot
Atlantia  – Ally Condie (Sampler)
Discretion (Anna Curtis #2) – Allison Leotta
Jackaby – William Ritter
Stitching Snow – R.C. Lewis
The Secret Diamond Sisters (The Secret Diamond Sisters #1) – Michelle Madow
Killer Instinct (The Naturals #2)  – Jennifer Lynn Barnes
10:04 – Ben Lerner
Thorn Jack (Night and Nothing #1) – Katherine Harbour
One Step Too Far – Tina Seskis
For Review Consideration: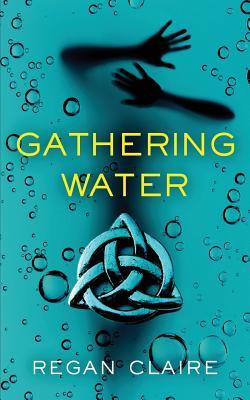 Title: Gathering Water
Author: Regan Claire
Release Date: February 1st 2014
Della Doe Deare isn't like most people. Most people begin their life on the day they enter the world; the day they're born. Della, well, hers began on the day she turned eighteen. After all, it was the day she first heard her real name, and that of her mothers. With nothing but a couple of duffel bags and a folder full of questions, she travels home to coastal North Carolina to claim the house she inherited from a grandmother she never knew. She has two goals: discover why her mother ran away from home all those years ago, and avoid the family that had left her to rot in an inept foster care system. Hard to do when the family she's been trying to avoid is dragging her into an unimaginable world… a world on the brink of war, and both sides want her dead. All Della ever wanted was to know who she was, but the journey to self-discovery might just lead to her destruction.
Recent YASYNC Downloads:
ALL OUR YESTERDAYS – By Cristin Terrill, Read by Meredith Mitchell
JULIUS CAESAR – By William Shakespeare, Read by Richard Dreyfuss, JoBeth Williams, Stacy Keach, Kelsey Grammer, and a full cast
That's all for me this week!
What new goodies have arrived on your doorstep?
Leave me a link in the comments and I'll come check out your post!