Title: Last Kiss Goodnight
Series: Otherworld Assassins #1
Author: Gena Showalter
Narrator:George Newbern
Length: 10 hrs, 12 min
Age Group:  Adult
Genre: Paranormal Romance/Urban Fantasy
Publisher: Simon & Schuster Audio
ISBN: 9781442364851
Publication Date: March 26th, 2013
Available Formats: Paperback, E-Book, Audio
Add the book: Goodreads
Buy the book: Amazon  | B&N | The Book Depository
Source: Publisher for Review
Synopsis:
The breathtaking first novel in New York Times best selling author Gena Showalter's new paranormal romance series, Otherworld Assassins, featuring a black ops agent who is captured and enslaved…and the beautiful deaf girl who holds the key to his salvation…


THE SWEETEST TEMPTATION…

Black ops agent Solomon Judah awakens caged and bound in a twisted zoo where otherworlders are the main attraction. Vika Lukas, the owner's daughter, is tasked with Solo's care and feeding. The monster inside him yearns to kill her on sight, even though she holds the key to his escape. But the human side of him realizes the beautiful deaf girl is more than she seems—she's his.

THE ULTIMATE PRICE…

Vika endures the captives' taunts and loathing, hoping to keep them alive even if she can't free them. Only, Solo is different—he protects her. But as hostility turns to forbidden romance, his feelings for her will be used against him…and he'll be put to a killer test.
My Thoughts
When offered the chance to review Gena Showalter's Last Kiss Goodnight, I was thrilled.  I had heard such great things about her other books and was more than ready to jump on the band wagon and explore her work. Plus…how gorgeous is that cover!  Unfortunately this one really didn't work for me.  Perhaps this just isn't a good subgenre for me? Or perhaps Gena Showalter just isn't the author for me?  To be honest, I almost didn't finish it.
I found the pacing of the novel to be incredibly slow…many times I was very tempted to fast forward in the hopes of finding "the good stuff."  I also found her writing to be a bit pedantic…which didn't help with the pacing issues…and the dialogue to be very forced and awkward.  It just felt to me like a whole lot of nothing happened in this book. There was a lot of repetitious activity and dialogue…it just didn't stay fresh.  Sure there were a few intense moments during fights or flights…but I just wasn't captivated. 
I also felt that the whole storyline was just too contrived…1,2,3 and we're thrown into this prison like environment that is the Lukas' circus and our main characters spend the whole novel  striving to extricate themselves all the while fighting their growing attraction. 
There were facets of the world that seemed like they might be pretty fascinating, but it really wasn't explored enough for my taste.  I have very little idea of when this book was set and what changes occured in the world due to the Otherworlders' arrival.  We basically spend the whole book watching Solo and Vika interact with the bars of his cage between them.
I also had an incredibly hard time connecting to any of the characters and that saddened me. I think there is tremendous potential in the characters and relationships of Solo, Blue & John, as well as Michael (and I am assuming that each will be the subject of a subsequent book) but I didn't feel like that potential was maximized.  We learned a bit through the course of the book about Solo and his history…but the character really didn't show a whole lot of growth or interaction within these relationships as he was separated from them for the course of the book.  
Our heroine Vika was also hard for me to connect with.  I honestly had a very difficult time accepting her developing relationship with Solo, because she just seemed like such a child.  Whether due to her tortured upbringing or her actual age (which I don't recall being stated in the book)…the character felt about 12 years old.  Her speech patterns, mannerisms, and thought processes were just not those of an adult woman.  She definitely needed Solo's protection and help…but anything more than that just felt completely inappropriate to me.  Not a good thing if reading a Paranormal Romance.
With all of that said, I am sure there probably is an audience for this book.  Sadly, I'm apparently just not it.
Regarding the narration: It's hard for me to judge based upon the fact that I didn't much care for the book itself…but I feel that George Newbern did a fine job with what he had to work with.
Was It Worth My Time?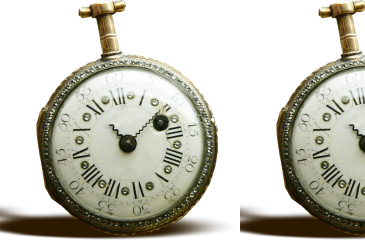 1.5 Timepieces