The Book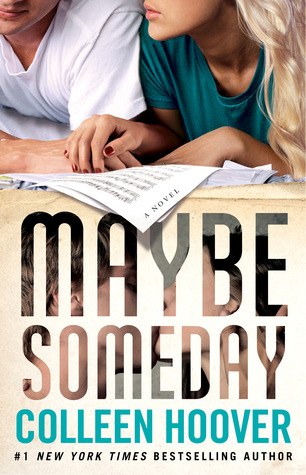 Title:  Maybe Someday
Author: Colleen Hoover
Narrators: Zachary Webber, Angela Goethals
Age Range: New Adult
Genre: Romance
Listening Length: 10 hours and 40 minutes
Length: 384 pages
Audio Release date: March 17, 2014
Publisher: Simon & Schuster Audio
Available Formats: Paperback, E-book, Audio
Add the book: Goodreads
Buy the book: Amazon | BN | The Book Depository
Source: Publisher
Synopsis:

At twenty-two years old, aspiring musician Sydney Blake has a great life: She's in college, working a steady job, in love with her wonderful boyfriend, Hunter, and rooming with her good friend, Tori. But everything changes when she discovers Hunter cheating on her with Tori—and she is left trying to decide what to do next.

Sydney becomes captivated by her mysterious neighbor, Ridge Lawson. She can't take her eyes off him or stop listening to the daily guitar playing he does out on his balcony. She can feel the harmony and vibrations in his music. And there's something about Sydney that Ridge can't ignore, either: He seems to have finally found his muse. When their inevitable encounter happens, they soon find themselves needing each other in more ways than one…

From #1 New York Times bestselling author Colleen Hoover, a passionate tale of friendship, betrayal, and romance—and the enchanting music that inspires one young woman to put her life back together
Book Quote
"However, I've learned that the heart can't be told when and who and how it should love. The heart does whatever the hell it wants to do. The only thing we can control is whether we give our lives and our minds the chance to catch up to our hearts." 
My Thoughts
My first Colleen Hoover and I'm left wondering what took me so long. I've been slow to jump on the New Adult bandwagon and to be honest am still not 100% sure how I really feel about this new target reading group/age range/designation or whatever one wishes to call it.
That said…I thoroughly enjoyed this listen and can't wait for my next Hoover read. The writing was smooth and fluid and I was immediately intrigued and caught up in Sydney and Ridge's stories. Hoover sucked me in and I was immediately invested in these two. As usual I didn't always agree or understand all of their decisions and motivations (part of that may just be that I quite simply don't fall into that age demographic) but I was nonetheless caught up and felt so much for them.
The plot carried through without feeling too contrived and allowed us a chance to eventually learn their secrets and understand a bit more of their motivations.  Supporting characters were strong and really added a lot to the story, especially Maggie and Warren.  Not sure if they have or are going to get their own stories someday…but I certainly wouldn't mind.
There was a bit of a fine line that may or may not have been crossed which left me feeling a bit conflicted, but that adds to the (I hate to use this word) angst of the story.  I had no idea how Colleen Hoover would manage to wrap this one up to my satisfaction…yet somehow she managed to do just that.
All in all a great read/listen for New Adult fans.
Narration Notes:
I could not be more pleased with the delivery provided by both Zachary Webber & Angela Goethals. I won't hesitate to pick up another audio that they are involved in.
Was It Worth My Time?

4 Timepieces