The Book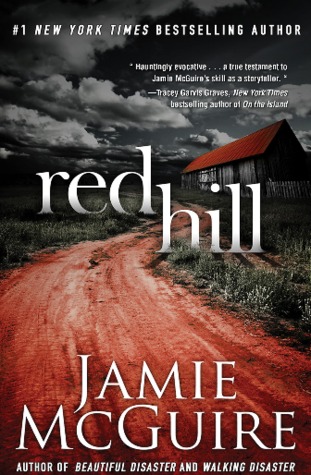 Title: Red Hill
Series: Red Hill #1
Author:Jamie McGuire
Narrators: Emma Galvin, January LaVoy and Zachary Webber
Listening Length: 9 hours and 38 minutes
Pages: 360
Age Group: Adult
Genre: Horror | Zombies | Apocalyptic
Publisher: Simon & Schuster Audio
Publication Date: October 1, 2013
Available Formats: Hardcover, Paperback, E-Book, Audio
Add the book: Goodreads
Buy the book: Amazon | B&N | TBD
Source: Publisher for Review – Audio
Synopsis:

#1 New York Times bestselling author Jamie McGuire returns with her most unforgettable story yet.

For Scarlet, raising her two daughters alone means fighting for tomorrow is an everyday battle. Nathan has a wife, but can't remember what it's like to be in love; only his young daughter Zoe makes coming home worthwhile. Miranda's biggest concern is whether her new VW Bug is big enough to carry her sister and their boyfriends on a weekend escape from college finals.

When reports of a widespread deadly "outbreak" begin to surface, these ordinary people face extraordinary circumstances and suddenly their fates are intertwined. Recognizing they can't outrun the danger, Scarlet, Nathan, and Miranda desperately seek shelter at the same secluded ranch, Red Hill. Emotions run high while old and new relation-ships are tested in the face of a terrifying enemy— an enemy who no longer remembers what it's like to be human.

Set against the backdrop of a brilliantly realized apocalyptic world, love somehow finds a way to survive. But what happens when the one you'd die for becomes the one who could destroy you?

Red Hill grabs you from the first page and doesn't let go until its stunning conclusion. This is #1 New York Times bestselling author Jamie McGuire at her unforgettable best.
Quote
"We all pretended it would get better, but the unspoken truth is always louder than the stories we tell." 
My Thoughts
So if you all saw my review from Saturday, you know that I really had terribly conflicted feelings after reading Beautiful Disaster by Jamie McGuire. That is why I was pretty unsure about Red Hill; add in zombies which have never really appealed to me and this should have been a book that I passed on.  But something told me to try this one and boy am I glad that I did.  Jamie McGuire knocked my socks off with this one. I think I have finally gotten the whole zombie thing – the point of it is that it's not about zombies it's about the people trying to survive the zombies and how they face the terrible situation surrounding them and still manage to maintain their humanity.
Red Hill is narrated by three characters:  Scarlet – a  thirty-something divorced mother struggling to find her children,  Nathan – a thirty-something father just trying to make it out alive and protect his young daughter and Miranda –  a teen  traveling with her sister and their boyfriends and doing their best to make it to their father's ranch.
We alternate between each of their perspectives, getting glimpses of what's happening as this pandemic starts and spreads and seeing how they deal with the pressure, and how their relationships with each other and with the strangers that they meet develop and change.
I think that Miranda was perhaps my favorite character. There's just something about her voice that I loved. Her strength and her spunk and her love for those around her really appealed to me as she took charge and kept a level head throughout. I also adored the boyfriends Bryce and Cooper…the relationships that these girls had made me envious.  And I really struggled when one of them became especially strained and looked like it was about to break.
Scarlet was an equally amazing character. She did whatever it took, sometimes at the detriment of the relationships with people around her, but she had one goal in mind – reuniting with her children and doing whatever it took to make that happen.  Sometimes I shook my head at her actions…not sure if I should be frightened of her single-mindedness or frightened.  She was one tough lady.
Nathan was great character as well perhaps, more for the side stories that surrounded him, than for himself. Perhaps I just didn't connect to him as much since he was male but that said I did enjoy his character and his quest to protect his daughter and find a safe place to raise her in the middle of an apocalypse.
It was interesting to see how they kept slipping by each other in the first half of the story, before all reaching Red Hill ranch.  We got  glimpses one person's story through another person's eyes without them even realizing it because they didn't know each other yet. And then it was even more fascinating to see how they all formed one family once they got to Red Hill and how their relationships developed and changed within that environment.
After listening to this audiobook I certainly have a much better feel for Jamie McGuire's storytelling capabilities and her character development.  I won't say that the world building was stellar but to be honest it seemed so secondary to the real story here that I didn't mind one bit that the pandemic back story left something to be desired. Her character development and descriptions of  the action kept me sucked in.  This plot and story line was an amazing mechanism to explore characters and relationships.
Narration Notes:
All of the narrators involved with this production were amazing. They really made the characters come to life and I wouldn't hesitate to pick up an audiobook narrated by any one of them in the future.
Final Notes:
I'm not sure if there will be more Red Hill – I know there is a novella which I can't wait to read to learn a little bit more about some secondary characters perspectives on this pandemic/apocalypse –  but I really do hope that we get a another book to follow up on our main characters and see where the world is after a time.  I'll be the first one to pick it up if one is forthcoming.
Was It Worth My Time?
4.5 Timepieces