I am so excited to have Nikki Jefford here with me today.  You all know that I love everything Witchy and her book is a delightful read! 
Read my Review of Entangled Here!
 Keep reading to find out a little bit more about the book, about Nikki, to watch the trailer and then enter the giveaway for Entangled!!
(If you are on the home page and can't see the Giveaway either click on the post title or "read more" at the bottom to go to the individual post's page!) 



Twin witches Graylee and Charlene Perez agree on one rule: No dating warlocks. 


Not so easy when a certain rogue warlock is convinced he and Graylee belong together and will use anything, including magic, to try and impress Gray. When Charlene's boyfriend dumps her, she threatens to kill either herself or the girl who stole Blake. Somehow, Gray ends up dead. 


A Resurrection Spell Gone Wrong: 


Two months after dying, Gray wakes up in Charlene's body. As a witch, can anyone blame her mother for attempting to bring her daughter back to life? Only now Gray's stuck sharing her sister's body 50/50 in twenty-four hour shifts. 


The race is on for Gray to find a way back inside her own body before Charlene purges her from existence. Raj McKenna is rumored to meddle in the black arts, not to mention he's after Gray's invisibility spell and worse – her heart. But Raj might be the only one powerful enough to save Gray from fading away forever.

Welcome & thank you so much for joining us today!  
1.

Please start by telling us a little bit about yourself. 
Third generation Alaskan, vegan, married to a Frenchman, Westie Mama, writer of YA paranormals, living on San Juan Island in Washington.
Twilight in the San Juan's
2.

When did you know that you wanted to write professionally and how did you take the leap to get into the business?
I've always wanted to write for a living. I didn't believe it was possible with fiction so I obtained a journalism degree and began reporting. I was always telling my co-workers I wanted to go back to fiction: a world where my character would never call me up and accuse me of misquoting them. 
3.

Can you tell me a little bit about Entangled and what inspired it? 
Entangled is about twin witches trying to blend in with "normals". In fact, they're strictly opposed to dating warlocks. When one dies and a resurrection spell goes amuck, they end up having to share a body and so begins the battle between good and evil and who will figure out an extraction spell first. (See inspiration below.)
4.

I'm really fascinated with the relationships between siblings and twins in particular.  (Maybe because my sisters are identical twins.) What made you decide to feature a pair of twins in Entangled and how difficult was it to develop that love/hate relationship that Charlene and Graylee have? 
For high school psychology class I once wrote a short story about a twin who died. The mother couldn't handle it and went bonkers. She started pretending that the living twin was also the dead one and would alternate between addressing her by her real name and the deceased twin's name.  
I felt as though my teacher didn't appreciate my story and it's always niggled at the back of my brain that a reading audience would do more than scribble a note to the effect that I was disturbed across the manuscript. Try creative!  With Entangled, I was able to "resurrect" that idea and introduce a magical element.
As far as the love/hate relationship between the sisters, I grew up with it so it comes naturally when I write.
5.

Graylee's mom seems to be unable or unwilling to see Charlene as she really is…  How much does that inform how her character developed into a person capable of what she attempts? 
I love that you bring up Mrs. Perez. She is, without a doubt, the most realistic character in Entangled. Who doesn't know at least one parent who turns a blind eye to their child's misdeeds? (Speaking of psychological conundrums.) 
If I were hypothesizing, in a case like Mrs. Perez, I think the mother loves one twin more than the other and it's the guilt of knowing this that makes her cater to the mean twin. BUT! It's that pure and absolute love that motivates her go to the ends of the earth to get Graylee back.
6.

What do you hope that readers take way with them after reading your book? 
That if you're going to eat a burger, eat a veggie burger. LOL. If readers are entertained, job accomplished! 
7.

I find it interesting to know what environment authors find most productive… Do you use a pen and paper or laptop? Quiet room at home or bustling café? Basically, what gets your creative juices flowing? 
I need quiet, no music, no bustle. I mostly use a computer, occasionally notebook and paper in summer. Morning is my most productive time after my husband leaves for work. It's also the time my dog, Cosmo, snoozes calmly on the couch. He's the best writing companion.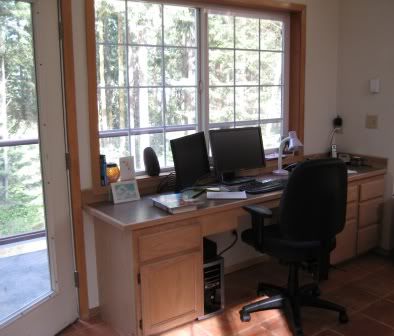 My Desk
8.

What has been the toughest criticism given to you as an author? What has been the best compliment?
 In workshops, I was consistently finding that my heroes were unlikable. You might as well dig a hole, toss your book inside, and cover it back up – cause your story is DEAD! I'm always getting complimented on my dialogue. 
9.

What book is currently on your nightstand? And who are some of your favorite authors? 
Clockwork Prince by Cassandra Clare. Jane Austen, Sherry Thomas, Laini Taylor, Suzanne Collins, and Veronica Roth.
10.

What do you like to do when you're not writing? 
I love reading, cooking, walking, and spending time with Seb and Cosmo.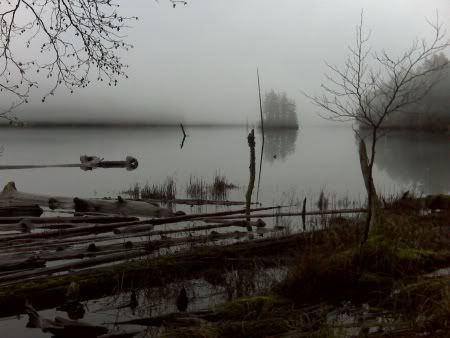 Favorite Lake Walk
Seb & Cosmo
11.

Do you have any advice for aspiring writers? 
No one gets it right the first, second or even third time. Revise and rewrite. Better yet, write several novels before you publish your first.
12.

What can we expect from you next? Is there a sequel in the works? 
There are two more books in the series. By fall I plan to release an epic vampire slayer story. It's much darker than Entangled. I've set it aside for more editing.
And now for a little bit of fun:)
This or That?
Coffee or Tea? Tea!
Sweet or Salty? Both.
Beach or Lake?  Lake. (Thought I was going to say beach, didn't ya?) 
Winter or Summer? Summer.
Zombies or Vampires?  Vampires.
Country or City?  Country.
Shower or Bath? Shower. (Our rental doesn't have a bath. Sniff.)
Morning or Evening? Morning.
M&Ms or Skittles? Neither. 
Trains or Planes? Trains… and ferries. 🙂
Comedy or Drama?  Combo!

Nikki Jefford is a third generation Alaskan who found paradise in the not-so-tropical San Juan Islands where she is, once more, neighbors with Canada.

 Answer this giveaway question in the comments below and then fill out the rafflecopter:)
Giveaway Question:
The witches and warlocks in Entangled share basic magical abilities. They also have advanced spells of their own.
If you could choose one of the following powers, which would it be?
– The power to freeze people in place and take away their voice
– Body transfers
– Invisibility
– Teleportation
– Mind reading?
I know that I would choose Teleportation…what would you choose??
a Rafflecopter giveaway
<a href="http://rafl.es/enable-js">You need javascript enabled to see this giveaway</a>.
Content ©2011-2013 Melissa's Eclectic Bookshelf ~ ~
If you are reading this anywhere other than Melissa's Eclectic Bookshelf, a feed reader, or via email subscription, then this content has been stolen.