Guest Post
Authors That Have Inspired Me
I was ten years old when I finished reading all the books that interested me on my shelves and went to my dad, complaining that I had nothing to read. This was a strategic move on my part, as he had the biggest library in the house—his home office was lined all around with shelves he had made himself stocked with enough Science Fiction to make any library jealous.
My dad's answer was to hand me a copy of Anne McCaffrey's Dragonsong. Instantly I was whisked away to an amazingly rich and inspiring world—Pern—where dragons flew in the sky and girls could do great things with music.
It was a pivotal moment in my life.
My life could be defined by the books that I read at different stages in my life. My toddlerhood and young childhood was full of the Lord of the Rings and Narnia, as my dad read out loud to us every night until his voice gave out. I grew up with Gollum and Pippin and Galadriel as family members, with centaurs and minotaurs and fauns as playmates.
I learned to read at an early age and dove fanatically into the world of Marguerite Henry—Misty, Sea Star, Stormy… these horses that had unbreakable bonds with their people, who lit up my horse-mad heart to a passionate fervor that I have still been unable to break.
Entering middle school it was reading and re-reading Swiss Family Robinson, end to end, over and over again. I was captivated by the idea of making a living in a new land, living close to nature and exploring.
It was then that I was introduced to my first real taste of fantasy. My dear friend, Lani, gave me two books that changed my direction forever—Dealing with Dragons by Patricia C. Wrede and A Spell for Chameleon by Piers Anthony. In them the dreams of other worlds came alive. I knew I was born to write fantasy.
An avid bibliophile I devoured them all—Anne McCaffrey, Susan Cooper, Margaret Atwood, Catherine Asaro, Heinlein, David Brinn, Greg Bear, Mercedes Lackey, Douglas Adams… One summer I read through my dad's Science Fiction shelves from A to Z.
There are those that have inspired me the most—Connie Willis, Anne McCaffrey, Lois McMaster Bujold, Sharon Shinn, Patricia C. Wrede.
Those that have made me light up and realize things that are new—Linda Wisdom, Debora Geary, Jacqueline Carey, Isaac Asimov, Elizabeth Moon.
Those that have taught me—Orson Scott Card, Stephen J Gould, Neil Stephenson
Those that distressed my and tested my mettle—Catherine Asaro, Vernor Vinge, Margaret Atwood, Joan Vinge.
These writers all touched me while I was still a child. I cannot begin to imagine who I would be or how my thoughts would be shaped without all of these guiding lights of literature—their voices echoing through me.
Title: How (Not) to Kiss a Toad

Author: Elizabeth A. Reeves
Pages: 314

Age Group: Adult

Genre:

 

Contemporary Fantasy/Paranormal

ISBN: 978-1480272132
Publication Date: December 8th 2012
Available Formats: Paperback, E-Book, Audio

Synopsis:


Cindy Eller is a witch with a gift for creating decadent desserts highlighting the exotic and spicy flavors of her native Southwest. However, life isn't always sweet for this magical baker. All her life she's been cursed– every man she's ever kissed has turned into a toad. Love isn't likely to come her way, she knows.

 
If that weren't a big enough problem, her 'curse' has come to the attention of the Council of Magic and she may never be able to use her powers. 
Enter the perfect man– handsome, sweet, and loves food just as much as Cindy does. It would seem to be a match made in Heaven, or is it? 
Cindy isn't the only one keeping secrets. 
With toads, cupcakes, romance, magic and ice cream, life never has time to get dull!
Excerpt
He was yummy. I mean yummy as in, I could eat in his face for the rest of my life and not get tired of it… Not in a creepy zombie way, of course.
 I was immediately reduced from bumbling idiot to speechless bumbling idiot. He was about six feet tall, nearly a foot taller than me, with dirty-blond hair and the clearest hazel eyes I had ever seen. His eyelashes were beyond ridiculously long, past movie-star and right on to camel-length. The lashes were surprisingly dark around those amazing eyes of his.
And I was staring at him with my mouth open.
"This is our pastry chef," Jessi nudged me in the ribs so hard I almost fell over… again.
"Um…" I said, brilliantly. "Cindy Eller. Pleasedtomeetcha."
His eyebrows rose and I cursed myself for not remembering to add in my middle name. 'Cindy Rachel Eller' sounds saner than ' Cindy Eller'.
He cleared his throat. "I'm sorry? I thought I heard you say…"
If possible, I blushed harder. If my face got any hotter I was going to spontaneously combust. "Cindy Eller." I carefully enunciated every single syllable of my detested name. "I have an evil mother."
He cracked a grin that made him even more gorgeous, if that was even possible. I was pretty sure I was starting to drool. So much for avoiding that whole zombie thing. "Not an evil step-mother?"
I shook my head, sure I was creating a flour halo around my head. "Nope. I wish I could say she was my stepmother, but she's really all mine."
He laughed and I managed to smile back at him, hopefully not looking too frightening.
Wow, he had serious dimples. He must have frequent dimple mileage.
Darn it. I was staring again.
Toads, I reminded myself. Big, bad, slimy, toxic toads.
"This cannoli is spectacular," Timothy Borden was saying, apparently— and hopefully!— oblivious to my inability to rub two brain cells together in his presence.
"Um," I dazzled him with my stunning charm and wit. "Thanks."
"What made you think to use crushed pistachios in the cream filling?"
I shook my head, trying to clear it. "I love pistachios with honey," I managed, only slightly too fast. "I was thinking they would play off each other with that little hint of lavender."
He smiled. "I think you aced it. In fact, I'll take the rest of these. I can't wait to show them off at work."
Jessi nodded and started packaging the order.
"Would you like anything else?" I asked, hoping I sounded professional and not… like I was desperately asking him to order a serving of me.
He frowned slightly in thought, creating an adorable crooked furrow between his eyebrows.
"Bad girl," I told myself. "Toads. Think toads."
"I'll take the 'Road to Bliss'," he decided, pointing at my brownie creation featuring three kinds of chocolate and Macadamia nuts covered in a shell of ganache.
"One piece?" I asked. "A dozen?"
He shook his head in thought. "No. I'll just take the whole tray."
I gaped at him yet again as Jessi compiled his order and rang it up. I stood stupidly as he paid with a credit card.
"You'll be seeing me again," he said over his shoulder, as he carried his packages out the door.
"Um," I cleverly retorted.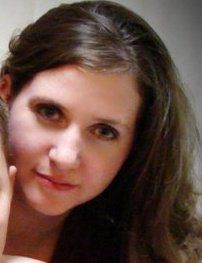 Legend has it that Elizabeth A Reeves was born with a book in her hands and immediately requested a pony. Though this story is questionable, it is true that books and horses have been consistent themes in her life. Born in Massachusetts, she was quickly transplanted to Arizona by a professor father and creativity-driven mother, who is the one responsible for saying "If you can't find a book that you want to read, write a book you want to read."
In her spare time, she likes to knit, weave, hatch chickens, and chase after her husband and four sons.
The Giveaway
3 Copies of  How (Not) to Kiss a Toad
3 Copies of  How (Not) to Kiss a Prince
3 Copies of  How (Not) to Kiss a Beast advanced copies
Content ©2011-2013 Melissa's Eclectic Bookshelf ~ ~
If you are reading this anywhere other than Melissa's Eclectic Bookshelf, a feed reader, or via email subscription, then this content has been stolen.