Title: A Survival Guide for Life
Author: Bear Grylls
Pages: 285
Age Group: Adult
Genre: Self Help
Publisher:William Morrow / Harper Collins
ISBN: 978-0062271952
Publication Date: July 2nd 2013
Available Formats: Hardcover, E-Book
Add the book: Goodreads
Buy the book: Amazon  | B&N | The Book Depository
Synopsis:
From the world-famous survival expert,learn how to make everyday an unforgettable adventure.
Life in the outdoors teaches us invaluable lessons. Encountering the wild forces us to plan and execute goals, face danger, push our "limits," and sharpen our instincts. But our most important adventures don't always happen in nature's extremes. Living a purpose-driven, meaningful life can often be an even greater challenge. . . .
In A Survival Guide for Life, Bear Grylls, globally renowned adventurer and television host, shares the hard-earned wisdom he's gained in the harshest environments on earth, from the summit of Mt. Everest to the boot camps of the British Special Forces:
What are the most important skills to learn if you really want to achieve your maximum potential? How do you keep going when all the odds are stacked against you? How can you motivate a team to follow you in spite of apparent risks?
Filled with exclusive, never-before-told tales from Bear's globe-trekking expeditions, A Survival Guide for Life teaches every reader—no matter your age or experience—that we're all capable of living life more boldly, of achieving our most daring dreams, and of having more fun along the way. Here's to your own great adventure!
My Thoughts
I didn't know a whole lot about Bear Grylls when I accepted this book for review. I'd never seen one of his television programs. I just saw this cover, had a vague notion of who he is and knew that this was a review book that I couldn't turn down.  And how glad I am that I didn't.

I'll be honest, there's really nothing new here aside from the personal bits thrown in about Bear's life and experience – which I absolutely loved by the way.  He's not reinvented the wheel or  come up with any new Earth shattering revelations, but still he manages to remind, motivate and inspire. Most of what he tells us is all common sense…things we've learned and relearned and yet still somehow manage to forget when we get caught up in the rat race that is life.  I for one liked the simple reminders and the straightforward honesty I found in A Survival Guide For Life  and I'll keep my eye out and tune in to the next Bear Grylls television program I come across.
This is the perfect book to be read at the reader's pleasure either  in bits and pieces, snippets here and there as one feels the desire and motivation…or all in one sitting as it's light enough to be easily digested and filling enough to be completely satisfying.

4 Timepieces
Trailer
About The Author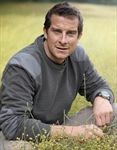 Bear Grylls is the host of the summer 2013 NBC reality series Get Out Alive. Previously he starred for seven seasons in the adventure series Man vs. Wild (reaching an estimated 1.2 billion viewers in more than 180 countries). Educated at Eton, Bear served in the elite UK Special Forces unit 21 SAS and was made an honorary lieutenant commander in the Royal Navy. He climbed Mt. Everest in 1998 at the age of twenty-three—just eighteen months after breaking his back in a parachuting accident in Africa. He continues to lead record-breaking expeditions to the world's extremes, which have raised more than £1.5 million for children's charities. His autobiography, Mud, Sweat, and Tears, was a number one international bestseller. Bear lives with his wife, Shara, and their three sons, Jesse, Marmaduke, and Huckleberry, on a Dutch barge in London and on a small remote island off the coast of Wales.