The Book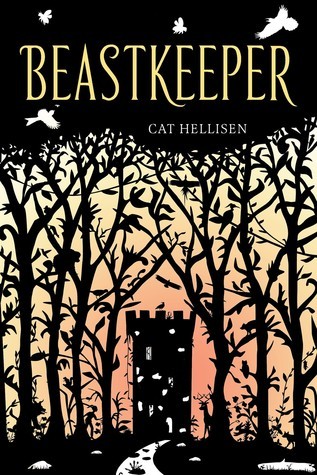 Title:  Beastkeeper
Author:  Cat Hellisen
Target Audience:  Middle Grade
Genre: Fantasy | Fairy Tale Retelling
Length: 208 pages
Publisher: Henry Holt and Co. | Macmillan
Publication Date: February 3rd 2015
Available Formats: Harcover, E-book
Add the book: Goodreads
Buy the book: Amazon | BN |The Book Depository
Source: Publisher
Synopsis:

Sarah has always been on the move. Her mother hates the cold, so every few months her parents pack their bags and drag her off after the sun. She's grown up lonely and longing for magic. She doesn't know that it's magic her parents are running from.

When Sarah's mother walks out on their family, all the strange old magic they have tried to hide from comes rising into their mundane world. Her father begins to change into something wild and beastly, but before his transformation is complete, he takes Sarah to her grandparents—people she has never met, didn't even know were still alive.

Deep in the forest, in a crumbling ruin of a castle, Sarah begins to untangle the layers of curses affecting her family bloodlines, until she discovers that the curse has carried over to her, too. The day she falls in love for the first time, Sarah will transform into a beast . . . unless she can figure out a way to break the curse forever.
Quotes
"Beyond, the trees danced, green and blue against a sky alive with light. She watched the first stars pinwheel in heir courses, and around her the forest came to life in a flutter of scents and sounds. "
"And that is where the storytellers write their own sugary versions of the truth. A pack of lies until they reach 'The End.' But no story ever comes to an end, at least not one so neat. There are voices silenced, characters erased at the storyteller's whim."
My Thoughts
As with a lot of books,  I was initially drawn to Beastkeeper by Cat Hellisen by the gorgeous cover.  The silhouette of the castle and the forest –  it is just the right mix of beautiful and frighteningly creepy.
I don't read much Middle Grade because for the most part I find that the writing leaves a little something to be desired as I am obviously not the intended audience but recently I've read two in a row that have been big winners and this is one of them. I can't say enough about Cat Hellisen's wonderful writing skills.  She deftly tells the story in language simple enough for a Middle Grade reader yet compelling enough to keep me interested and compelled to keep reading. With beautiful imagery, great atmosphere and deeper meanings woven throughout, Beastkeeper is simply a beautiful read.
I loved the main character Sarah and her unending reserve of faith and determination that she would have the ability to figure out what was going on and eventually break the curse.  She also has what appears to be an amazing maturity beyond her years as evidenced by her acceptance of events and other characters unfortunate choices and actions.
I've seen Beastkeeper described as a retelling of Beauty and the Beast with the variation being that the Beast is  a girl.  This is to a small degree the truth but is really an oversimplification of all that Cat Hellisen accomplishes in this book.  This story is so much more than that. Most of the elements of Beauty and the Beast are missing here but they're made up for by so much more. The rich  history of Sarah's family and the heartbreak that has followed them through the generations is wonderfully told and resounds throughout this is a rare treat.
I definitely would recommend this to any age reader who is looking for lush storytelling, multiple layers and doesn't mind that this gets quite dark.  This is no warm and fuzzy fairy tale.
Was It Worth My Time?

4 Timepieces