The Book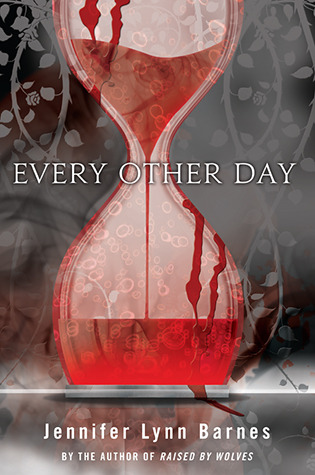 Title:  Every Other Day
Edited By: Jennifer Lynn Barnes
Age Range: Young Adult
Genre: Fantasy | Paranormal
Length: 329 pages
Publisher: EgmontUSA
Publication Date: December 27th 2011
Available Formats: Hardcover, Paperback, E-book, Audio
Add the book: Goodreads
Buy the book: Amazon | BN |The Book Depository
Source: Publisher
Synopsis:

Every other day, Kali D'Angelo is a normal sixteen-year-old girl. She goes to public high school. She argues with her father. She's human.

And then every day in between . . . she's something else entirely.

Though she still looks like herself, every twenty-four hours predatory instincts take over and Kali becomes a feared demon-hunter with the undeniable urge to hunt, trap, and kill zombies, hellhounds, and other supernatural creatures. Kali has no idea why she is the way she is, but she gives in to instinct anyway. Even though the government considers it environmental terrorism.

When Kali notices a mark on the lower back of a popular girl at school, she knows instantly that the girl is marked for death by one of these creatures. Kali has twenty-four hours to save her, and unfortunately she'll have to do it as a human. With the help of a few new friends, Kali takes a risk that her human body might not survive . . . and learns the secrets of her mysterious condition in the process.
Quote
"Sometimes, there aren't any good choices. Sometimes, making the right one is hard… It's funny, but when you think about it, we're all broken. That's what life does. It knocks you down and breaks you and you either get back up again, or you don't. You either do things on your terms, or you don't. You let the bad things win, or you don't."
"You either let it break you, or you don't."
My Thoughts
This book completely surprised me.  I went into Every Other Day thinking it would be just another YA paranormal, but Barnes manages to stand out from the crowd.
5 Reasons to pick this one up:
Kali is an amazing and strong heroine who doesn't even really know who she is but knows what she does.  She kills preternatural creatures and helps keep the world safe while battling her own demons. She can't help but stand up for others even if she doesn't like them.  She's definitely a true superhero.
The world is a fascinating twist on our own.  Imagine an alternate world in which Darwin not only discovers evolution but also the existence of preternatural creatures.
The secondary characters: I just loved Skylar and all of her brothers.  They would make a great story in their own right.  And even Bethany shines.  All of them are unique and all add tremendously to the story.  This story is as much about relationships and the strength of friendship as it is about the woowoo.
It got "Sci-ency".  Unlike some readers , I love when a healthy dose of science (or pseudoscience) is mixed in with my fantasy.  When done well…as is the case here…it adds a whole different level of realism to a fantasy.
The pacing…is perfect.   I could not put this one down and I was so sad when it was all over.
I'll definitely be looking for my next Jennifer Lynn Barnes fix soon.
Was It Worth My Time?

4 Timepieces