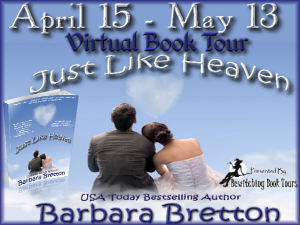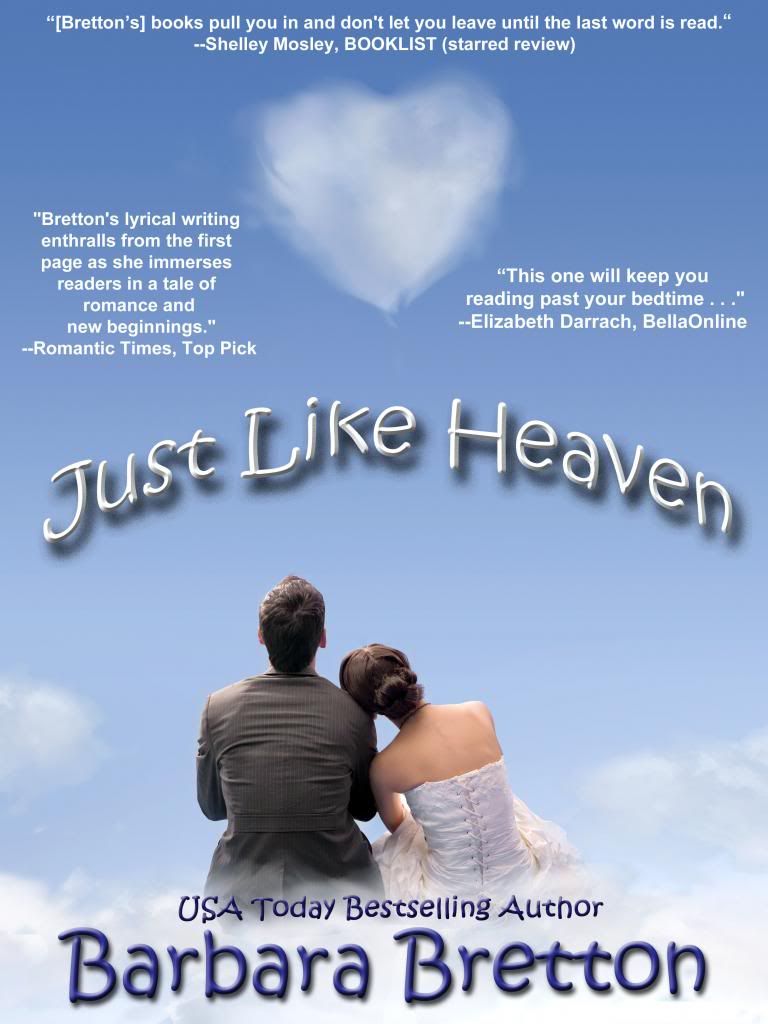 Title: Just Like Heaven  
Author:  Barbara Bretton
Reading level: Adult
Genre:  Contemporary romance/women's fiction
Publisher: Free Spirit Press previously pub.  by Berkley
Source: Received for tour in exchange for an honest review
Find It: Goodreads | Amazon 
Because love can happen anywhere . . .

Even in New Jersey!

A beautiful morning in early spring. What could possibly go wrong?

Just returned from a buying trip in England, Kate French was jet-lagged and exhausted and running on fumes. She was already running late for an appointment but a wave of dizziness forced her to pull into the shopping mall parking lot in search of a quick fix of caffeine and protein.

When the pain first hit, she ignored it and continued racing across the parking lot toward the food court. But within moments she realized something was terribly wrong as her wobbly legs gave out and she dropped to the ground. The last thing she remembered as she started to fade away was the guy in the Grateful Dead T-shirt who held her in his arms and promised he'd never let her go.

Mark Kerry didn't think of himself as a hero but the story of a Good Samaritan who had saved a woman's life in the parking lot of the Princeton Promenade was attaining the status of suburban legend. Determined to return a stack of documents that had been left behind when the ambulance swept her away, he called in some favors and tracked her down at home one week later.

The moment Kate saw him again, the world and everyone in it disappeared. She knew his voice, the smell of his skin, the way his hands felt against her skin, the taste of his mouth, everything that mattered. All the things she would ever need to know about him.

And then she took another look . . . 

This is a wonderful sweet fun and romantic story.  I loved the fact that it was set in my state of New Jersey and that the characters were "real" people and did not appear to fall into any of the standard stereotypes.  It made the reading so much more fresh and interesting. These characters are real people dealing with real life issues.  I also loved that this was the first time in forever that I've been able to pick up a read about characters that are actually older than I am.  (That's how I know I am getting old…it's so hard to find stories about characters my age! lol)
Barbara Bretton's writing is, as expected, flawless.  All of the characters are completely imperfect and yet totally relatable.  I loved the supporting characters – Kate's Daughter and Mother, Best Friend and even Ex Husband. as well as the glimpse into Mark's friends. The arc of the story was perfect as was the pacing.  You won't be sitting of the edge of your seat throughout this one, but you will be comfortably anticipating what is to come and waiting with baited breath for the Happily Ever After.
I will say that I was a tiny bit unpleasantly surprised by the amount of talk that there was circling around the religion issue.  I guess it was to be expected with an Episcopalian Priest for a main character…but it still caught me off guard and there were a few conversations that I could have done without.  That said, the book was still completely captivating and heart warming..and I have no problem recommending Bretton to lovers of Romance and HEAs.


A Very Solid 4 Timepieces!

Barbara is offering a signed copy of Just Desserts to lucky one winner.
Open to US Shipping only.
Content ©2011-2013 Melissa's Eclectic Bookshelf ~ ~
If you are reading this anywhere other than Melissa's Eclectic Bookshelf, a feed reader, or via email subscription, then this content has been stolen.