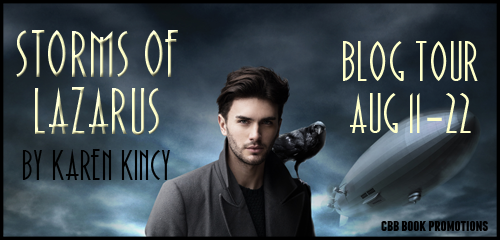 Welcome to my tour stop for Storms of Lazarus by Karen Kincy. This is the second book in the Shadows of Asphodel series.  Here is my review of book 1:  Shadows of Asphodel.   If interested you can also see my interview with Karen from last December:)
The Book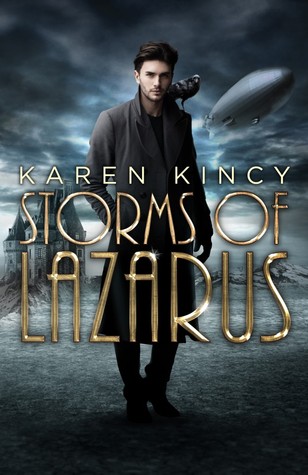 Title:  Storms of Lazarus
Author: Shadows of Asphodel #2
Author: Karen Kincy
Age Range: Adult
Genre: Science Fiction | Fantasy | Dieselpunk | Romance
Length: 277 pages
Publication Date: July 13th 2014
Available Formats: Paperback, E-book
Add the book: Goodreads
Buy the book: Amazon | BN
Synopsis:
Sometimes escape is impossible. Sometimes love isn't enough.
1913. Christmas Eve. Ardis hardly expects a quiet holiday with Wendel, between fleeing Constantinople and hiding from an ancient society of assassins. And they owe a debt to a certain archmage.
In Königsberg, Prussia, they work with Konstantin on the next evolution of Project Lazarus. Wendel once called Königsberg home, the city now besieged by the Russians and their clockwork engines of war. This may be Wendel's last chance to save his family and find redemption, but he's tormented by nightmares and tempted by laudanum. Ardis fears her love isn't enough to save Wendel. Her hands are full piloting the automatons, and she's terrified to tell him a secret of her own. Will they—and their love—survive the storms of war?
Book Quote
"Before I met you," Wendel said, "it was easier to fight."
She frowned. "Are you saying I'm a liability?"
"You misunderstand me." Wendel paused, his face only inches from her own. "In some ways, it is easier to face death alone."

My Thoughts
The Good:
I absolutely loved the way family relationships were brought into the forefront as Ardis and Wendel travel to Wendels Prussian home and familial ties were examined.
Wolfram…He may have had a bit part…but I loved him 🙂 And his nickname-Wolfie:)
We really learned a lot more about Ardis and Wendel and their backstories and families.
The tech…from automatons to clockwork wasps that lay clockwork larvae to an amazingly awesome clockwork dragon…I loved it all.  Although, I admit that I am still clueless about steampunk, dieselpunk, clockwork, technomancy, magic and how it all connects or even what is what….I still was able to just put my questions aside and enjoy how cool it all was.
The non stop action.  Storms of Lazarus never slowed down…and because of that it was so hard to put down.
The romance continues developing quite nicely until we can feel almost secure…at least at points. And I can't wait to see what the future holds based upon the new turn that was confirmed at the end.
Wendel has more of his incredibly sexy badass moments…and Ardis benefits from his protection a time or two…Yet the women are the true standouts in this book and I loved how tough they were!
The battle scene at the end as well as many of the action packed incidents kept me on the edge of my seat.
That cover is beyond awesome…I wouldn't mind a bit of an older version of Wendel…but the over all effect is spectacular!
The Not So Good:
The blushing.  One male character (Konstantin) blushed during each and every interaction he had with another male and he seemed fairly awkward. It was hard to believe he was in the position of authority that he held considering how submissively he behaved around everyone.
Some of the scenes seemed a bit forced…and the sentence structure sometimes seemed very staccato …most of the narrative is told with very short to the point sentences.
***Spoiler alert***
The especially cagey way that Wendel was acting…especially around other men…but also around the vampire chick.  What the heck?  Just as he and Ardis are really deepening their relationship…a male ex, a male he appears to be currently interested in and and undead vixen are added to the mix? I consider myself fairly open minded..I enjoyed another budding romance that occurred…but it is hard for me to feel that Ardis is safe in this relationship if she has other women AND men to worry about!
***End spoiler alert***
Final Thoughts:
A well written and fast paced sequel…Storms of Lazarus delivers lots of actions, great character development and lots of interesting tech. I'm not sure if there will be a 3rd book in this series…but I really hope that there is.  I have a feeling that we are building to an amazing conclusion.
Was It Worth My Time?

3.5 Timepieces
The Author
Karen Kincy (Redmond, Washington) can be found lurking in her writing cave, though sunshine will lure her outside. When not writing, she stays busy gardening, tinkering with aquariums, or running just one more mile. Karen has a BA in Linguistics and Literature from The Evergreen State College.
Find the author: Website | Twitter | Facebook 
Giveaway:
$25 Amazon Gift Card
Check out the tour page for the schedule and more information.
This tour was organized by CBB Book Promotions.