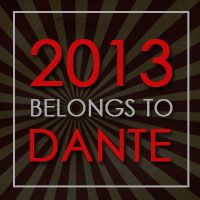 Welcome to my stop on the '2013 Belongs to Dante' blog event hosted by YA Bound.  Click HERE to see the rest of the blog tour schedule!

Title: The Collector (Dante Walker #1)
Author:  by Victoria Scott 
Reading level: Young Adult
Genre:  Paranormal
Release Date: April 2nd, 2013
Publisher: Entangled Teen
Source: Received for Blog Tour
Find It: Goodreads | Amazon | Barnes & Noble
Dante Walker is flippin' awesome, and he knows it. His good looks, killer charm, and stellar confidence has made him one of hell's best—a soul collector. His job is simple, weed through humanity and label those round rears with a big, red good or bad stamp. Old Saint Nick gets the good guys, and he gets the fun ones. Bag-and-tag.

Sealing souls is nothing personal. Dante's an equal opportunity collector and doesn't want it any other way. But he'll have to adjust, because Boss Man has given him a new assignment:

Collect Charlie Cooper's soul within 10 days.

Dante doesn't know why Boss Man wants Charlie, nor does he care. This assignment means only one thing to him, and that's a permanent ticket out of hell. But after Dante meets the quirky, Nerd Alert chick he's come to collect—he realizes this assignment will test his abilities as a collector, and uncover emotions deeply buried.

I'm in a slump, off my game, throwing up bricks, swinging and missing. I'm having an off year.

I'm going to start off by admitting that I didn't go into this read expecting to be wowed.  I'd seen the hype EVERYWHERE and sometimes that really tends to turn me off.  Then I heard about what a Bad Boy Dante is…and I was pretty unsure…  But something in me told me to give this one a chance.  And then by the time the opportunity presented itself to read and review this one…I jumped.  Yep…Dante had gotten to me and had me hopping!
The pacing of The Collector is perfect…there was never a moment where I dared put it down..and I devoured it in a matter of days.  There was so much snark that I was laughing and smiling constantly.  I think that this is one of Victoria Scott's greatest gifts…that ability to write a pretty serious story but wrap it all up in tons of fun!
As expected, from page 1, Dante rubbed me all the wrong way.  He was beyond arrogant and conceited..incredibly self centered and selfish and well…he's a Collector…and… (*SPOILER ALERT* That is not a good thing!)  I started reading, met and fell in love with Charlie and her friends Annabelle and Blue.  I even started rooting for Blue – As you all know I have a weakness for the best friends and tend to always root for them if there is a love triangle (which there really isn't much of in this book-thank goodness!)
Then, we start to actually get to know Dante…and lo and behold…there a soft gooey center that becomes very addicting, very quickly.  Dante is definitely arrogant and then some, but he is also a beautifully tortured soul with goodness buried deep within.  It just takes the right motivation, the right incentive and that goodness starts to slowly break free and chip through until we wonder: Can there be redemption at this point?
 And let there be no doubt…we want that redemption for Dante…as long as he makes sure not to lose any of that glorious swag of his along the way.
Suffice it to say that I've become a Victoria Scott (and Dante) Fangirl and can't wait to see where Dante is going in book 2: The Liberator.


A Very Solid 4 Timepieces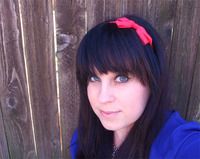 I'm a YA writer represented by Laurie McLean. Author of THE COLLECTOR (Entangled Teen, April 2013) and THE BRIMSTONE BLEED (Scholastic, 2014). I have a master's degree in marketing, and live in Dallas with my husband. When not writing, I can be found munching cotton candy and snuggling obese cats.
Content ©2011-2013 Melissa's Eclectic Bookshelf ~ ~
If you are reading this anywhere other than Melissa's Eclectic Bookshelf, a feed reader, or via email subscription, then this content has been stolen.