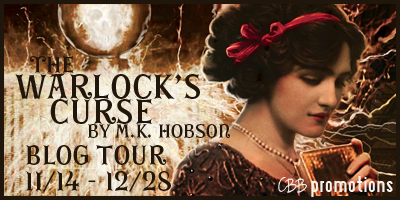 Title:  The Warlock's Curse
Series:  Venificas Americana #3
Author:  M.K. Hobson
Reading Level: Adult
Genre: Fantasy
Release Date: October 31st 2012
Size:  390 pages
THE YEAR IS 1910. Eighteen-year-old Will Edwards has landed a prestigious apprenticeship at Detroit's Tesla Industries, the most advanced scientific research center in the United States. It's a plum prize for a young man who dreams of a career in the new science of Otherwhere Engineering.
But his father doesn't want him to go. And he won't tell him why.
Determined to get there by any means necessary, Will finds unexpected support along the way. His old friend Jenny Hansen—daughter of a San Francisco timber baron—is eager to help him for reasons of her own. And so is his estranged brother Ben, who he hasn't seen in over ten years.
But running away turns out to be the easy part. On the first full moon after his eighteenth birthday, Will is stricken by a powerful magic—a devastating curse laid upon his ancestors by the malevolent sangrimancer Aebedel Cowdray. Will must find a way to control the magic that possesses him—or the vengeful warlock's spirit will destroy everything and everyone he loves.

I'm not accepting a lot of review books lately but am so glad that I made an exception for this one.  I was drawn in from the first page by M.K. Hobson's amazing writing style. Reading each word was simply a pleasure…in that aspect it read to me a bit like literary fiction–which is a great thing!  Her prose is rich and descriptive, her dialogue realistic and believable…from start to finish it was a pleasure.
The world building was a bit confusing to me at first but I soon caught on and was amazed by how well fleshed out and imaginative it all was.  The Warlock's Curse seems to be a mix of historical fiction, steampunk, fantasy, mystery, romance and coming of age and Hobson manages to pull it all off exceptionally well.
I will admit that although the characters of Will and Jenny are very well drawn…I did have a lot of trouble actually connecting to them…and had a bit of a difficult time even liking Will at certain points.  I'll chalk that up to growing pains as Will tries to stretch his wings and become independent from his family…not always making smart choices along the way.
This is definitely adult reading–it is a very atmospheric tale with gritty grim details and some heart wrenching moments as well as magical moments. On the whole, I was so pleasantly surprised by this one!  Although it is the third in a series…apparently the characters and the time period are all new.  I did not feel as if I was missing anything at all…though I will say that after finishing it I added the fist two in the series to my wishlist.  I definitely need more M.K. Hobson!


4 Timepieces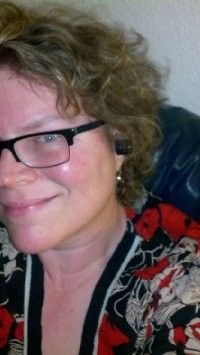 M.K. Hobson's debut novel, THE NATIVE STAR, was nominated for a Nebula Award in 2010. She lives in the first city in the United States incorporated west of the Rockies. Her favorite authors are Theodore Dreiser, Sinclair Lewis, Booth Tarkington, Gore Vidal, and William S. Burroughs. THE WARLOCK'S CURSE is her third novel. You can find out more at her website, 
www.demimonde.com
.

Prize package of *signed* copies of The Native Star, The Hidden Goddess and The Warlock's Curse as well as a swag pack of a Tesla Industries pin, magnets and a sticker *not shown*.
*Open to US only*
13 ebooks of The Warlock's Curse
*Open worldwide*
Ends 12/30/12
Content ©2011-2013 Melissa's Eclectic Bookshelf ~ ~
If you are reading this anywhere other than Melissa's Eclectic Bookshelf, a feed reader, or via email subscription, then this content has been stolen.