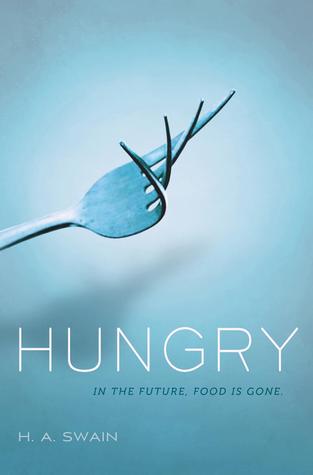 Title: Hungry
Author: H.A. Swain
Length: 384 Pages
Age Group: Young Adult
Genre: Dystopian | Science Fiction
Publisher: Feiwel & Friends | Macmillan
Publication Date: June 3rd 2014
ISBN: 978-1250028297
Available Formats: Hardcover, E-Book
Add the book: Goodreads
Buy the book:  Amazon | BN | The Book Depository
Source: Publisher for Review
Synopsis:
In the future, food is no longer necessary—until Thalia begins to feel something unfamiliar and uncomfortable. She's hungry.
In Thalia's world, there is no need for food—everyone takes medication (or "inocs") to ward off hunger. It should mean there is no more famine, no more obesity, no more food-related illnesses, and no more war. At least that's what her parents, who work for the company that developed the inocs, say. But when Thalia meets a boy who is part of an underground movement to bring food back, she realizes that most people live a life much different from hers. Worse, Thalia is starting to feel hunger, and so is he—the inocs aren't working. Together they set out to find the only thing that will quell their hunger: real food.
H. A. Swain delivers an adventure that is both epic and fast-paced. Get ready to be Hungry.
My Thoughts
The Good:
With a fascinating premise this YA Dystopia manages to stand a bit outside of the usual YA pack.
Fast paced and well written, I flew through this one. There was never a dull moment.
Thalia was a thoroughly likeable character, I couldn't help but root for her. I loved that once her mind was opened she became a sponge, thirsting for more knowledge.
I loved many of the secondary characters including Betta, Yaz, and especially Grandma Apple.
The complex familial relationships and the muddled lines of right and wrong kept me invested. I like grey areas.
The lengths to which the corporation was willing to go to maintain its monopoly, rang sadly and frighteningly true.
The Not So Good:
I had a really hard time believing in the technology and advancements presented in this world and that detracted from my overall experience.
The character of Basil was not really terribly well developed, what I felt I knew of him I didn't really like-he was a follower who didn't really evidence any true intelligence or desire to fight for what was right.
The romance developed way too quickly. Points off for insta-love.
Many of the adults felt like caricatures of characters.
Final Thoughts:
An entertaining and quick read that presents a new twist on YA dystopia but doesn't live up to it's full potential.
Was It Worth My Time?

 3 Timepieces