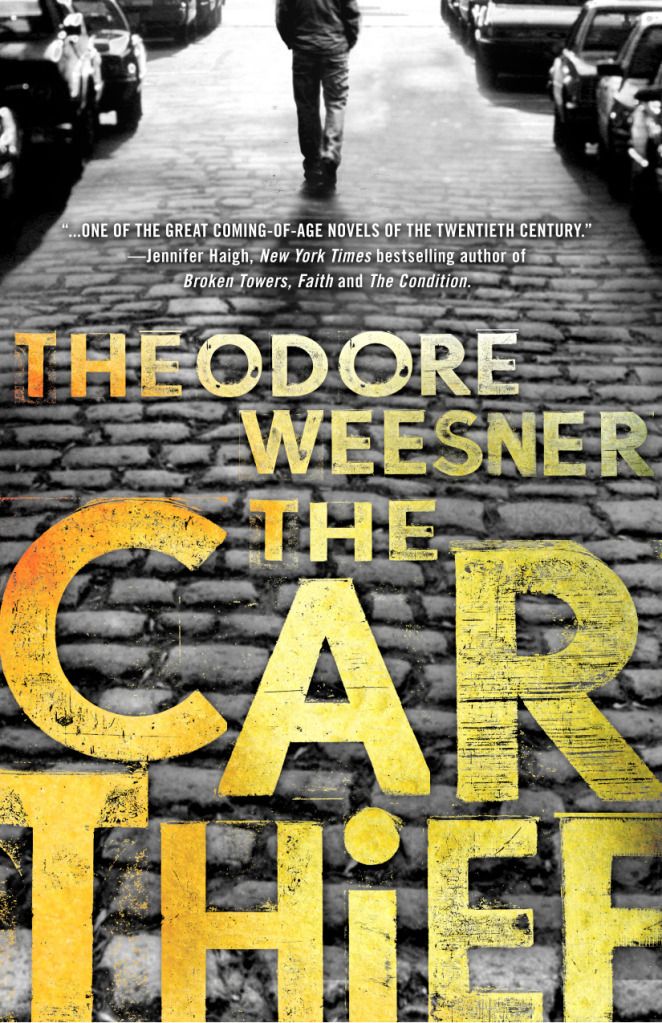 It's
1959.  Sixteen year-old Alex Housman has
just stolen his fourteenth car and frankly doesn't know why.  His divorced, working class father grinds out
the night shift at the local Chevy Plant in Detroit, kept afloat by the flask
in his glove compartment and the open bottles of booze in his Flint, Michigan
home.
Abandoned and
alone, father and son struggle to express a deep love for each other, even as
Alex fills his day juggling cheap thrills and a crushing depression. He cruises
and steals, running from, and to, the police, compelled by reasons he
frustratingly can't put into words.  And
then there's Irene Shaeffer, the pretty girl in school whose admiration Alex
needs like a drug in order to get by.  Broke
and fighting to survive, Alex and his father face the realities of
estrangement, incarceration, and even violence as their lives hurtle toward the
climactic episode that a New York Times
reviewer called "one of the most
profoundly powerful in American fiction."
In this rich,
beautifully crafted story, Weesner accomplishes a rare feat:  He's written a transcendent piece of literature
in deceptively plain language, painting a gripping portrait of a father and a
son, otherwise invisible among the mundane, everyday details of life in blue
collar America.
A true and
enduring American classic.
Find the book:  Goodreads | Amazon | Astor+Blue
PRAISE FOR THE CAR THIEF:
"One of the great coming of age novels of the twentieth century…
Ted Weesner's seminal novel demands a second look for its marvelously rendered
young protagonist, the unforgettable Alex Housman; for its courage and wisdom
and great good heart."
—Jennifer Haigh  – New York Times Bestselling
Author of Broken Towers, Faith, Mrs. Kimple and The Condition
"Theodore Weesner has written a story so modestly precise and so
movingly inevitable that before I knew
what was happening to me I felt in the grip of some kind of thriller."
—Joseph McElroy, New York Times
"The Car Thief is a poignant and
beautifully-written novel, so true and so excruciatingly painful that one
can't read it without feeling the knife's cruel blade in the heart."
—Margaret Manning, The
Boston Globe
"A
remarkable, gripping novel."
–Joyce Carol
Oates, Professor of Humanities and Creative Writing, Princeton University,
Pulitzer Prize Nominee, National Book Award Winner, Author of Black Water, What
I Lived For, and Blonde

Theodore Weesner, born in Flint, Michigan, is aptly
described as a "Writers' Writer" by the larger literary community.  His short works have been published in the New Yorker, Esquire, Saturday Evening
Post, Atlantic Monthly and Best American Short Stories.  His novels, including The True Detective, Winning
the City and Harbor Light, have
been published to great critical acclaim in the New York Times, The
Washington Post, Harper's, The Boston Globe, USA Today, The Chicago
Tribune, Boston Magazine and The Los
Angeles Times to name a few.
Weesner is currently writing his memoir, two new
novels, and an adaptation of his widely praised novel—retitled Winning the City Redux—also to be
published by Astor + Blue Editions.  He
lives and works in Portsmouth, NH.
Content ©2011-2013 Melissa's Eclectic Bookshelf ~ ~
If you are reading this anywhere other than Melissa's Eclectic Bookshelf, a feed reader, or via email subscription, then this content has been stolen.