Wednesday – BEA Bloggers Conference
The schedule of sessions that were offered is below.
Morning Keynote: Maureen Johnson
Design 101 Creating a Picture Perfect Blog
Design 201: Taking Your Blog To The Next Level
Software 101: Best Blogging Tools
Technology 201: Ad Networks
Beyond The Blog – Introduce Yourself To Vlogging and Podcasting
Blogging And The Law
The Publishing Process – How Bloggers Have Changed The Game
Engaging Your Readers – Taking Your Writing To The Next Level
The Highlight of the day was by far Maureen's Keynote speech.  She was hilarious and personable and really seemed to get bloggers and our role. I actually haven't read any of her books, though I have two on my shelves but plan to bump them up on my TBR now!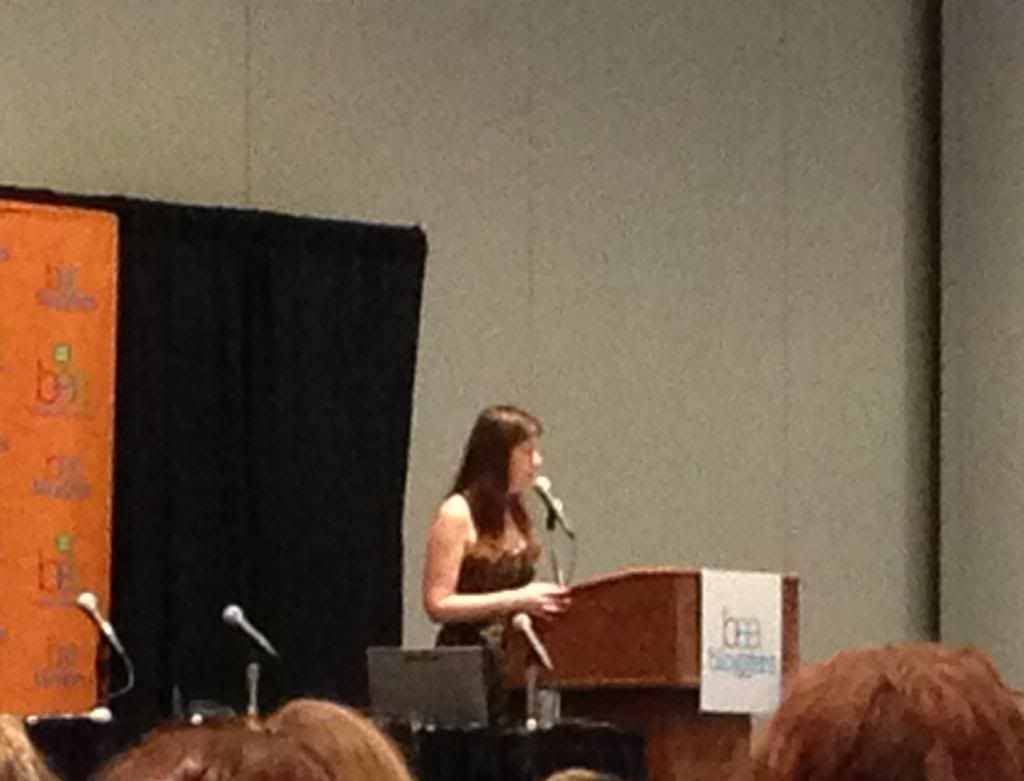 After that I headed to the Design 201 session – Supposedly this discussion was "intended for advanced bloggers with more than 3 years experience who are confident with their blog design but are looking for interesting new ideas and cool features." At about 2.75 years blogging I figured it couldn't hurt to attend the 201 version of this session rather than the 101 version…even though something in my gut told me that I wanted to hear what Ashley from Nose Graze was saying on the 101 panel. I should have listened to my gut. In my opinion this panel really didn't deliver that at all.  Most of the concepts discussed by the first panelist seemed incredibly basic to me…like clearing the sidebars of clutter, having a search function and the importance of a good color scheme. Nothing that I hadn't already heard a million times… The second panelist was affiliated with Booklikes and his whole presentation appeared to be a pitch to sell his site. If I'm an experienced blogger happy with my site and design why would I toss it all to start blogging on his platform??  I was not pleased 🙁 I actually left this session at the end and snuck into the Design 101 Session but they had already finished 🙁
After that I headed to Software 101.  I picked up a couple of tips from Stephanie Sinclair of Cuddlebuggery and Sarah Wendell of Smart Bitches, Trashy Books and a few websites/products to look into.  On the whole the panel was outgoing and engaging if a bit disorganized. 
Then it was time for lunch and I sat in on the interview with Stacy Morrison of Blogher. It was an interesting conversation and the lunch period flew by.
After lunch I headed to the Blogging & the Law session.   This one surprised me because it was more about how we as bloggers can protect ourselves than it was about how not  to violate the law.  
I followed this up with what was to be the last session of the day  The Publishing Process – How Bloggers Have Changed The Game. To say that this session was a complete fiasco would be an understatement. This was the panel that I was looking forward to for the entire day…billed as "a successful book blogger will share their experiences working with authors, agents, editors, and marketing professionals"… it promised to help us "Understand how each party works in regards to work load, cross promotion, timing…" Sounds pretty good, right? It would have been great had that been the actual topic.  Instead it was about  one vlogger, who apparently had also been on the vlogging & podcasting panel, and an author, publisher, agent etc that she works with.  This vlogger was adamant that she was not a blogger, had never had a blog, and only reviewed on youtube.  That in and of itself would have been merely frustrating and disappointing, however the panel went on to discuss how vlogging is the next generation because they are so much more effective due to their amazing reach etc etc etc.  This was all punctuated by much hair flipping and effervescence by above mentioned vlogger. I felt insulted and devalued as a blogger and ended up walking out.
Supposedly it was a typo in the name of the session and it should have read vlogger rather than blogger…but geesh…if that were the case…why would that even have been a discussion at a book blogger's conference?  I've intentionally not named or linked to the vlogger.  Although she  annoyed me to no end, I actually feel that she was put in a pretty bad position by the organizers of this conference and have nothing against her.  As to the author, she has publicly apologized for the "misunderstanding" although I can not longer find the post to link to it so I suspect she has since been advised to take it down. (Ironically this same author is involved in what I found to be the most frightening event on my last day during BookCon…keep reading to hear about that!) I don't believe that there was any intentional maliciousness…but there certainly was no thought or common sense used. I won't go into more detail but here's a great post on the subject from the perspective of a blogger who didn't attend and saw everything blowing up on twitter…that and the comments tell the whole story. Check out this post at The Mile Long Bookshelf: Blogging and Booktubing: A Tale of Two Bookish Communities.
What good did come out o this panel for me? This cool tote and a copy of The Darkest Minds:)

Following all the sessions was a "celebration" involving music, drinks, popcorn and books.  This was the second best part of the day…I had a chance to chat with a few of the other bloggers and fill my bag up with some goodies before hoofing it back to Penn Station to catch a train home..
Overall, I wasn't terribly impressed and am not sure if'd I'll attend BEA Bloggers next year.
Book Haul from BEA Bloggers: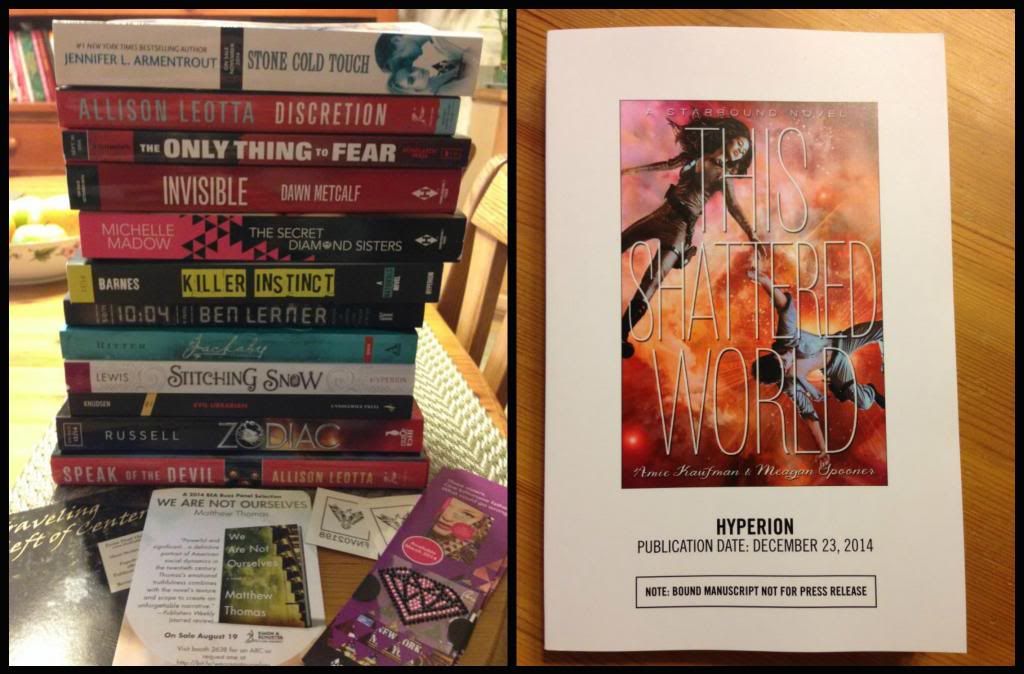 Thursday – BEA Day 1
Thursday morning came way too early…maybe I'm too old now for BEA! lol  Because of taking the train in from Jersey I had to allow for an extra 1.5-2 hrs to get to the Javits Center each morning (and home each night).  I made the decision that day not to try to get there for 7am to pick up tickets for ticketing signings.  I was sad…but getting up at 4 am to catch a 5 something train just wasn't going to happen. Schedule in hand, I arrived at 9 am and quickly made my onto the floor. There's nothing like that first glimpse of all the dancing Penguins to remind one of why it is all worth it!
I made my way right past the huge line for Neil Patrick Harris!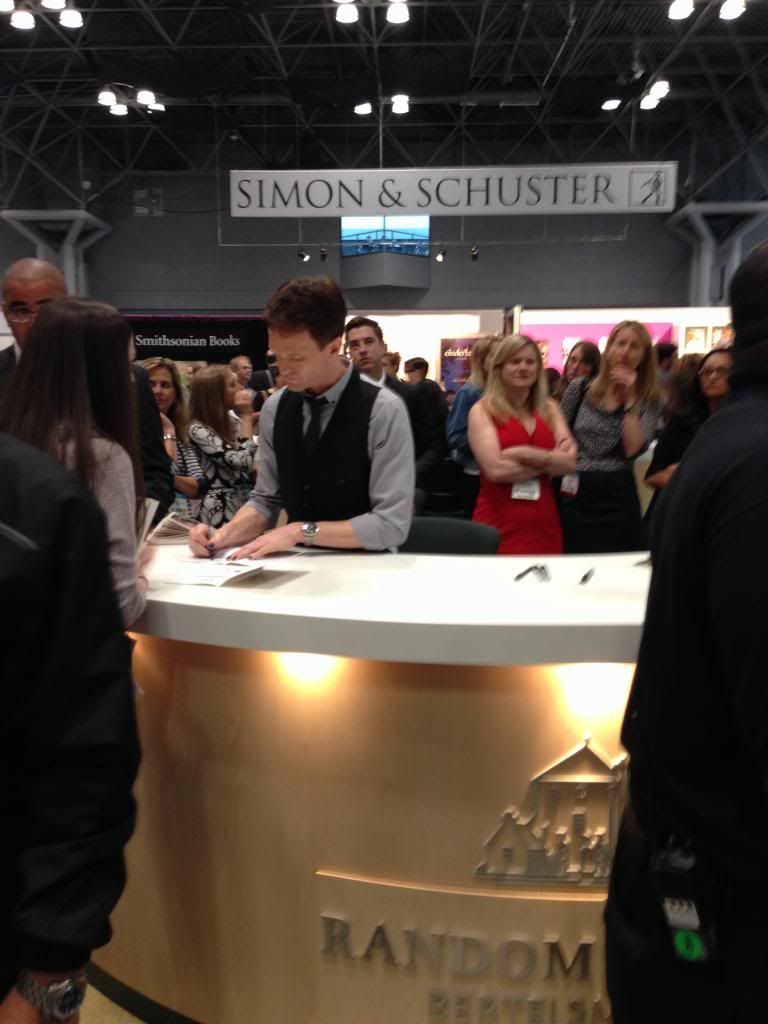 I hit up the autographing tables and the booth signings that I really knew I didn't want to miss and scored signed copies of Rooms by Lauren Oliver, Talen by Julie Kagawa and The Book of Life by Deborah Harkness…among many others.  At one point I happened to look to the table next door and realized that I recognized the author (Scott McGillivray) from his HGTV show even though I obviously hadn't recognized his name.  I begged to hop onto his closed line and must have gotten the one BEA staffer who was nice enough to break a rule…Thank you whoever you are!
The chaos that is BEA is not for the faint of heart however and sadly by the end of the day, I had a raging migraine. I had been planning to attend the Macmillan Happy Hour but wisely chose to head back to the train station and get myself home. I'm still kicking myself for getting sick right before the party!
Friday – BEA Day 2
Due to the aforementioned migraine, I was out of commission for most of Friday but I did manage (with Piper's help) to unpack my book haul from Thursday.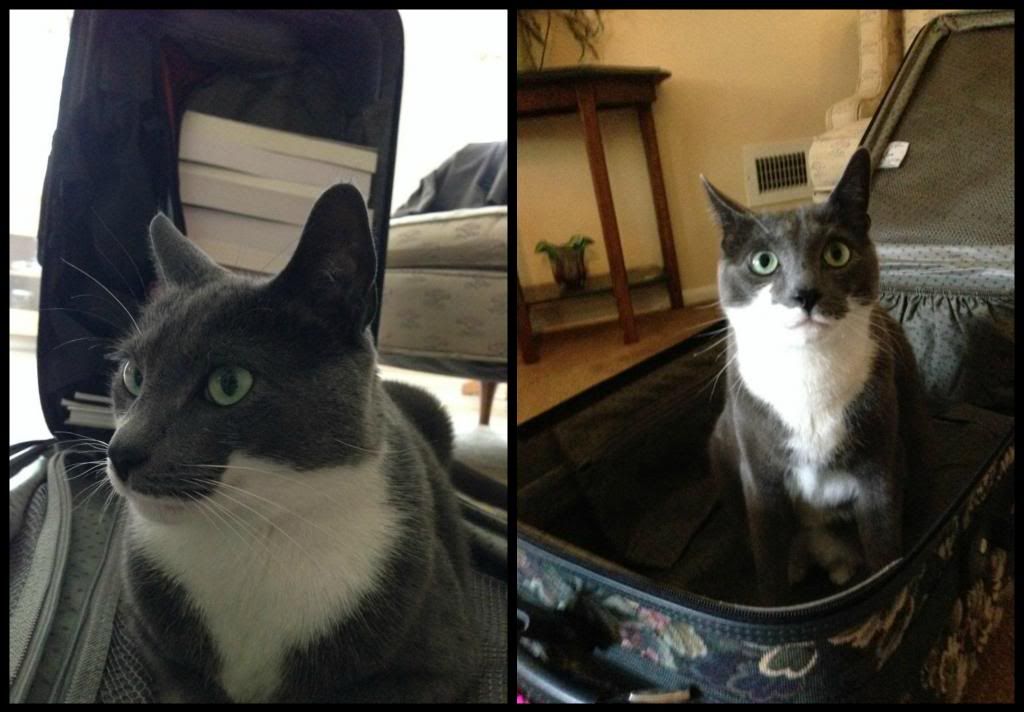 Saturday – BEA Day 3 (AKA BookCon)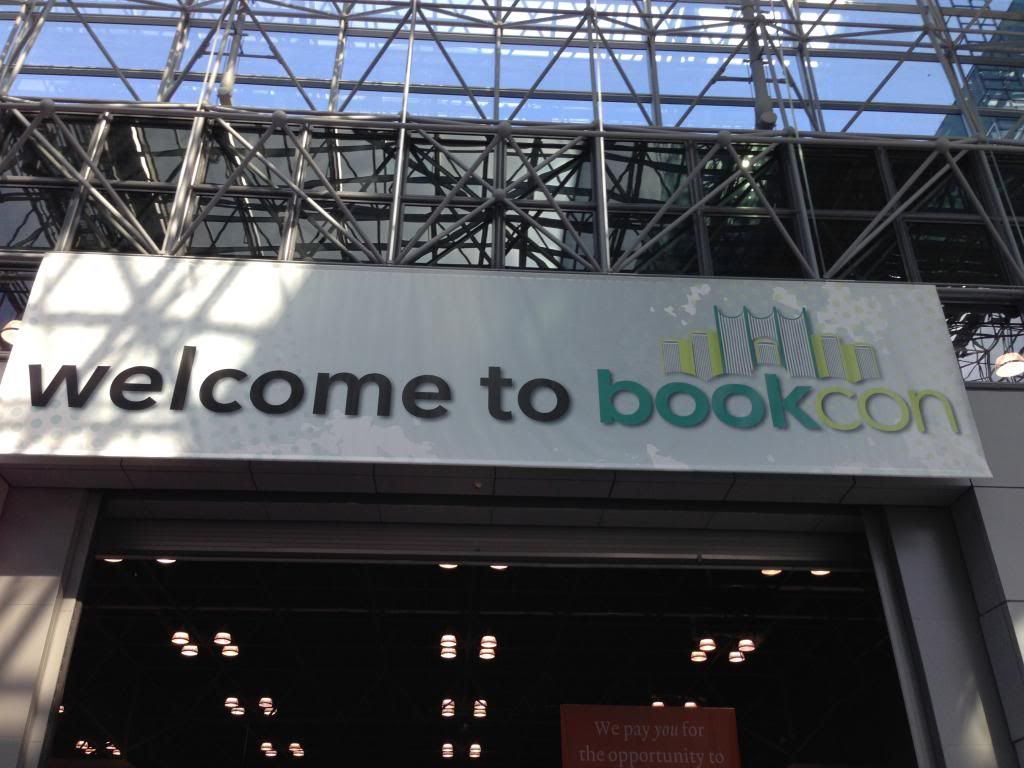 On Saturday, I went into the city with my husband tagging along with a Power Reader pass, Oh wait…make that a BookCon pass since they opted to convert the passes into something else entirely after they had been advertised as Power Reader passes and purchased back in December. I was not happy to find out that I was bringing a paid for guest who would suddenly only have access to 1/3 of what I could access. 
My husband, in the middle of the crowd, holding a line for me: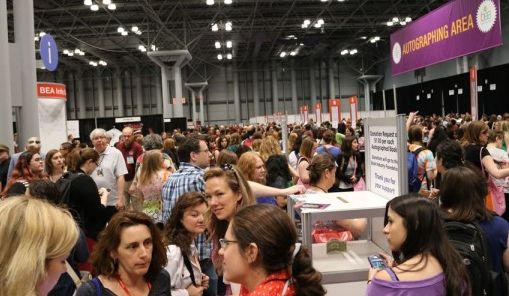 Credit for this picture goes to Ashley @ NoseGraze!
She was kind enough to let me poach it from her recap post which you should all go check out here:
Recap of BookExpo America 2014 (Photos & Book Haul)
 Also I expected it to be crowded…I expected it to be very crowded…I did not expect it to be completely mobbed and mismanaged. Some of my key complaints:
Way too many tickets were sold.  Perhaps they were under occupancy for Javits as a whole but certainly not for the 1/3 of the floor that they roped off for BookCon attendees

Several items on the schedule had changed at the last minute

Staffers refused to let people organize and line up in advance which led to complete mobs and unpassable aisles (This was a theme throughout BEA this year)

The staff was understandably overwhelmed but that can't excuse the downright rudenesss and threats that I heard directed at other patrons
Check out this post by Jen   @ The Bawdy Book Blog:   BookCon Rant – Never Again. She sums it up better than I can. I will mention that on this day, I had my most frightening Bookish experience. I was hoping to get a signed copy of Never Fade by Alexandra Bracken and got to the autograph table line about an hour in advance.  I was thrilled to discover that I was 3rd in line. I planned to get in and out and then move on with my agenda for the day.  Then we were told that we could not line up, that we should disperse and return 5 minutes before the signing was to start.  From there mayhem ensued.  We tried to get out of the way…but there was no where to go.  The crowd started collecting for her signing, clamoring to get in an organized line and were refused again.  From there a mob formed.  I do not use this word lightly.  We were packed like sardines. I couldn't even move my arms from my sides.  No one could pass from the autograph area out to the main floor.  
And then when they finally started lining people up , there was no way to get the 15ft through the crowd to the line.  One of the staffers started giving out post it notes with numbers which she claimed would be our places in line.  And that's when it really got crazy.  The whole mob converged on her smashing us all together and grabbing for post its…even stealing them out of other peoples' hands.  The girl started panicking and yelling and threatening people not to touch her…I don't blame her. I stood patiently and waited for my number…what choice did I have…I literally couldn't move even to lift an arm away from my side and I was behind her so she couldn't even see me. When I finally got a number it took me about 10 minutes to move the 10-15ft to get to the line. Upon arriving at the start of the line, I was then told that the line had already formed and that my number meant nothing (I can joke now and call it a diversionary tactic) but I was about ready to walk out then and there, except that I'd already spent so much time and practically risked my life for this signing…so I hopped on the end of the line and 30 minutes later got my autograph.
I don't joke when I say that I was frightened.  I could not move…I felt like I  had no control over myself at that point.  Had there been a fire…I have no doubt that I would have perished in the crowd.  And they said that they couldn't line us up due to fire codes.  What a joke. 
 The meeting and autograph I risked my life for:
After that experience I was tempted to leave for the day but there was one panel that I really wanted to see…so hubby and I unloaded some books into our suitcase and grabbed a bite to eat.   Then we headed to the panel that was the highlight of the day by far: "This World and Beyond: A Conversation about Fiction and Fantasy with Deborah Harkness and Lev Grossman" The discussion was smart and engaging. I love Deborah Harkness and now can't wait to check out Grossman's books.
My Haul for the last day: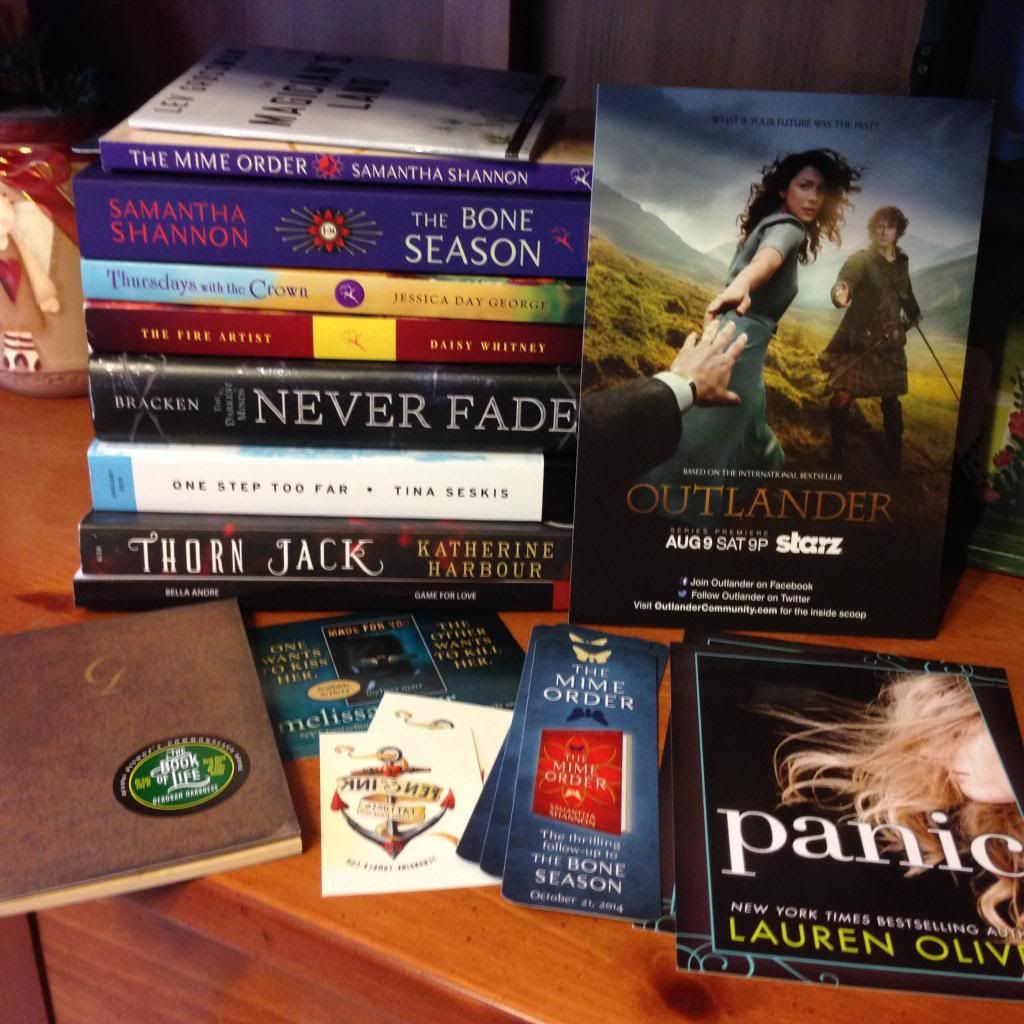 Final Thoughts
I realize that this post probably came out more negative than I intended…I suppose that it is natural to get more worked up over the bad than the good.  Plus I think that it is important for anyone who might have special needs, social anxieties, or simply get headaches like I do when in loud crowded places, to know the downsides of BEA. That said, BEA is definitely an experience that I would recommend everyone try at least once.  It is such an amazing opportunity and I for one will be back next year despite all my issues with this years event.  I just pray that after this year more organization and thought are put into all aspects of the event.
See a full recap of my BEA Book Haul Here: Added to the Bookshelf – BEA Book Haul Edition (6-8-14)
Were you at BEA?  What were your experiences? Let me know in the comments or link to your recap so I can visit!