Interview
1. Please start by telling us a little bit about yourself.
I'm a YA librarian and I live in a very rural community. I have a pond in my backyard, but I've never shot anyone. Yet.
2. When did you know that you wanted to write professionally and how did you take the leap to get into the business?
I've pretty much always known that I wanted to be a writer, but I never wanted to take the time to learn how to do it properly. I wanted to be that aloof, creative person who made magic and let other people be practical. But that's just not how this is done. I figured that out a few years ago and joined the excellent writing community at AgentQueryConnect.com There I learned everything I know about the industry, about querying… everything you need to know as a writer to succeed.
3. Can you tell me a little bit about  your book and what inspired it?
NOT A DROP TO DRINK is a post-apoc survival tale set in a world with very little water. I watched a documentary called Blue Gold, which is about a projected shortage of potable water on our planet due to overpopulation. It was a horrible thought – we all need water to survive, and it's something we can't make. I went to bed very grateful for the small pond in my backyard, and that night I dreamt I was teaching a young girl how to operate a rifle so that she could help me protect the pond. I woke up and thought, "Hey… I wrote a book in my head just now."
4. What do you hope that readers take way with them after reading your book?
That just surviving isn't always the answer. You have to live.
5. I find it interesting to know what environment authors find most productive… Do you use a pen and paper or laptop? Quiet room at home or bustling café? Basically, what gets your creative juices flowing?
I type into the laptop, but if I'm doing a major revision I will work with paper and pen. I always write in bed, lying down. I'm just that lazy.
6. What has been the toughest criticism given to you as an author? What has been the best compliment?
Hard to pin down! All the criticism hurts (but it's necessary) and all the compliments send me onto cloud nine. I think the best compliments have been my blurbs from Michael Grant, Ilsa J. Bick, Jodi Meadows and Kendare Blake. When writers whose books I love are willing to lend their name to mine, it's a special kind of feeling.
7. What book is currently on your nightstand? And who are some of your favorite authors?
Um, my nightstand literally has about 30 books on it right now. The currently warm from my hands book is BETWEEN THE DEVIL AND THE DEEP BLUE SEA by April Tucholke. Some of my favorite authors would be Stephen King, Donald Ray Pollock, Chuck Palahniuk and Diana Gabaldon. That last one threw you, didn't it?
8. What do you like to do when you're not writing?
Read 🙂 But I'm also an athlete and an outdoors girl. Basically, I like a lot of stuff. Except heights. Heights are bad.
9. Do you have any advice for aspiring writers?
Do your homework. Learn the industry. Find excellent critique partners and listen to them.
10. What can we expect from you next?
I have YA releases coming from Katherine Tegen in 2014, 2015 an 2016!
11.  Do any animals share your life? Please tell us about them.
Um, that's a resounding YES. One massive pure black Turkish Angora cat named Don Gato, a tiny bottle-fed rescue kitten named Samuel Wilderness, a German Shepherd mix rescue, a cranky old Australian Shepherd and four barn cats of vastly oscillating personalities.
And now for a little bit of fun:)  This or That? 
1.Light Chocolate or Dark Chocolate? Dark.
2. Hugs or Kisses? Ugh to both.
3. Drama or Comedy? Comedy!
4. Snow or Sand? Snow.
5. Dragons or Fairies? Dragons.
6. Night or Day? Night 🙂
7. Rock or Pop? Rock.
8. Dogs or Cats? Unfair question.
9. Harry Potter or Twilight? HP!!
10. Coffee or Tea? Coffee
The Book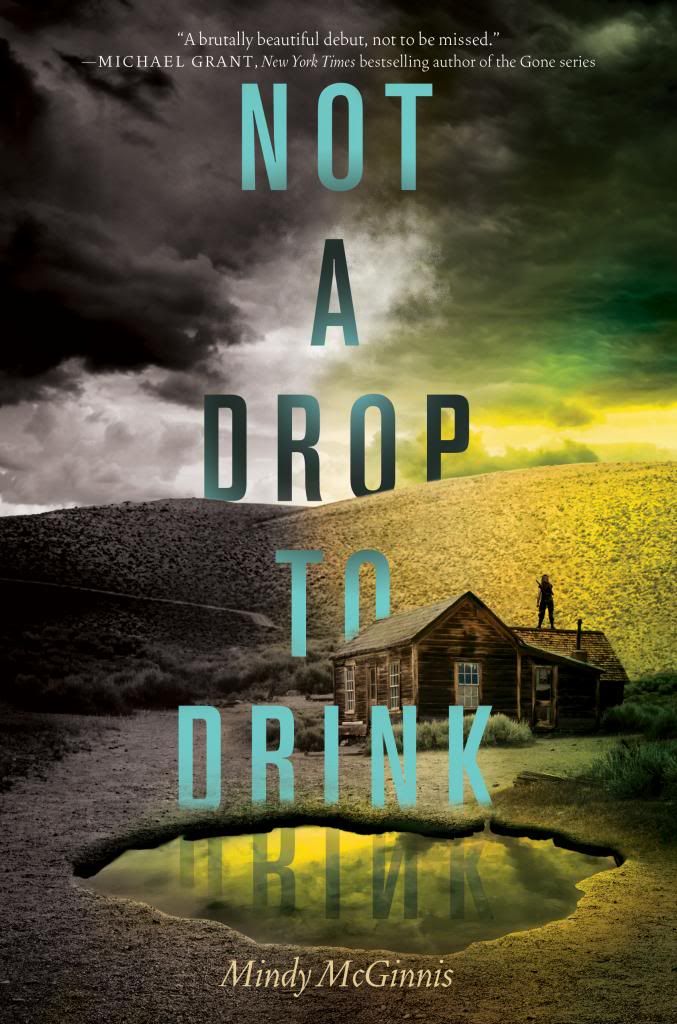 Title: Not A Drop To Drink
Author: Mindy McGinnis
Age Group: Young Adult
Genre: Post Apocalyptic
Pages: 320
Publisher:Katherine Tegen Books
ISBN: 978-0062198501
Publication Date: September 24, 2013
Available Formats: Paperback, E-Book, Audio
Add the book: Goodreads
Buy the book: Amazon | B&N | The Book Depository

Synopsis:
Regret was for people with nothing to defend, people who had no water.
Lynn knows every threat to her pond: drought, a snowless winter, coyotes, and, most importantly, people looking for a drink. She makes sure anyone who comes near the pond leaves thirsty, or doesn't leave at all.
Confident in her own abilities, Lynn has no use for the world beyond the nearby fields and forest. Having a life means dedicating it to survival, and the constant work of gathering wood and water. Having a pond requires the fortitude to protect it, something Mother taught her well during their quiet hours on the rooftop, rifles in hand.
But wisps of smoke on the horizon mean one thing: strangers. The mysterious footprints by the pond, nighttime threats, and gunshots make it all too clear Lynn has exactly what they want, and they won't stop until they get it….
With evocative, spare language and incredible drama, danger, and romance, debut author Mindy McGinnis depicts one girl's journey in a barren world not so different than our own.
Book Trailer
The Author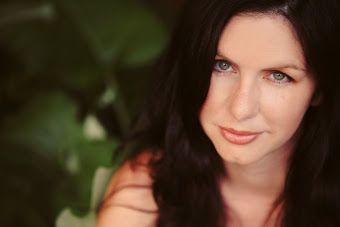 Mindy McGinnis is an assistant YA librarian who lives in Ohio and cans her own food. She graduated from Otterbein University magna cum laude with a BA in English Literature and Religion. Mindy has a pond in her back yard but has never shot anyone, as her morals tend to cloud her vision.

Connect with the Author: Blog |Twitter |Facebook






1 signed Hardcover of NOT A DROP TO DRINK US Only

a Rafflecopter giveaway

Tour Schedule:

Week 1
9/16/2013-Melissa's Eclectic Bookshelf –Interview
9/17/2013- Never Too Fond of Books– Review
9/18/2013- A Book and a Latte– Guest Post
9/19/2013- Books Complete Me– Review
9/20/2013- The Eater of Books!– Interview

Week 2
9/23/2013- Readers in Wonderland– Review
9/24/2013- Books Over Boys– Guest Post
9/25/2013- Reading and Writing Urban Fantasy, Paranormal, and Romance – Guest Post
9/26/2013- Falling For YA– Review
9/27/2013- Some Like It Paranormal – Interview