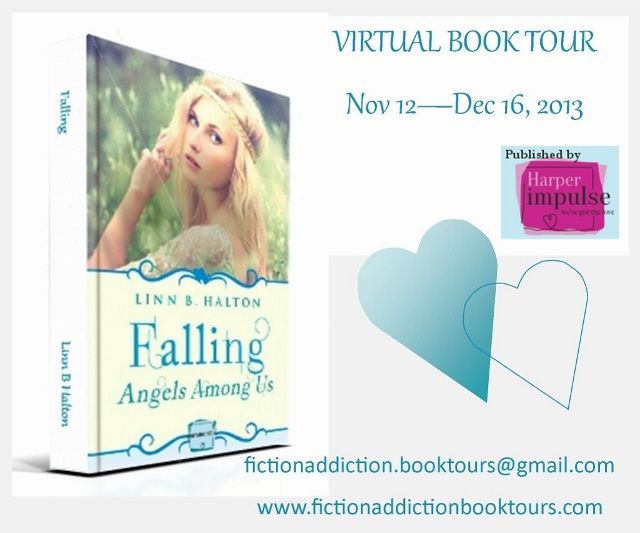 Guest Post
How does an author choose the names for their characters and how does a story develop? For me the main characters' name are the next step after deciding upon the title, and I never change them retrospectively. In my latest book, which is a three-part series, each book is a novella of around 30,000 words in length –Falling (out now), Forbidden (releasing on Nov 14, 2013) and Forever (releasing Jan 2014). It's the story of Ceri, a young woman whose life is very different to most other people's. It's first and foremost a love story, as her relationship with the sensitive and caring Alex begins to develop beyond being merely colleagues who are also good friends.
I had this title probably three years ago, long before I had written the first word but had started the intensive research required to allow me to write this story. The names of the two main characters – Ceri and Alex, came quite quickly and lingered in my mind. They felt right. It was only when I sat down to write Falling that the supporting cast came to light. Each seemed to introduce themselves at just the right time and so far (and I've been writing now for four years) I have never deleted a character that turned up on the page, no matter how unexpected their presence was. I'm often surprised to find them there, as I'm a Pitman trained typist and my speeds are excellent. I can type faster than I can think…really! Ceri's non-identical twin brother is called Seb. I have absolutely NO idea where that name came from, I don't know a Seb or a Sebastian and can't recall having seen the name anywhere recently. So I presumed he was meant to be a part of the story and before I knew it, there he was, large as life on the printed page!
I'm also a writer who does not plot out their storyline and until I am approaching the end I am never sure quite how it will all turn out. In general, I am a 'glass half-full' type of person so I'm always optimistic and I often wonder if a story took me to a sad ending, how I would feel about that. I figure life is too short to spend it thinking negatively – I'm always in search of the silver lining to every cloud…
Why did it take so long to research this series? Well, although the search for love is always central to the stories I write – as the saying goes, I 'write what I know'. Psychic experiences have been a part of my real life as long as I can remember. I'm not a medium and have no intention of pursuing that beyond having a very real interest in how it all works, but my earliest childhood memory is a psychic one. I don't write sci-fi, or what I refer to as 'ghostly' paranormal, because every incident I include in a story is based on something I've experienced or witnessed. I don't see them as ghost stories in a fictional sense. Whilst some of the things might freak out anyone who hasn't had an experience, most are very pleasant, re-affirming incidents. Loved ones around me helping me and letting me know they are there, at my side and that's comforting. That doesn't mean to say some of the incidents don't surprise me, that's often the case but it also took me a long time to come to terms with it. It was only about nine years ago that I actually 'came out' and admitted 'I believe in the existence of life after death, because I feel I've had more than enough proof and validation'. It's easier to ignore what happens, than face up to the reality – take each thing that happens and if you can't explain it away, then ignore it and move on. Then one day my husband (an even greater sceptic than I was at the time) and I had a joint experience. From that day on things changed and we have since shared a number of psychic incidents. Freaky? Yes and no. The result is that we no longer 'fear' death and I know that sounds weird, but knowing that life doesn't end here on this plane is a truly uplifting thing!
So, to answer the question – whilst I had my experiences to fall back on to write about 'angels' in this story – and that includes having an acutely strong intuitive nature and many incidents of déjà vu – I had to research how angels might actually work! I wanted my explanation to be in line with credible theories but because opinions vary so widely, it also had to fit in with what I felt, deep down, might be the case. Having visited numerous mediums and clairvoyants over the years, and being given a wealth of validation and undisputable information, I had come to my own conclusion. When someone is linked in with the spirit world and passing on messages, what comes through will take your breath away. Time and time again. You will ask yourself "How do they know that? How CAN they know that?" Yes, there have been sessions where it's clear nothing real was coming through, but that was apparent from start to finish. My explanation of what is an 'angel' at the start of the second book in this series, Forbidden, took a long time to get right. Yes, it's a romance story, but I felt it was key to give the reader an explanation that was as close to what I feel is the truth, as possible. Some will not be surprised, in other cases it might start the reader thinking 'What if…?' But Ceri and Alex's love story is one of passion – two people fighting to hang onto a relationship that is blossoming, but isn't meant to be.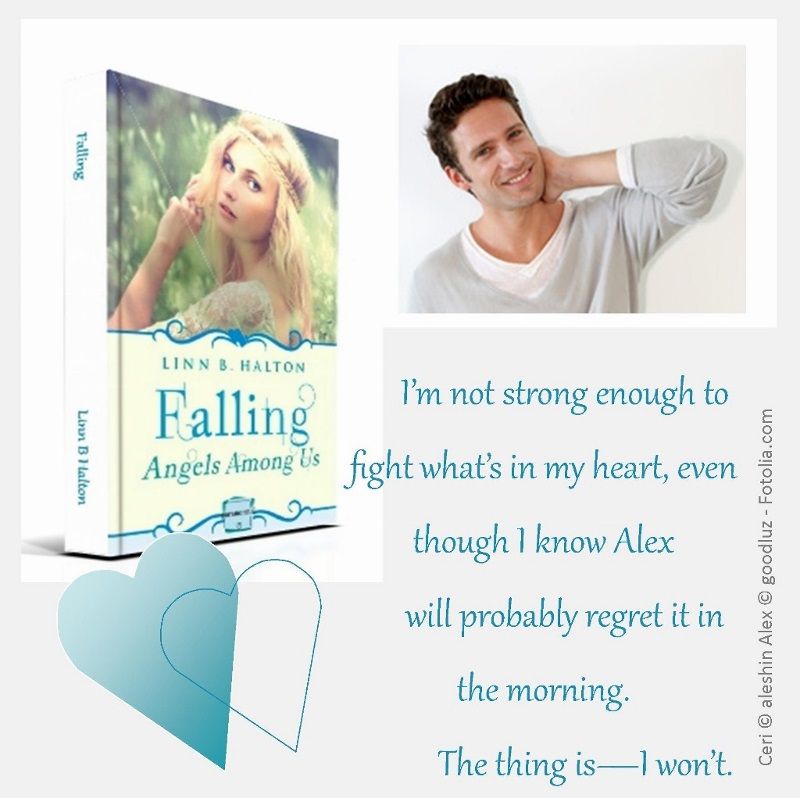 The Book
Title: Falling
Series: Angels Among Us #1
Author: Linn B Halton
Age Group: Adult
Genre: Paranormal Romance
Pages: 100
Publisher: Harper Impulse
Publication Date: October 3rd 2013
Available Formats:  E-book
Find it: Goodreads
Buy it: Amazon

Synopsis:
Ceri thinks she sees angels…everywhere. She struggles to keep separate what feels like two very different sides to her life. As a manager in an advertising company she's been working with the gorgeous Alex for two years. The have a friendship based upon the image she portrays whilst she's at work and it helps to keep her sane. One mad, crazy night spent sharing their secrets and a lot of wine result in them ending up in bed together and their relationship changes. When Alex explains that the reason he doesn't date is because someone broke his heart, how can Ceri admit that she feels a deep connection to him?
Ceri knows she's different. What she doesn't fully appreciate is that her task in life is to correct a series of incidents that alter the course of many of the people's lives with whom she comes into contact. She's simply putting right little errors that could ripple outwards and change the course of their destiny. However; when she finds herself getting pulled into things that happen around her, how can she prove that she really has made a difference? Is it all in her head?
She's alone for a reason; she's not meant to fall in love in her earthly life. Alex is supposed to cross paths with her and help Ceri during a phase where she begins to question the signs she's being given. It's meant to be a turning point for them both—but in opposite directions. They are destined to travel very different paths…but Ceri doesn't know that and neither does Alex…
"No one chooses to see angels, why would they?"
This is a romance story that explores the possibility of there being something more than just the 'here and now'. If that were the case, how would it work? What keeps us on the path determined for us, when we have free will? How would the spirit world link with us as we go about our lives? Love is a powerful emotion, but can it change the course of someone's destiny? Ceri is 'Falling'…
The Author
Linn B Halton lives in the UK, in the small village of Arlingham. It sits a stone's throw away from the banks of the River Severn; she resides there with her adorable husband and cat with attitude – Mr Tiggs!
Whilst Linn loves to write romantic novels, there is often a psychic 'touch' to her stories. Many of the paranormal events that feature in some of her books are real-life experiences.
Linn is the creator of, and magazine editor for, Loveahappyending Lifestyle magazine (LLm)  Visit Linn's author page on the LLm Bookshelf
Linn is a member of the: Romantic Novelists' Association page   and is signed by HarperImpulse and Sapphire Star Publishing.
Contact Linn:  Website |  Twitter | Facebook | Pinterest
The Giveaway
$30 Amazon Gift Card
Plus
3 winners to choose from a selection of Linn B Halton's Novel:
Never Alone
Touched by the Light
The Restaurant @ The Mill
Being a Sceptic is oh so Easy
The Quintessential Gemini