Guest Post
Creating a Time Travel System
  I've always been fascinated by time travel. I'm pretty nostalgic as it is. You can often find me looking at past photos, reminiscing on old times. The idea behind The Photo Traveler was exciting because I was able to ask myself, "If I could revisit an old memory, where would I go?" Of course I had to develop a strong story with a powerful plot, while creating a set of rules of my own when it came to time traveling. But boy, was I ready!
  I dealt with the idea of the Butterfly Effect, but not to the extent to where it was overdone and annoying.  I wanted it to work as I saw it fit for the story. Time travel is a trivial topic as it is; probably one of the most difficult to plot and map out.  I decided to let my mind flow, and then work on tying up any loose ends I encountered over the course of the story. 
  Some people have asked me, "Why doesn't Gavin just time travel back and just undo what he's changed?"  Well, for one- how boring and easy would that be?  And secondly, the thing with time travel is that no one knows what the true consequence of a trip would result in.  So yea, Gavin could have traveled back and attempted to amend what he's already altered once before, but who knows what the repercussion of this trip would yield. 
  Gavin travels to several places in the past, and the changes that occur have a pretty significant consequence on his present life. If you notice, these changes generally have a direct impact on the plot and moved the story forward.  I could have gone on a tangent and changed every little thing, but I was afraid that would deter readers from grasping Gavin's real journey.  I didn't want it all to be about the time travel. I wanted the time travel to revolve around the story.
  I'm very excited about Book 2, The Peace Hunter, because when The Photo Traveler ends Gavin is in possession of all five vials. Having all five vials grants the holder with unlimited time travel abilities. In essence, Gavin will be able to toss the former limitations and be able to travel to any time- past or future.  Lets just say things become quite exciting, and there's a reason as to why Gavin mentions certain things in The Photo Traveler.
The Book
Title: The Photo Traveler 

Author: Arthur J. Gonzalez
Pages: 

418

Age Group: Young Adult 

Genre:

 Paranormal/Time Travel

Publisher: Fahrenheit Publishing
ISBN: 9780988891609
Publication Date: February 20th, 2013
Available Formats: Paperback, E-Book

Synopsis:


Seventeen-year-old Gavin Hillstone is resigned to being miserable for the rest of his life. Left alone in the world after his parents died in a fire when he was four, he was placed in foster care, which for him meant ending up in an abusive home with an alcoholic adoptive father.

Gavin's only escape is in taking and creating images. His camera is his refuge from the unending torture and isolation of daily life in his  "family."

Until he learns by accident that he isn't alone in the world after all. His father's parents are still alive and living in Washington DC.

When he takes the plunge and travels 3,000 miles to find his grandparents, he learns that they—and he—are part of something much bigger, and more dangerous, than he could ever have imagined. Something that has always put his family at risk and that will now threaten his own life, while forever changing it.

He learns that he is one of the last descendants of a small group of Photo Travelers—people who can travel through time and space through images. But his initial excitement turns to fear, when he soon discovers that he and his grandparents are being pursued by the fierce remnants of a radical European Photo Traveler cult, the Peace Hunters. What Gavin has, they want!

His adventure will take him to past eras, like The Great Depression and the Salem Witch Trials. Gavin will have to discover who he really is and must make choices that spell the difference between life and death for himself, for the relatives he now knows and loves, and for the girl he will come to love.

For Gavin Hillstone, life will never be the same.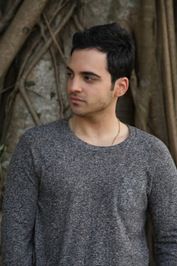 My name is Arthur J Gonzalez.  I'm 28 years old, born and raised in Miami, FL.  I graduated from the University of Florida.  I am currently   releasing my debut novel, The Photo Traveler.  The premise surrounds 17 – year old Gavin, who discovers he is part of a small group, called Photo Travelers, who can time travel through photos and images. 
Content ©2011-2013 Melissa's Eclectic Bookshelf ~ ~
If you are reading this anywhere other than Melissa's Eclectic Bookshelf, a feed reader, or via email subscription, then this content has been stolen.