I am thrilled to welcome one of my favorite people, Nikki Jefford (Author of The Spellbound Trilogy) to Melissa's Eclectic Bookshelf today.  I am in the middle of reading the conclusion to this trilogy right now and can't wait to see where we end up 🙂 
Look for my review of Enchantment later this week!
  Today Nikki is  here talking about some of the shows and movies that inspired the Spellbound Series and sharing an excerpt from the book.  Be sure to scroll all the way to the bottom for some awesome giveaways that she is offering!  And don't forget to snag your FREE copy of Entangled!!
Guest Post
Shows That Inspired Spellbound
The Illusionist
Starring Edward Norton
Adrian is more of an illusionist than a magician in Enchantment. I like how he and Gray rely less on magic, and more on their human abilities. But don't worry, there's still plenty of magic.
The Prestige
Starring Hugh Jackman, Christian Bale, and Scarlett Johansson
This movie about rival stage magicians is dark, morbid, and twisted. In other words, I loved it! Even more than The Illusionist, the stage performances in The Prestige were an inspiration for the third Spellbound book.
The Craft
Starring Robin Tunney, Neve Campbell, and Skeet Ulrich
This is one of my favorite witchy movies. Loner characters appeal to me, especially when they can call on their inner strength to battle evil the way Sarah Bailey does.
Kiss Kiss, Bang Bang
Starring Robert Downey, Jr. and Val Kilmer
I was sold on this show the moment Harold, the boy magician, took a chainsaw to his young assistant and she started screaming as though she were really being killed. Adrian and Gray have a similar scene when Gray ends up on stage as Adrian's unwilling volunteer (thanks to her pushy new friends).
Labyrinth
Starring Jennifer Connelly and David Bowie
Labyrinth was a huge inspiration for the series, especially Duplicity. Adrian's fixation on Gray reminded me of The Goblin King's obsession with Sarah. I listened to the soundtrack a lot while writing Spellbound Two.
One of my favorite scenes is when Sarah loses her memory temporarily and appears dressed in a gown at a masquerade as Jareth (aka: The Goblin King) watches her while 
"As The World Falls Down"
 plays in the background.
Labyrinth has such killer lines. People gush over "You complete me," from Jerry McGuire, but those lines can't hold a candle to 
"You have no power over me."
Buffy the Vampire Slayer
Starring Sarah Michelle Gellar and, my favorite witch, Alyson Hannigan
I saved the best for last. Buffy is by far my greatest inspiration. I saw it for the first time three years ago at a time when I was burnt out with the lack of progress I was making finding an agent for my historical romance novels. (Agents kept telling me my language was too modern.)
What seemed ridiculous to me at first quickly became an addiction. The sky was the limit in Buffy's world. Watching the show made me feel like I had permission to let my imagination go wild. It's always been wild in my head, but I felt like there was an audience out there who wouldn't wonder what was wrong with me.
The Book
Title: Enchantment
Series: Spellbound #3
Author: Nikki Jefford
Reading level: Young Adult
Genre: Paranormal
Release Date: April 6th 2013
Add the Book: Goodreads  
Buy the Book:  Amazon US | Amazon UK | Smashwords | Barnes & Noble
Synopsis:
Barcelona. Summer escape. Or so Graylee Perez thought until her old adversary, Adrian Montez, brings his magic show to Spain.

Gray seeks out a Spanish wizard to help banish Adrian from her life once and for all. Instead, she tumbles headfirst into a love spell with the arrogant warlock.

After Gray follows Adrian to Paris, she must face her true feelings and decide if Adrian's worth fighting for.



Other books in the series:
The First Book ENTANGLED is FREE!!!
Excerpt
"Here she comes," Adrian said as Gray slowly made her way up the stairs on the side of the stage.
Gray was shaken, not just to see him, but that someone from her past stood not eight feet away in a country so lively yet unbearably lonely at times—a personal connection to her former life, albeit an unwelcome one.
Adrian betrayed no signs of familiarity. "What is your name?"
Gray glared at Adri
an. His expression remained annoyingly neutral. From below, Hannah and Marco yelled, "Gray!"
Adrian smirked. He turned to his audience. "I don't know. She doesn't look gray to me."
The audience laughed. Worst of all, she heard Hannah giggling the loudest.
"Now then, Miss Gray, if you will step this way."
Gray wasn't about to step anywhere near the table with its giant saw. Adrian noticed her hesitation and said, "Don't be afraid, my dear. I've done this a thousand times . . . and only lost one volunteer."
Adrian reached his gloved hand out. Gray looked from the white palm of his hand to his gleaming eyes and took a step back.
"It appears the young lady is frightened."
"Don't be scared, Gray!" Marco yelled.
"There is nothing to fear," Adrian called out, sweeping an arm toward the table.
"Go on, Gray!" Hannah hollered.
Could Gray come up with a plan in the ten steps it took to reach the table? Apparently not. She refused Adrian's hand and approached the box warily.
There was no teleporting herself out of this one. Señora Contreras would never allow Gray back to the sanctuary, and Gray wasn't about to let Adrian ruin her summer in Spain. There was also the audience to consider, blissfully unaware that they were in the midst of real magic.
Once Adrian's back turned to the audience he looked Gray over with an intimacy that bordered on inappropriate. At that moment, Gray felt as though she would have been better off facing him in a dark alley than in front of a mob screaming for her blood.
And if she let Adrian put her in the box, it most likely would be her blood.
The last time she saw him she had taken his blood, and now he had her right where he wanted her.
Adrian's lips curved up. The fitted suit made him appear older and more menacing than Gray remembered. Gone was the voice of the performer. Adrian lowered his voice. "Go on, Gray, get in."
That's it, she was out of there. They could all think of her as a coward. Better a coward than a fool. But as she backed up, Adrian caught her by the arm and hauled her to the stepladder. "Don't ruin my show," he hissed in her ear.
Magic junky, bookaholic, nature girl, and animal lover. 
Nikki Jefford is a third generation Alaskan who found paradise in the not-so-tropical San Juan Islands where she is, once more, neighbors with Canada.
She married the love of her life, Sebastien, while working as a teaching assistant in France. They reside with their Westie, Cosmo.

 Prize Pack Giveaway (US):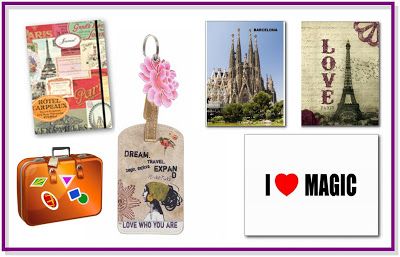 Spellbound Journal Giveaway (INT):
Purchase a copy of Enchantment for a chance to win $25 (INT):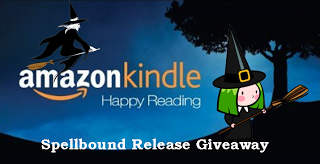 Content ©2011-2013 Melissa's Eclectic Bookshelf ~ ~
If you are reading this anywhere other than Melissa's Eclectic Bookshelf, a feed reader, or via email subscription, then this content has been stolen.