The Book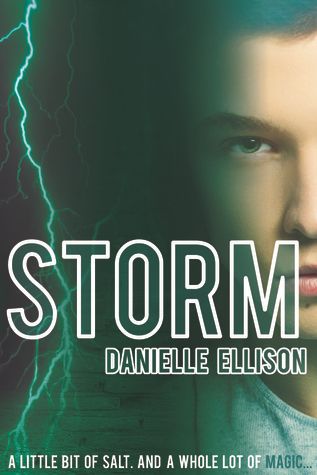 Title: Storm
Series: Salt #2
Author: Danielle Ellison
Age Group: Young Adult
Genre: Paranormal | Witches
Publisher: Entangled Teen
Publication Date: September 29th 2014
Find It: Add to Goodreads
Buy It:Amazon│Barnes & Noble│Kobo Books
Synopsis:

Up until recently, Penelope was a witch with no magic. After having it stolen by a demon when she was just a child, Penelope had been forced to rely on sharing others' powers as she went through the grueling training required to become an elite demon hunter. Now Penelope has more magic than she's ever known. And when you're this powerful, who needs salt to keep the demons away?

But power has a dark side.

Carter Prescott just wants to hunt demons and be with Penelope. But suddenly, witches who formerly had no magic are developing terrible, out-of-control powers. Now the world Carter swore to protect isn't just endangered by malicious demons―it's threatened by the same witches who once defended it. And Carter is horrified to see his girlfriend starting to change. Stronger. More powerful. Unrecognizable. It's just a matter of time before Penelope changes into something far beyond his worst fears…
Salt (Book One):
Goodreads│Amazon│Barnes & Noble│Kobo Books
Excerpt
The demon doesn't answer. My blade rests against his throat. There's no saving the Non he's wearing. It makes me want to end the demon more. To slash its throat. It would be so easy to slide this iron a little deeper.
"Don't kill him," a familiar voice commands. "Good help is hard to find and it's a busy time of year to be searching for replacements."
I don't release the demon, but I look up. Vassago stands before me, looking the same as usual with his disgusting white beard flecked with bits of food, graying, dirty clothes and one sock. What is this? Vassago wouldn't have taken a Non. He's not that kind of demon, surprisingly. He's the demon of lost things, a guide, not a murderer.
"Where's the Non?"
"There is not one here," he says softly. He looks at the demon under my blade. "You seem troubled, Mr. Prescott."
"I'm not," I say.
"Then release my goon, please." Vassago says calmly, looking from the demon to me. I stare at Vassago, and his eyes are intent on me. "It will solve nothing," he says.
I look back at the demon, and it doesn't fight me. I ignore the urge to end it and lower my blade. He scrambles away from me, and I glance back at Vassago. "If you don't have a Non, why was there screaming?"
Vassago raises an eyebrow. "How about a match, Mr. Prescott?"
I look past Vassago toward a little table set up with Scrabble. "Are you serious?"
"I anticipated your arrival. Come." He turns away without me and walks toward the table. This is ridiculous.
I cross my arms. "I don't really feel like playing Scrabble."
"What do you seek then?"
"Answers."
Vassago gives me a nod. He moves to sit at the table in the middle of an empty parking space, waiting for me. I stand there for long, silent seconds. I don't want to play Scrabble.
"A quick one," Vassago says, "since you are already here and it is set up."
The Author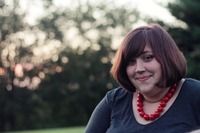 Danielle Ellison is from a small town in West Virginia. She spent her childhood pretending to fly, talking to imaginary friends, and telling stories. She hasn't changed much since then. You can still find her pretending to work, talking to imaginary characters, and writing stories.
When she's not writing, Danielle is probably drinking coffee, fighting her nomadic urges, watching too much TV, or dreaming of the day when she can be British. She is the author of five upcoming novels and you can find her on twitter @DanielleEWrites.
Author Links: Website│Goodreads│Twitter│Facebook
The Giveaway
a Rafflecopter giveaway
Blog Tour Organized by: YA Bound Book Tours