Thanks to Simon & Schuster-Howard Books I have an extra ARC of this wonderful book to give away!
(If you are on the home page and can't see the Rafflecopter either click on the post title or "read more" at the bottom to go to the individual post's page so you can see the widget!)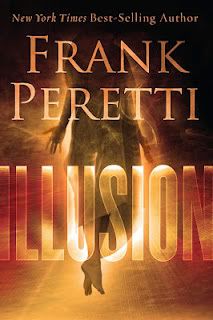 Summary (from GoodReads):
Dane and Mandy, a popular magic act for forty years, are tragically separated by a car wreck that claims Mandy's life—or so everyone thinks. Even as Dane mourns and tries to rebuild his life without her, Mandy, supposedly dead, awakes in the present as the nineteen-year-old she was in 1970. Distraught and disoriented in what to her is the future, she is confined to a mental ward until she discovers a magical ability to pass invisibly through time and space to escape. Alone in a strange world, she uses her mysterious powers to eke out a living, performing magic on the streets and in a quaint coffee shop. 
Hoping to discover an exciting new talent, Dane ventures into the coffee shop and is transfixed by the magic he sees, illusions that even he, a seasoned professional, cannot explain. But more than anything, he is emotionally devastated by this teenager who has never met him, doesn't know him, is certainly not in love with him, but is in every respect identical to the young beauty he first met and married some forty years earlier. 
They begin a furtive relationship as mentor and protégée, but even as Dane tries to sort out who she really is and she tries to understand why she is drawn to him, they are watched by secretive interests who not only possess the answers to Mandy's powers and misplacement in time but also the roguish ability to decide what will become of her.
How to enter:
1. You must use the Rafflecopter widget below to enter this giveaway. 
2. You must follow via GFC & Comment on the review for the initial entries.  Additional options may be chosen for extra entries. You may choose one option or all options of the extra options. Each option is worth one entry into the giveaway. 
3. For each option you choose to enter with, click on "CLICK FOR INSTRUCTIONS" FIRST, follow the instructions, then click on "I DID THIS" and fill out the required information. 
4. The giveaway ends on April 19th at 11:59pm EST. 
5. At the conclusion of the giveaway, I will verify all entries. 
6. Once the verification process is complete, I will use the Rafflecopter widget to select the winner and contact her/him. 
7. The winner will have 48 hours from the notification email to respond with her/his full name, prize choice and mailing address. If I do not receive a response, the prize will be forfeited and another winner will be selected. Please be sure to check your spam filters! 
8.  This Contest is for US addresses only!    
Please make sure that you have read my Giveaway and Privacy Policies Here
a Rafflecopter giveaway
<a href="http://rafl.es/enable-js">You need javascript enabled to see this giveaway</a>.
Content ©2011-2013 Melissa's Eclectic Bookshelf ~ ~
If you are reading this anywhere other than Melissa's Eclectic Bookshelf, a feed reader, or via email subscription, then this content has been stolen.