Today, I am pleased to welcome Barbara Ehrentreu Author of If I Could Be Like Jennifer Taylor, to Melissa's Eclectic Bookshelf. 

Thank you for inviting me, Melissa. We have all gone through high school and know the kinds of things you can encounter there. Add to this the joys of being an adolescent when your body is changing daily and you have the experience of a typical high school student. However, sometimes a student wants desperately to be popular and will do almost anything to get there. Add to this the fact that this student has been the brunt of the girl  who is the most popular. What if this same popular girl has a deep, dark secret that will stop her chances of being an Olympic hopeful? Carolyn Samuels on the first day of her freshman year in high school finds she cannot escape her enemy, the perfect and popular Jennifer Taylor. She figures the year will be a rerun of middle school when Jennifer taunted her every day for her breathing problem. Then an event changes everything. She finds that perfect Jennifer isn't so perfect after all. Jennifer has been bullying her and now she has a way to stop it once and for all. 
Bullying is a subject that is now being addressed by many schools. It has many forms and doesn't need to be physical. There is emotional bullying that is relentless and hurtful. Such is the case with Carolyn and Jennifer. Carolyn is taunted by Jennifer, who repeats the phrase, "Breathe, Carolyn, breathe." Carolyn never knows when Jennifer will say it to her and soon it becomes intolerable. Carolyn never says anything to anyone but her friends, Becky and Janie. But the bullying takes its toll and the first day of school finds Carolyn unable to get out of bed for fear of facing Jennifer Taylor. Bullying can sap a student of their joy and will to live and in some cases it has been fatal. Students have been bullied both in school and out of school  on social media like Facebook and a few have not been able to live with it. Being adolescents they didn't tell anyone and instead took their own lives. 
When I wrote this novel, I did not have the topic of bullying in mind, but as I thought about it I realized that my character had been bullied in middle school. So why does she want to be like this bully, Jennifer Taylor? What causes Carolyn to become friends with Jennifer and what does she learn? Now add into the mix Carolyn's crush on Brad Morrow, the hot Junior quarterback, who is of course, Jennifer's boyfriend. Yearning for Brad, Carolyn stumbles into a kind of friendship with Jennifer. The book is all about holding secrets and being popular. What will someone do to become popular and when is it not okay to keep a secret? 
For readers and teachers I have a guide on my blog: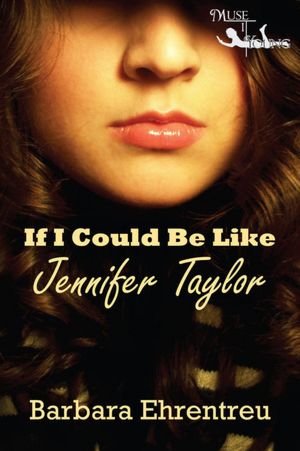 If I Could Be Like Jennifer Taylor
Carolyn Samuels is obsessed with the idea of being popular. She is convinced that the only thing keeping her from happiness is her too heavy for fashion body and not being a cheerleader. Hyperventilating when she gets nervous doesn't help. When she is paired for a math project with the girl who tormented her in middle school, Jennifer Taylor, she is sure it is going to be another year of pain. With Carolyn's crush on Jennifer's hunky junior quarterback, Brad her freshman year in high school looks like a rerun of middle school. When Jennifer is the only student who knows why she fell in gym class, Carolyn is blackmailed into doing her math homework in return for Jennifer's silence. Jennifer takes on Carolyn as a pity project since she can't be seen with someone who dresses in jeans and sweatshirts. When Jennifer invites Carolyn to spend the night to make her over and teach her to tumble, Carolyn learns Jennifer's secret and lies to her own friends to cover it up. Will Carolyn become a cheerleader and popular? Does she continue to keep Jennifer's secret? Or will she be a target of this mean girl again?
Feeling my old hatred of gym, I glance across the locker room and see Jennifer in red designer shorts and a tight sleeveless shirt to match. She's standing in front of the only mirror in the room turning back and forth.
Becky and I slide into our loose camp shorts and a T-shirt, and once they're on, we race onto the gym floor. Always better to be early for gym the first day.  You never knew what kind of teacher you'd have. My athletic ability is zero, so I don't take chances. Once I was a few minutes late, and the gym teacher in middle school made me run around the gym ten times. It took me the whole gym period.
Becky and I sit on the low seats in the bleachers, but Jennifer and her group saunter into the gym and choose the highest seats avoiding the rest of us. Miss Gaylon, the gym teacher introduces herself and gives us a few minutes until the last stragglers come from the locker room.  For those few minutes, I almost feel comfortable. My breathing returns to normal. I hear giggles from Jennifer and her group, but I ignore it.
"Maybe it won't be so bad this year, Carolyn." Becky always tries to cheer me up now. This wasn't true a few years ago. I had to cheer her up a lot. Becky's brothers are just turning five, and they're both in kindergarten. Her mom remarried after being divorced for ten years. Becky was just getting used to her new stepfather when her mom got pregnant. I remember how miserable Becky was the first year of middle school when her mom spent so much time with her twin brothers and didn't have enough time to help Becky with her homework. Luckily, Becky's stepfather is a history teacher, so she got very interested in history and current events.
"Right, Becky, and maybe I'll learn to be a gymnast in ten minutes. Reality check, remember last year?"
"Okay, I'm hoping it won't be so bad."
"You mean like the dentist finding you only have one cavity and filling it the same day?"
"You're so lame, Carolyn. Since we're all older, maybe she'll treat us differently. People change over the summer you know."
"Look at her, Becky."
Becky turns to look over at the group at the top of the bleachers and then turns back to look me in the eye. "You know you have to put that stupid day behind you."
I pretend not to know what she's talking about. "What stupid day?"
Like I don't remember every detail.
"The zip line day."
"Oh, that day," I say with a combination grimace and smile. "The day I wound up having to climb off the platform. I wanted to bore a hole into the ground so I wouldn't have to walk past them but couldn't, and everyone screamed at me: 'Breathe, Carolyn, breathe.'"
"You have to admit it was funny the way the gym teacher ran up the ladder like a squirrel to rescue you. Everyone laughed at how stupid she looked. Jennifer got the whole class going with that ridiculous 'breathe, Carolyn, breathe.'" Becky looks behind her to Jennifer. "You know I wanted to run over and punch her, but I couldn't because I was still on the platform, and it was my turn to go."
"Yeah, if I had a few more minutes, I would have been able to get up the courage to grip the zip line and hook myself to it. Stupid teacher didn't give me a chance. This not breathing thing when I get nervous really sucks."
Becky nods because she knows me so well.
"So then Jennifer started with that horrible chant, and of course, the whole class followed her, like always." My eyes fill with tears as I remember, and my breathing is getting worse by the minute.
"I thought it was a dumb idea to do ropes course stuff in school. We did it at my camp the summer before, and no one was forced to do it. Anyone could get nervous with Jennifer in front of them," Becky comforts me.
I continue talking as if I'm in a trance. "Remember how last year whenever I ran into Jennifer she would whisper 'breathe, Carolyn, breathe,' so no one could hear it except me. Once she did it just before I had to go up in front of the class in math.   Sometimes she would do it in front of everyone and, of course, get a big laugh while I wanted to turn into a piece of furniture."
Becky grabs my arm.  "Do we have to go back over this again? You need to forget about it." She takes her hand away from my arm as I continue to speak.
"Becky, I can't. The thing is it's this bad movie in my brain looping the same horrible scenes. The funny thing is, most of the time, she would ignore me. I would never know what she was going to do. You have to admire someone so single-minded she managed to get to me at just the right time.
You remember don't you? And today did you see how she wore the same outfit as me? It's spooky."
My funny breathing returns as Miss Gaylon tells us to line up on the yellow line alphabetically. I hope there will be someone to go between Jennifer and me. No luck. Jennifer is going to be behind me all year. I hold my breath. I couldn't stand more of the same this year. I pray for the day to end soon. A glance at my new watch shows me fifteen more minutes left of the period. Is Miss Gaylon's voice getting lower?  What is that pounding in my ears?
Jennifer turns to face me, and I hear, "Breathe, Carolyn, breathe." Then my world turns black.

Bio:
Barbara, a retired teacher with a Masters degree in Reading and Writing K-12 and seventeen years of teaching experience lives with her family in Stamford, Connecticut. When she received her Masters degree she began writing seriously. If I Could Be Like Jennifer Taylor, Barbara's first YA novel,was inspired by  Paula Danziger. Barbara is a NY Literature Examiner for Examiner.com with several articles for them. Her blog, Barbara's Meanderings, http://barbaraehrentreu.blogspot.com/, is networked on both Facebook and Blog Catalog. She hosts Red River Writers Live Tales from the Pages on Blog Talk Radio every 4th Thursday. In addition, her children's story, "The Trouble with Follow the Leader" and an adult story, "Out on a Ledge" are published online She writes book reviews for Authorlink.com. and several of her reviews have been on Acewriters and Celebrity Café. She is a member of SCBWI. Writing is her life!  
Content ©2011-2013 Melissa's Eclectic Bookshelf ~ ~
If you are reading this anywhere other than Melissa's Eclectic Bookshelf, a feed reader, or via email subscription, then this content has been stolen.