I'm a third generation Alaskan. My daughter is fourth.
It's a very interesting, and culturally diverse place to grow up.
My great-grandparents immigrated to Southeast Alaska from Sweden, and my mom grew up there. That's the area that the Tlingit people are from – and this is who Sky is.
When I first brought her into the story, I knew that she was going to be the polar opposite of Sarah. Once Jameson drove up next to her, I knew I wanted to make her Native American. It almost felt like cheating to use a Tlingit girl in my book because I was so familiar with them – but at the same time, I knew it would be unique and I knew it would require less research – that meant I could focus more on the story.
What's funny is that I actually reigned myself in when I talked about her drums, and totems, and where she's from because I could have gone on and on, and people are wanting more, which I think is very cool. While writing, I was more worried that I'd over do it. I've thought about writing Sky's story, but it wouldn't be an easy one to write, so we shall just wait and see…
Thanks so much for having me today!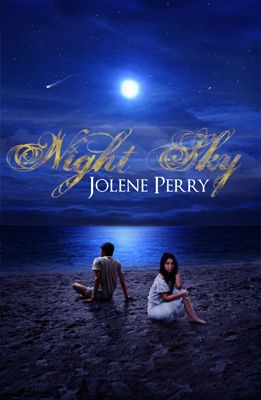 After losing Sarah, the friend he's loved, to some other guy, Jameson meets Sky. Her Native American roots, fluid movements, and need for brutal honesty become addictive fast. This is good. Jameson needs distraction – his dad leaves for another woman, his mom's walking around like a zombie, and Sarah's new boyfriend can't keep his hands off of her.
As he spends time with Sky and learns about her village, her totems, and her friends with drums – she's way more than distraction. Jameson's falling for her fast.
But Sky's need for honestly somehow doesn't extend to her life story – and Jameson just may need more than his new girl to keep him distracted from the disaster of his senior year.


Jolene grew up in Wasilla, Alaska. She graduated from Southern Utah University with a degree in political science and French, which she used to teach math to middle schoolers.
After living in Washington, Utah and Las Vegas, she now resides in Alaska with her husband, and two children. Aside from writing, Jolene sews, plays the guitar, sings when forced, and spends as much time outside as possible.
She is also the author of The Next Door Boys and the upcoming Knee Deep.
Content ©2011-2013 Melissa's Eclectic Bookshelf ~ ~
If you are reading this anywhere other than Melissa's Eclectic Bookshelf, a feed reader, or via email subscription, then this content has been stolen.