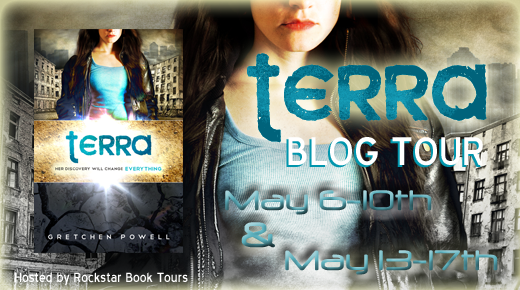 Guest Post
Are dystopians such as these a vehicle for exploring possible outcomes of our current environmental concerns/situation?
There's a reason why there are so many dystopian books out there right now: people seem to like reading them, and I know from firsthand experience that it's a lot of fun to write. I think there's just something about being able to dive into a world that feels similar to the one we currently live in, but is still so different. We can see the potential, like, "If we keep doing X, Y, and Z, maybe our world really will start to resemble the one from ______." But at the same time, it's reassuring to know that things AREN'T that way, that we still have time to change and rectify what might be happening. So yes, I think that fiction is a fantastic avenue to open up this kind of conversation about what might really happen in our future–whether the focus of the dystopia is a totalitarian government or a dying planet (or, in TERRA's case, a little of both!).


How do you create a believable yet unique world in a market that lately appears to be saturated with dystopians?
I think the key to success in any market is being able to find that balance between familiarity and uniqueness. To a certain degree, people like things that feel safe and familiar–as long as there's also a dash of something different thrown into the mix. It's the reason why people who love a specific genre of book tend to stay with that genre a lot of the time. With TERRA, I tried really hard to find a happy medium between elements that people might've seen before–a dying planet, an underdog main character, a controlling government–but put a unique spin on it all–the physical division between the skydwellers and terrestrials, the recycling/scavenging based society… and, of course, a few things that I can't tell you 'cause I don't want to spoil the story!
Some readers might only be able to focus on the stuff they've seen before, and maybe they won't be happy because it's not unique enough, and that's okay. Others might think that it's a completely new story, something they've never seen before, and that's wonderful! I'm still happy knowing that I believe that TERRA both fits in with other books in its genre, AND stands out from them at the same time.
Title: Terra
Series: Terrestrials #1

Author: Gretchen Powell
Pages: 

286

Age Range: Young Adult

Publisher: Hopewell Media, LLC
ISBN: 978-0988468917
Publication Date: December 12th, 2012
Available Formats: Paperback, E-Book

Synopsis:


A broken and desolate Earth. A young girl struggling to survive. A lost boy with a powerful secret.

A discovery that will change everything.

In the distant wake of a plague that has decimated the Earth's population, humanity is split in two: The rich and powerful live in skycities that float overhead, while those who remain on the ground have gathered in settlements strewn across a dying planet. Eighteen-year-old Terra Rhodon is a terrestrial–a denizen of the barren groundworld–who makes her living as a scav. Long abandoned by her father, her caregivers gone, Terra supports herself and her younger brother, Mica, by scouring the earth for discarded scraps and metals to recycle for profit. One day, while on a routine scavenging run, she discovers something that shocks her home settlement of Genesis X-16. When the value of her discovery is revealed, Terra's world is turned upside down.

Terra suddenly finds herself asking questions no one will answer. Her search for the truth leads her to Adam–a beguiling skydweller unlike any she has ever met. But Adam has secrets and a quest of his own, and with him by her side, the world Terra thought she knew begins to unravel. Soon her discoveries unearth a terrifying conspiracy that has the potential to shatter everything–a revelation that will test the bonds of loyalty, family, and love.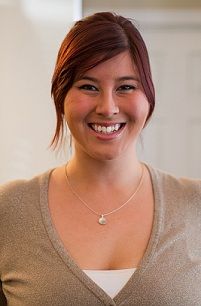 Half-Chinese and the daughter of a US diplomat, Gretchen Powell spent her childhood growing up in far-off places. She made it all the way to her mid-twenties whilst maintaining her deep-seated love for young adult novels, so she decided to write one of her own.
Her creative process involves copious amounts of Sour Patch Kids and sleeping fitfully. Her many interests include anything with polka dots, Harry Potter, and playing the ukulele.
When she isn't crafting devastated futuristic worlds and fiery heroines, Gretchen also writes a healthy living blog, entitled "Honey, I Shrunk the Gretchen!"
She lives in Northern Virginia with her two adorable miniature schnauzers. They wear many sweaters.
Content ©2011-2013 Melissa's Eclectic Bookshelf ~ ~
If you are reading this anywhere other than Melissa's Eclectic Bookshelf, a feed reader, or via email subscription, then this content has been stolen.