Turning "I Hope" and "I Want" into "I Will"
by Meira Pentermann 
The achievement of any dream begins with the assertion, "I will do this!" Dreams that remain sheltered under words like "I want" or "I hope" will never see the light of day.
The act of choosing these powerful words is not that difficult. After battling little internal voices that say, "You shouldn't brag," and "Don't get your hopes up," you will eventually find the resolve to declare, "I will! And nothing will stop me!" Your day might then progress in a manic frenzy of activity. You'll have a spring in your step, believing you can do anything. You'll spin in circles, giddy with the desire to share your ideas – your soul – with the world.
Nevertheless, a day, an hour, or a week later you will inevitably be visited by a little doubt demon. He will show up and whisper in a cruel, harsh voice, "Who do you think you're kidding, sweetheart?" This is one of the turning points. What do you do with the doubt demon? Do you feed him, appease him, or swat him away like a pesky fly? Even if you are successful at ridding yourself of the pest, his brother will sneak up on you. Fear. Far more toxic and definitely stealthier, fear can hide behind doubt and release a cloud of poison before you even know it is there. After a while, the words "I will" seem daunting and downright foolish.
This happens to everyone who declares a dream. A unique pain accompanies the act of launching a portion of your soul into the universe. It is like anxiety mixed with remorse and a hint of shame. Anxiety because you are trusting strangers with an intimate and fragile part of your being. Remorse because you know you could have easily spared yourself the agony. Shame because you might not be good enough. As the world bombards you with rejection and doubt you wonder: What was I thinking? If only I held back. If only I lingered in "I hope". . . then I would be safe.
I say this not to discourage those of you who are battling the fear of putting a portion of your soul into the universe. I wish, instead, to persuade you to walk into that fear. Dispel that doubt. Practice belief. If you are anticipating the perfect moment, forget it. There is no perfect moment. If you are holding back until someone pushes you, no dice. People are too busy trying to push themselves. And if you are waiting until it feels safe, you will surrender your life to insignificance. It will never feel safe. Ever. But it is worth every moment of fear, agony and embarrassment when you watch your dreams become reality.
First step? "I will!"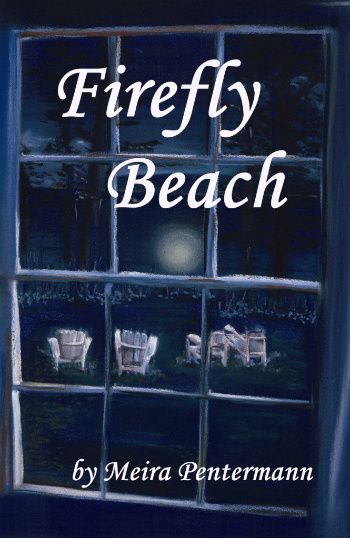 A Paranormal Cozy Mystery
When Beth LaMonte rents a cottage on the coast of Maine, she wishes only to withdraw and paint. A mysterious ball of light disturbs her peace and leads her to a secret beach where she finds the diary of a girl who disappeared in 1975. Now Beth is on a mission, not only to bury her own past, but to put to rest the spirit of Firefly Beach.


On slow, snowy days in her Colorado home, Meira Pentermann enjoys cozying up on the couch with a novel. Naturally, snow is not a requirement; neither is the couch. In fact, she sees no reason not to indulge in reading three-hundred-and-sixty-five days a year. Apocalyptic science fiction, mysteries, and young adult titles top her Kindle list, but legal thrillers and chik-lit make an appearance now and then.
When not absorbed in writing or reading, Meira enjoys life's little moments with her family – the love and devotion of her black lab, the quiet wisdom of her artistic twenty-one-year-old, the trials and triumphs of her petite sixth grader, and the unlimited encouragement offered by her Dutch husband.
Meira strives to write stories that deliver the unexpected. She prefers down-to-earth characters that look and behave like regular folks. The prom queen and Adonis take a backseat to reclusive, soul-searching heroines and quirky, introverted gentlemen. 

The Giveaway:
You can win a copy of Firefly Beach!
a Rafflecopter giveaway
<a href="http://rafl.es/enable-js">You need javascript enabled to see this giveaway</a>.
Content ©2011-2013 Melissa's Eclectic Bookshelf ~ ~
If you are reading this anywhere other than Melissa's Eclectic Bookshelf, a feed reader, or via email subscription, then this content has been stolen.