I am so happy to have Melissa Pearl here on Melissa's Eclectic Bookshelf today!!

When I think of the
word cave, I imagine a dark, cozy place. My writing cave is not like that. I
love to have plenty of space and light… which is why I set up my desk in our
ridiculously large bedroom (if you knew how small our lounge was, you'd
understand why I used the word ridiculous).
I spend my writing
hours up in my room, which is the only quiet space in the house sometimes. I
need quiet. I can't write with music distracting me. I like to step into the
world of my characters and silence helps me do that. I often say the dialogue
aloud when I'm writing or editing, so somewhere private is essential as well 🙂
When I was a kid,
my parents found this old post office desk, which they hauled home, sanded down
and revarnished. It was originally my brother's, but when he moved overseas, I
inherited it and I love it. I want to
keep forever.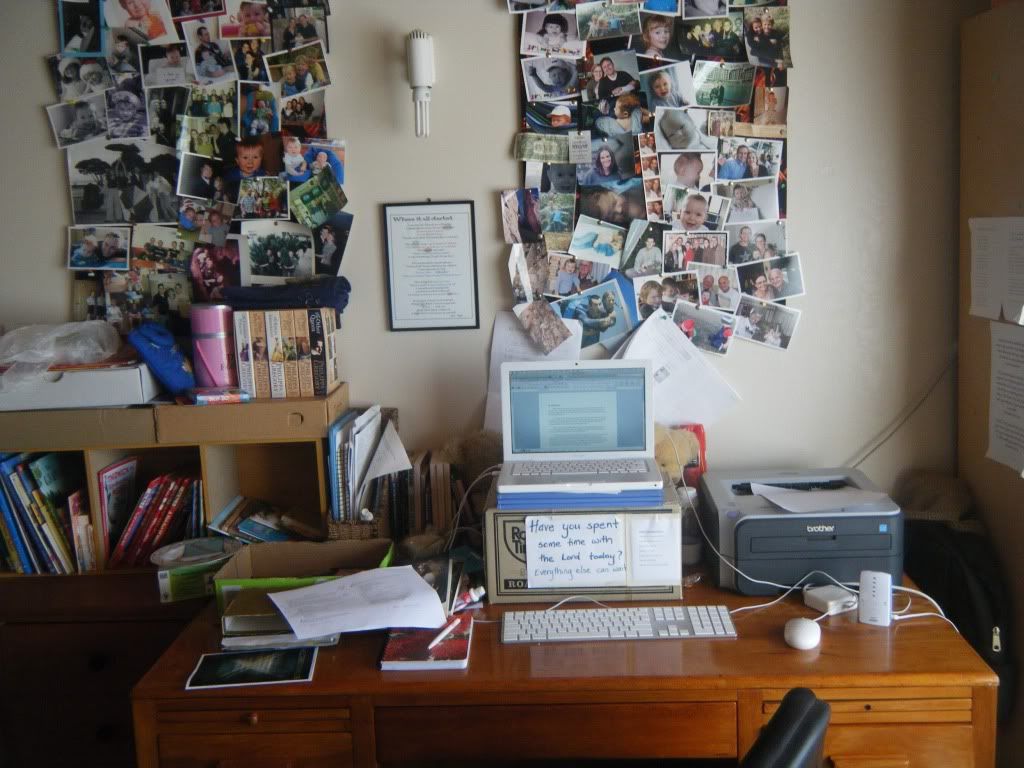 My desk faces a
wall covered with pictures of family and friends. On my right, I have a wall
covered in poetry that inspires me, plus my writing goals are usually up there
– although they're not right now. Must print my 2012 ones out – it's only
March, right? I also read the brilliant idea of pasting up images of the
characters in my WIP the other day. I really love this idea. So, once I get
myself organized, there will also be pictures of actors and models who capture
the essence of the characters I'm working on.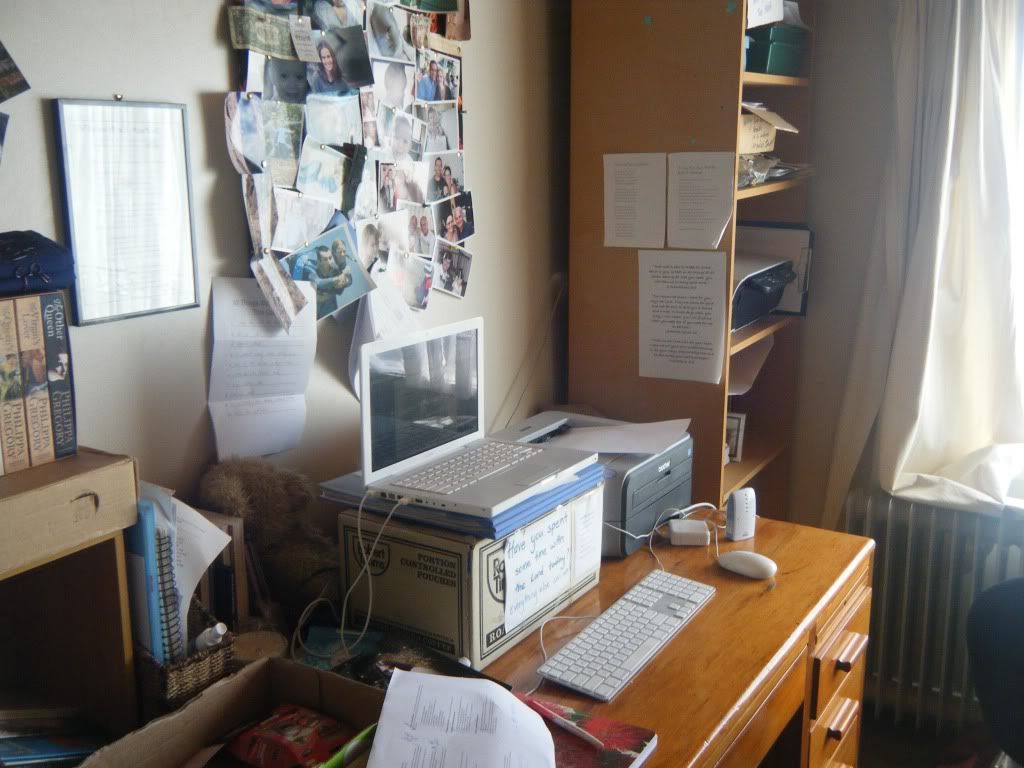 Being a mother of a
kindy kid and a baby, gives me very limited writing time. When bub goes down
for his nap, I literally run upstairs and start working. I then get a second
opportunity for his afternoon nap and I probably work two or three evenings a
week. I also get two hours on a Sunday morning. That's one of my favourite
times of the week 🙂
When I am intensely
writing I find it really helpful to have a big chunk of time. My husband, very
generously, gives me the odd weekend where I can hide away and write my little
fingers raw. It is amazing how much you can get through when you have
uninterrupted time. I'm not trying to boast in any way here, but I seriously
think if I could have 7 – 10 days of uninterrupted writing, I could pump out a
novel in that time.
However, I am very
glad for my life, my children and all the other distractions, because I think
if they didn't exist I would have square eyes, be skeletally skinny (I forget
to eat when I'm writing) and have no semblance of a life. Balance is a beautiful
thing.

The Book:
 Golden Blood (Time Spirit Trilogy #1)
 by Melissa Pearl 


Gemma Hart never knows when her father is going to whisk her back in time. Her toes start tingling and she has a few minutes to find a secret haven where she can disintegrate and appear in another time and place. While "across the line," her training and skills are put to the test as she completes a mission that will change history for the lucky few her father has selected.
Gemma's parents are adamant that secrecy is paramount to her family's safety. If people knew what they were capable of, they could be "used and abused", as her mother always says. Afraid she might accidentally utter the truth and break the ancient oath of her people, Gemma spends her school days as a loner. Only one thing can throw her sheltered life askew… Harrison Granger.
Harrison never expected to talk to the strange Hart girl, but after a brief encounter he can't stop thinking about her. He begins a campaign to chisel away her icy veneer and is met with unexpected consequences. As he slowly wins this girl over, he enters a surreal world that has him fighting to keep his newfound love and his life.

I used to be a full time teacher (11-13 year olds) then I
became a full time mother. During that time I also found my passion for
writing. Over the last ten years I have been studying the craft and putting
myself out there.
My first trilogy is being self-published through Smashwords
& Amazon.
Golden Blood was released in November 2011 and has been
getting great reviews, along with Black Blood (Bk #2), which came out in
December 2011. Pure Blood (Bk #3) is due for release in February 2012.
It has been a totally thrilling ride and I can't wait to
keep putting my stuff out there.
I live in New Zealand with my husband and two sons, but we
are moving to China in August, as my husband has scored a great job working at
an international school in Suzhou. It's going to be a busy and exciting year 🙂
Content ©2011-2013 Melissa's Eclectic Bookshelf ~ ~
If you are reading this anywhere other than Melissa's Eclectic Bookshelf, a feed reader, or via email subscription, then this content has been stolen.