I am pleased to be hosting a stop on the Harlequin Holiday Reads Tour!
Please welcome RaeAnne Thayne to the blog and don't forget to read all the way down for a great giveaway!
Interview
1. Snow Angel Cove is the 1st in an exciting new series set in Haven Point. How does Haven Point set itself apart from some of your other small town (Cold Creek, Hope's Crossing) settings?
The most obvious surface difference is geography. I've always wanted to live on a lake and it's been so much fun to write a series set on beautiful Lake Haven. Water can be a place of healing, which is what I intended this series to be about.
2. I know that I love reading holiday themed fiction. How much fun is it to write fiction that takes place during the holidays?
SO MUCH FUN! I've written about nine holiday-themed novels so far, out of 48 finished books, and I sincerely love writing them. I find something so magical about the season, a time of peace, joy and family. What better time to fall in love?
3. Do you ever worry about readers who do not celebrate the holidays (or celebrate differently) feeling excluded?
Some of the themes of the holidays are cherished and universal, regardless of religion or customs—time spent with loved ones, great food, building memories and sharing in the joy.
4. Does your family have any special Holiday traditions?
Many, actually—most of which have appeared at some point in one of my holiday books! When my kids were young, I loved doing a Christmas countdown with our family's favorite holiday books. In late November, I would wrap up twenty-four of our favorite holiday stories and my kids would be able to take turns opening a book each night, then I would read it to them. They never knew which one it would be, which added to the fun.
5. Do you read/comment on reviews of your books?
I do read some of them. I find it helpful to figure out what I might be doing right and what I might be able to improve on. I try not obsess about the bad ones (but I still sometimes do. LOL!).
6. How do you choose the names for your characters?
The phone book! I usually pick the main characters out of names I like or that fit what that particular character's personality, but sometimes I struggle with secondary characters. The phone book is great for this. I also just discovered a great random name generator app where you can put in nationality, sex, that sort of thing and it will spill out names until I find one I like. The only problem there is keeping track of them all later, so I try to keep a list of every character name I've used.
7. If you could live a day in the life of a fictional character, who would it be?
Hermoine Granger. Okay, the magic thing would be very cool, but I would especially love being that smart.
8. What is the last book you've read?
Joanna Bourne's Rogue Spy. I love her writing. It's so lyrical and lovely and she tells such a compelling story.
9. Aside from writing, what would your dream job be?
I would love to be a middle school English teacher. I know, crazy. I just love that age of kids and introducing them to the magic of literature and writing would be wonderful.
10. Which question do you hate hearing/answering most during interviews?
I can't say I hate it, but it's always a difficult one to answer. I'm often asked which book is my favorite out of all forty-eight I've written. To be honest, it's impossible to answer. I love them all for different reasons. Most writers say their favorite is the one they're currently working on, but that's usually my least favorite at the time (the writing process is hard, if you didn't know, and I lose all perspective in the middle of it. I'm never really crazy about my books until I read them again in the editing process). My standard answer about which book I've written is my favorite: The one I most recently finished, because all the hard work is done on that one. 
Short & Sweet Favorites:
Holiday Recipe? Make-ahead Praline French Toast
Holiday Movie? Elf
Holiday Read? Marian's Christmas Wish by Carla Kelly
Holiday Song? "Angels We Have Heard on High"
Holiday Cookie? Snickerdoodles
The Book: Snow Angel Cove

Title:  Snow Angel Cove
Series:  Haven Point #1
Author: RaeAnne Thayne
Age Range:  Adult
Genre: Contemporary Romance
Length: 350 pages
Publisher: HQN Books
Publication Date: Tuesday, October 28
Available Formats: Paperback, E-book, Audio
Add the book: Goodreads
Buy the book: Amazon | BN |The Book Depository | Indie Bound
Synopsis:

New York Times bestselling author RaeAnne Thayne welcomes you to a small town full of big surprises that are both merry and bright…

Nothing short of a miracle can restore Eliza Hayward's Christmas cheer. The job she pinned her dreams on has gone up in smoke—literally—and now she's stuck in an unfamiliar, if breathtaking, small town. Precariously close to being destitute, Eliza needs a helping hand…for her sick young daughter's sake as well as her own. But she's not expecting her holiday hero to almost run her down with his car!

Rescuing Eliza is pure instinct for tech genius Aidan Caine. At first, putting the renovation of his lakeside guest lodge in Eliza's hands assuages his guilt—until he sees how quickly he could fall for her. Having focused solely on his business for years, he never knew that what his life was missing was Eliza and her little girl. But is he willing to risk hoping for a yuletide romance that could lead to forever?
About the Author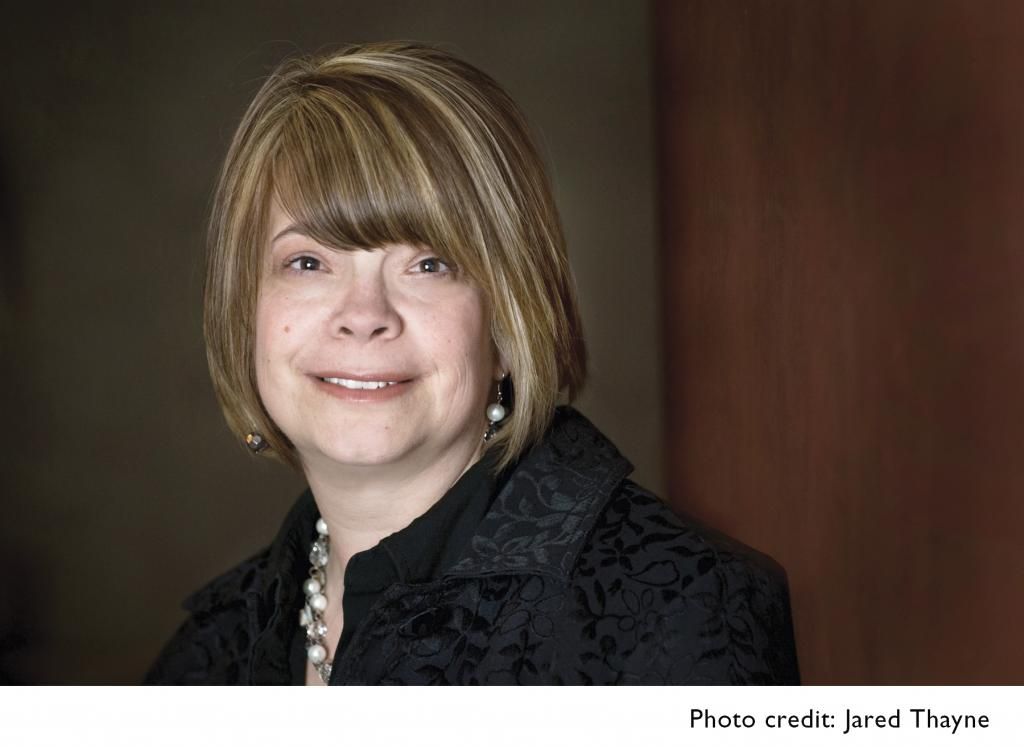 RaeAnne Thayne: USA TODAY bestselling author RaeAnne Thayne loves words. Her love of reading and writing led her to a fifteen-year career in journalism as a newspaper reporter and editor. Through it all, she dreamed of writing the kind of stories she loved best. She sold her first book in 1995 and since then she's published more than 40 titles. Her books have won many honors, including three RITA® Award nominations from the Romance Writers of America and a Career Achievement Award from RT Book Reviews magazine.RaeAnne finds inspiration in the rugged northern Utah mountains, where she lives with her hero of a husband and their children. She loves to hear from readers and can be reached through her website.
Connect with RaeAnne: Website | Facebook | Twitter 
The Other Books on Tour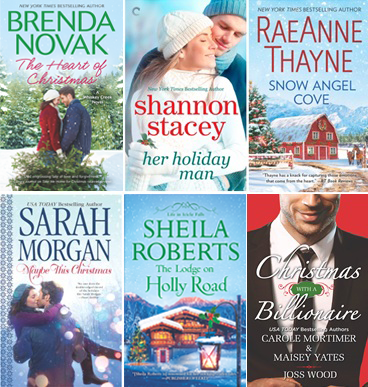 Looking for more holiday-themed reads? Click here to discover.
Giveaway
The Harlequin Holiday Reads prize-pack includes:
• One mass market paperback of each of:
o Christmas with the Billionaire by Carole Mortimer, Maisey Yates and Joss Wood
o Maybe this Christmas by Sarah Morgan
o Snow Angel Cove by RaeAnne Thayne
o The Heart of Christmas by Brenda Novak
o The Lodge on Holly Road by Sheila Roberts
• One copy of Her Holiday Man by Shannon Stacey in the digital format of your choice
• One package of ornament charms
• One box of Harlequin-themed gift tags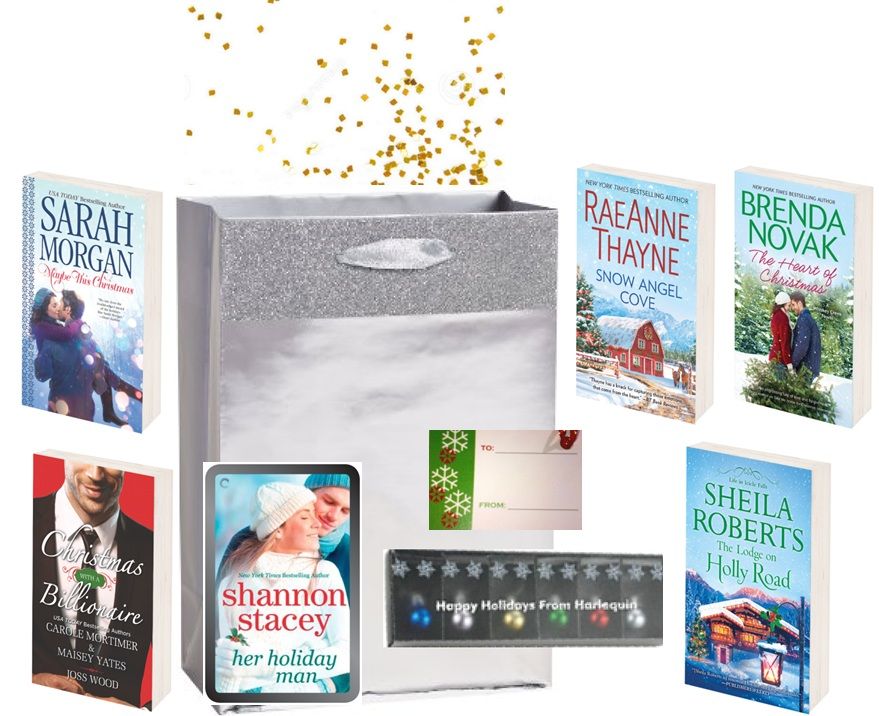 Tour Schedule
Week One
12/1/2014   Smexy Books http://smexybooks.com Shannon Stacey (Guest Post)
12/2/2014   Fire & Ice http://www.fireandicereads.com Brenda Novak (Interview)
12/3/2014   Spiced Latte Reads http://spicedlatte.blogspot.com Christmas with a Billionaire, Maisey Yates (Guest Post)
12/4/2014   Wicked Little Pixie http://wickedlilpixie.com Sarah Morgan (Guest Post)
12/5/2014   Bookhounds http://www.bookhounds.net Sheila Roberts (Interview)
Week Two
12/8/14   Parajunkee http://www.parajunkee.com Christmas with a Billionaire; Joss Wood (Guest Post)
12/9/2014   That Artsy Reader Girl http://www.thatartsyreadergirl.com/ Brenda Novak (Guest Post)
12/10/2014   Fictitious Delicious http://www.fictitiousdelicious.com Shannon Stacey (Interview)
12/11/2014   Curling Up with a Good Book http://curling-up-with-a-good-book.blogspot.com RaeAnne Thayne (Interview)
12/12/2014   Chicks that Read http://www.chicksthatread.com/ Sarah Morgan (Interview)
Week Three
12/15/2014   Poisoned Rationality http://www.prationality.com Sarah Morgan (Guest Post)
12/16/2014   Bookish Things & More http://www.bookishthingsandmore.com Christmas with a Billionaire; Carole Mortimer (Guest Post)
12/17/2014   Melissa's Eclectic Bookshelf http://melissaseclecticbookshelf.com/ RaeAnne Thayne (Interview)
12/18/2014   The Reading Cafe http://www.thereadingcafe.com/ Sheila Roberts (Guest Post)
12/19/2014   Books a la Mode http://thestephanieloves.blogspot.com/ Brenda Novak (Guest Post)