When I read in Michelle's Bio about her near death experiences…I knew they had to have had an impact of her writing and I knew I wanted to know more. I am so thrilled that she's agreed to share her experiences with us today. I am pleased welcome Michelle Hanson author of Before They Find Us to Melissa's Eclectic Bookshelf:)
Guest Post
 I Swear, I Almost Died
By Michelle A. Hansen
It's true. My bio does say I've had three near-death experiences. The first was closer than the other two. The second was by far the most painful, but the third changed my life forever.
Senior Year of High School, age 17
My sister and I decided to drive from Washington State University in Pullman, WA, to Brigham Young University in Provo, UT, to visit her fiancé (now her husband). We took the two-lane highway down the Idaho Panhandle. Somewhere in the middle of Idaho (I can't say where, because we were basically in Idaho for the entire trip), my sister pulled out to pass a moving van-type truck. I said, "Don't pass. There's a truck coming."
She replied, "I know. I saw it."
By truck, she meant semi, which was behind the pick-up, which I saw. We got halfway around the moving van, and almost collided head-on with the pickup. The moving van drove off the road, the pickup drove off the other shoulder, and we passed in between. I remember thinking, "We are going to die." There was no doubt in my mind, and here is the craziest part—I felt total peace about it.
I was young—had my whole life ahead of me—but in the face of death, I felt an overwhelming peace. It taught me that death was not something to be feared. Of course, my second thought, right after "We are going to die," was "Our mom is going to be so upset." We are her only two children. It would have killed her to lose us both that day.
That was truly the closest I have come to dying. I didn't think we would walk away from it, but those other two drivers saved our lives.
Eight Months After College Graduation, Age 23
It was my first year of teaching high school. I was exhausted, but loving it. In the middle of December, I started having this weird pressure over my ovary. It didn't really hurt, not even enough that I thought it was cramps. It felt like someone pushing down with their thumb. I went to my doctor, and he referred me to an OB/GYN, who scheduled me for an appointment three weeks later.
The following week, I was dragging. I figured I was probably getting sick. I remember sitting at my desk, too exhausted to read or correct papers or do anything. I went home and laid on the couch, but it was Friday night and my husband wanted go to a movie. I dragged myself up and went with him to the theater. In the middle of the movie, I started having terrible cramps. I got up and went to the bathroom, but I could barely walk. The pain came in waves. I had no idea what was wrong with me. And get this—I waited until the end of the movie before I asked my husband to take me to the hospital.
He was like, "What? You can't be that sick."
"No," I said. "Something is seriously wrong. You should take me to the hospital."
In the ER, I started throwing up, so I figured it was some kind of food poisoning. The nurse explained that my body was just trying to get rid of the pain. They ran some tests, did an ultrasound and called in a surgical team. I was in so much pain I was totally willing to die to make it stop. I was SO GLAD when the anesthesiologist showed up and knocked me out.  As it turned out, I had an ectopic pregnancy that was rupturing. (I had shown no signs of being pregnant, so I was completely shocked.)
My husband and I didn't have any understanding of what this diagnosis meant until the next day. The pregnancy had caused internal bleeding. When it was all over, the surgeon said he extracted 20 ounces of blood from my abdomen. If I'd waited until morning to go to the hospital, I probably would have bled to death. So, the second time around, I had no idea I was dying until it was almost too late.
Wednesday, April 10, 2001, age 26
It was one of those very rare stretches were my husband was between jobs. I was teaching full time at Wahluke High School in Mattawa, WA. That morning, I was rushed. As I ran out the door for work, my husband and then two-year-old son yelled, "I love you!" and I yelled back, "Love you! See you later!"
I got into the car, and something made me pause. This thought came into my mind, "What if I never see them again?" Almost immediately, this answer followed, "It would be okay, because I know they love me and they know I love them."
I can tell you, that did not come from me. I would have said, "That would be horrible! I would be crushed if I never saw them again." However, that day, in a rush, I shrugged, accepted that answer and went to school.
Right after lunch, ten minutes into my third block, Honors American Literature class, one of the two absent students showed up with a 30.06 rifle and took the class hostage. He held the class for four SILENT and heart-pounding minutes before he asked me to get the principal. Afterward, the students all said, they stayed calm because I was calm. I didn't cry or scream. I was shaking, but I never once thought about my husband or my son. It was as if the pause in the car that morning had prepared me for what was happening.
We were so lucky. The boy who took our class hostage was eventually convinced to give up the rifle without discharging it. So many other schools have not been as fortunate. After the crime, we had to come back to the same classroom every day until June. It was hard for me and equally hard for my students. And then we began the long process of dealing with the justice system—month after month of continuances and the prosecution telling us nothing.
That spring I lost the ability to concentrate. I literally could not read. I would look at the words, and nothing made it past my eyes. I couldn't plan. I couldn't correct papers. My class became a group therapy session. Everyone in the school was shaken by the crime. Looking back, I realize I probably had PTSD (post-traumatic stress disorder), but I kept telling myself I was fine.
One day, another English teacher came into my classroom and found me staring blankly at the computer screen. He said, "Didn't you start a novel in college?"
I said, "Yeah, but I never finished it."
He said, "You should finish your novel."
That night, I went home and found the manuscript. I read it, hated it, and threw the whole thing in the trash. And, I started over. I wrote before school. I wrote on my prep period. I wrote instead of grading papers. I wrote instead of planning lessons. I finished one novel, then wrote another. And another. I wrote myself out of PTSD.
I haven't stopped writing since.
My biggest concern when I started my first novel was that I would never get another idea for a book. The opposite has happened. I have too many stories in my  head, and not enough time to write them. I have to choose between books every time I start a new project, and the unfinished ones keep pushing at the back of my mind, wanting to have their turn on the page.
April 10, 2001 changed my life because it made me a writer.
The Book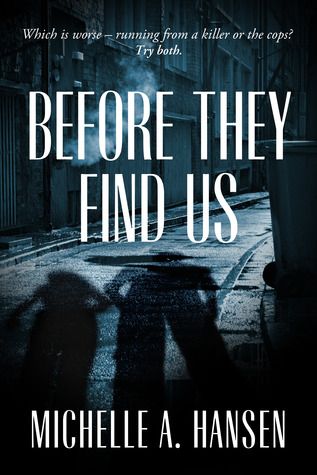 Title: Before They Find Us
Author: Michelle A. Hansen
Age Group: Young Adult
Genre:  Thriller
Pages: 334
Publication Date:  November 2013
Available Formats: Hardcover, E-book, Audio
Find it: Goodreads
Buy it:  Amazon |  Barnes & Noble

Synopsis:
I'm going to make you wish you were dead.
Just a text. Seventeen-year-old Rebecca Hales tries not to worry. Probably a wrong number. Not really meant for her, and definitely not related to the crime she witnessed six years ago. Right?
Then two states away, a bomb goes off in her best friend's locker. Soon Ryan is labeled a terrorist and runs to the safest place he knows—Rebecca's house in small-town Wyoming. It doesn't take long for the FBI to show up asking questions. Rebecca lies, of course, and says she hasn't seen him.
Now she's neck-deep in it with him, whatever "it" is. The only way out is to return to Vegas, where Ryan is a wanted man. The city of lies and illusion tests Rebecca's wits as she struggles to find the person who framed Ryan and why.
Is Rebecca's text linked to the bombing? And what does it have to do with a six year old murder? Rebecca needs to find out before she loses Ryan—and her own life.
The Author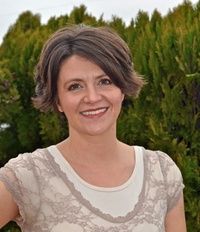 Michelle A. Hansen was raised in southeastern Washington. She earned her bachelor of arts degree in English teaching from Brigham Young University in Provo, Utah, and taught high school English for six years.
Michelle loves Pepsi and Doritos more than chocolate. She loves summertime and hates to be cold. She has had three near-death experiences. She's addicted to office supplies and has an irrationally large stash of pens and notebooks.
Find the author:   Goodreads |  Website | Twitter | Facebook
The Giveaway
Tour wide giveaway (Intl)
$25 Amazon gift card

Signed paperback copy of Before They Find Us

Before They Find Us charm necklace, bookmarks and signed postcard

Ebook copies of Before They Find Us & Painted Blind