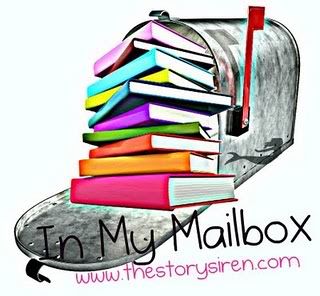 In My Mailbox is a weekly meme created by
The Story Siren
to share whatever books and bookish goodies that you've bought, borrowed, won, or been gifted and have thus entered your home the previous week. You can show off books that you are excited about and it's also a great opportunity to showcase books that you may not actually have the time to read or review.
I had an amazingly busy week and am so thankful to be able to add all of these wonderful books to my TBR Pile:
After Obsession
Aimee and Alan have secrets. Both teens have unusual pasts and abilities they prefer to keep hidden. But when they meet each other, in a cold Maine town, they can't stop their secrets from spilling out. Strange things have been happening lately, and they both feel that something-or someone- is haunting them. They're wrong. Despite their unusual history and powers, it's neither Aimee nor Alan who is truly haunted. It's Alan's cousin Courtney who, in a desperate plea to find her missing father, has invited a demon into her life-and into her body. Only together can Aimee and Alan exorcise the ghost. And they have to move quickly, before it devours not just Courtney but everything around her.
The High Heeled Guide to Spiritual Living
The High Heeled Guide to Spiritual Living is a fiery account of one woman's mission to bring the deeply soulful into mundane everyday life. Having experienced all kinds of eventful living in her spiritual skin Alice Grist presents her empowering secrets of daily spiritual living for the modern woman (and man).
Love Unfinished
Soul mates from the past leave their love unfinished when a tragic accident ends their lives on their wedding day. Yet they are destined to meet again to fulfill that love in new incarnations, leading vastly different lives.
Emma thought she had chosen the right path, but too late does she realize her mistake as her husband reveals the monster behind his smile; morphing their fairytale image with loveless obligation. Trapped in a broken marriage to a powerful, abusive husband, she knows this is not the life she was destined to live. As her hope for love withers, she meets James, her love from a lifetime ago.
Emma cannot deny the love pulling her toward James, but courage to abandon her marriage wavers and unknowingly puts her love on the line. If Emma has any hope of life and love, she must trust the bond with James and be with the man destiny has spent two lifetimes guiding her toward. Are they fated to fulfill their love, or will they once again, leave love unfinished?
For Review:


BeSwitched
After spending hundreds of years under the boot-heel of Idis, a frenzied witch, Surla (a magical black cat) decides to run away to find freedom, but there's one catch– The Black Cats' Rule states it will switch bodies with a lonesome soul.
Cathy, an extremely shy teenage girl, can't muster the guts to ask her crush on a date or stand up to the three biggest snobs at school. What's a girl to do? Could being BeSwitched be the answer to her wishes? 
Three Cups
Teaching children how to save, spend, and be charitable can be as simple as 1, 2, 3.
All parents want to teach their children good money habits from an early age. Many start by giving them an allowance. But it's equally important to teach children a positive, generous attitude as they learn to use money responsibly.
Filled with warm, memorable illustrations by award-winning painter, April Willy, Three Cups is the story of one family's unique and effective method of teaching personal financial management-and how one boy reaped first the small, then the immeasurably great rewards of the lessons he learned.
Families will be delighted with the heart-warming tale and want to integrate the three-cup system in their own children's lives.
(Hardcover: Thanks to Booksneeze)
Seeds of Discovery (Dusk Gate Chronicles)
Quinn Robbins' life was everything she thought a teenager's should be. She has good friends, a family that she loves, good grades, and an after-school job she enjoys. And, she's just been asked out by Zander Cunningham, a popular football player and great guy. But one day when driving home after picking up her little sister from the baby-sitter's, she nearly hits a boy who, after running blindly into the street, mysteriously disappears.
The mystery only deepens as she figures out who the boy is; William Rose, a reclusive, awkward boy from school who always has his nose in a pile of books.
As she becomes more aware of his behavior it becomes more obvious how out of the ordinary William is and how hard he deliberately tries to blend into the background. This only intrigues her more and she finds herself working to find out more about him, and exactly where he keeps disappearing to.
On a whim one night she follows him and suddenly finds herself in a new world. One where William is a prince, literally, and she is treated like a princess. She also discovers that she is stuck; the gate back to her own world isn't always open.
Quinn finds herself smack in the middle of a modern-day fairy tale, on a course that will change her life forever.
(E-Book: Thanks to Breeana Puttroff 🙂 
Cedardale Court
Cedardale Court is a neo-gothic murder mystery with enough fools and old flames to keep you happily mixed up for most of a long weekend. When Canner Connelly and his daughter, Chloe, move in with their Uncle Henry, and a simple drainage problem turns a normal Sunday morning into a slighter darker affair, it's not easy to tell where everyone might end up, or even if they'll make it there at all.
Also For Review:


The Language of Flowers: A Novel
The Kitchen Counter Cooking School: How a Few Simple Lessons 
Transformed Nine Culinary Novices into Fearless Home Cooks
Dearly, Departed
Tea Obreht'sThe Tiger's Wife: A Novel
(Thanks to NetGalley)
What exciting books have come into your hands this week??
Content ©2011-2013 Melissa's Eclectic Bookshelf ~ ~
If you are reading this anywhere other than Melissa's Eclectic Bookshelf, a feed reader, or via email subscription, then this content has been stolen.