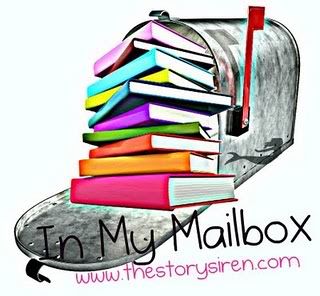 In My Mailbox is a weekly meme created by
The Story Siren
to share whatever books and bookish goodies that you've bought, borrowed, won, or been gifted and have thus entered your home the previous week. You can show off books that you are excited about and it's also a great opportunity to showcase books that you may not actually have the time to read or review.
Added to my Bookshelf for Pleasure:
2 girls + 3 guys + 1 house – parents = 10 things April and her friends did that they (
definitely, maybe, probably
) shouldn't have.
If given the opportunity, what sixteen-year-old wouldn't jump at the chance to move in with a friend and live parent-free? Although maybe "opportunity" isn't the right word, since April had to tell her dad a tiny little untruth to make it happen (see #1: "Lied to Our Parents"). But she and her housemate Vi are totally responsible and able to take care of themselves. How they ended up "Skipping School" (#3), "Throwing a Crazy Party" (#8), "Buying a Hot Tub" (#4), and, um, "Harboring a Fugitive" (#7) at all is kind of a mystery to them.
In this hilarious and bittersweet tale, Sarah Mlynowski mines the heart and mind of a girl on her own for the first time. To get through the year, April will have to juggle a love triangle, learn to do her own laundry, and accept that her carefully constructed world just might be falling apart . . . one thing-she-shouldn't-have-done at a time.
Magic comes in all forms. 
Sixteen year-old Melody Blackstone is a witch. And in the Christian community of Welbourne, Kansas, she's as welcome as The Devil. 
When she meets newcomer Van Masterson—intelligent, charismatic, but an outcast like herself—she's dangerously drawn to him, unaware of his dark past and what wickedness he's planning. 
Soon after his arrival, Melody struggles to understand why she sees little black imps, has visions of a graveyard interloper, and hears the whispers of someone else's thoughts. A visit from her dead father leaves her with even more questions. 
Spells, incantations, rituals and a group of lost souls raising hell, stir up the quiet town. And the outraged residents of Welbourne are quick to point the finger at the Witches of Blackstone Farm. 
Even as Melody begins falling in love with Van, she's forced to accept the critical role she plays in his objective—to become the Devil's son, limitless in what his evil powers can do.
Maya is an accomplished psychiatry resident with a terrific boyfriend, loving family, and bustling New York social life. When her grandmother dies in India, a family squabble over property results in a curse that drifts across continents and threatens Maya's life. Or so her father says– Maya (being a modern woman, an American, and a doctor, for goodness' sake) doesn't believe in curses, Brahman, or otherwise. But when her father suffers a heart attack, her sister miscarries, and her career and relationship both start to falter, Maya starts to worry. A trip back to India with her best friend Heidi, Maya reasons, will be just what's needed to remove the curse, save her family, and to put her own life back in order. Thus begins a journey into Maya's parallel world– an India filled with loving and annoying relatives, vivid colors, and superstitious customs–a cross-cultural, transcontinental search to for a chance to find real love.
Is nothing sacred? The last thing Carmela Bertrand and her friend Ava expected to bear witness to in St. Tristan's Church was a crime. But now a beloved member of their scrapbooking circle lies lifeless next to a smashed statue of St. Sebastien-and a mysterious hooded figure has absconded with an antique crucifix. 
As Carmela and Ava are drawn deeper into New Orleans' French Quarter in search of the missing crucifix, they may need the help of more than a few patron saints. Because this is one killer they don't want to cross…
A detective with a secret lineage. An undercover Hunter with a bullet-proof soul. And a world made to pay for the sins of an angel… 
Homicide detective Alexandra Jarvis answers to no one. Especially not to the new partner assigned to her in the middle of a gruesome serial killer case—a partner who is obstructive, irritatingly magnetic, and arrogant as hell. 
Aramael is a Power—a hunter of the Fallen Angels. A millennium ago, he sentenced his own brother to eternal exile for crimes against humanity. Now his brother is back and wreaking murderous havoc in the mortal realm. To find him, Aramael must play second to a human police officer who wants nothing to do with him and whose very bloodline threatens both his mission and his soul. 
Now, faced with a fallen angel hell-bent on triggering the apocalypse, Alex and Aramael have no choice but to join forces, because only together can they stop the end of days.
Newly widowed and desperate to protect her estate and beloved servants from her malevolent brother-in-law, Martha Russell conceives a daring plan. Or rather, a daring plan to conceive. After all, if she has an heir on the way, her future will be secured. Forsaking all she knows of propriety, Martha approaches her neighbor, a London exile with a wicked reputation, and offers a strictly business proposition: a month of illicit interludes . . . for a fee. 
Theophilus Mirkwood ought to be insulted. Should be appalled. But how can he resist this siren in widow's weeds, whose offer is simply too outrageously tempting to decline? Determined she'll get her money's worth, Theo endeavors to awaken this shamefully neglected beauty to the pleasures of the flesh—only to find her dead set against taking any enjoyment in the scandalous bargain. Surely she can't resist him forever. But could a lady's sweet surrender open their hearts to the most unexpected arrival of all . . . love?
On May 31, 2009, a committed team of sailors, scientists, teachers and conservationists joined forces on a voyage that was vast in scope and ambition but launched under the simplest of ideas: The continents of North and South America are a single island, surrounded by a shared ocean, and with a common set of challenges, communities, issues, and solutions. To put it in the simplest terms, we creatures of the land are utterly dependent on the sea around us, and we'd better take care of it, or it won't take care of us. This book tells the story of that amazing adventure, and sounds a call to action for everyone who loves this planet.
In a journey that took 13 months, the Ocean Watch circumnavigated the Americas, documenting the beauty that exists, the peoples who rely on our oceans, and the changes that are happening all too fast.


Added to my Bookshelf for Review:
Luis de Santángel, chancellor to the court and longtime friend of the lusty King Ferdinand, has had enough of the Spanish Inquisition. As the power of Inquisitor General Tomás de Torquemada grows, so does the brutality of the Spanish church and the suspicion and paranoia it inspires. When a dear friend's demise brings the violence close to home, Santángel is enraged and takes retribution into his own hands.  But he is from a family of
conversos
, and his Jewish heritage makes him an easy target. As Santángel witnesses the horrific persecution of his loved ones, he begins slowly to reconnect with the Jewish faith his family left behind. Feeding his curiosity about his past is his growing love for Judith Migdal, a clever and beautiful Jewish woman navigating the mounting tensions in Granada. While he struggles to decide what his reputation is worth and what he can sacrifice, one man offers him a chance he thought he'd lost…the chance to hope for a better world. Christopher Columbus has plans to discover a route to paradise, and only Luis de Santángel can help him. 
   Within the dramatic story lies a subtle, insightful examination of the crisis of faith at the heart of the Spanish Inquisition. Irresolvable conflict rages within the conversos in By Fire, By Water, torn between the religion they left behind and the conversion meant to ensure their safety. In this story of love, God, faith, and torture, fifteenth-century Spain comes to dazzling, engrossing life.
Added to my nook for Pleasure:
| | | |
| --- | --- | --- |
| Entangled | Witch Way | Sweet Inspiration |
| Sweet Magik | The Magi | Christmas at Harrington's |
| Clues to Christie: The Definitive Guide | Honor Bound | Child of the Mist |
Added to my nook For Review:
Another great week for me…I am so thankful for the amazing ARCS and winning Sweet Inspiration and Sweet Magik which look like they will be great fun holiday romances!  I'm also thrilled to have gotten the personalized and autographed copy of The Witch and The Devil's Son as a prize for helping to pick the new cover!
  And as usual…I downloaded way too many free e-books!!! 
Content ©2011-2013 Melissa's Eclectic Bookshelf ~ ~
If you are reading this anywhere other than Melissa's Eclectic Bookshelf, a feed reader, or via email subscription, then this content has been stolen.