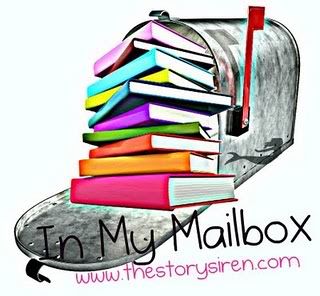 In My Mailbox is a weekly meme created by The Story Siren to share whatever books and bookish goodies that you've bought, borrowed, won, or been gifted and have thus entered your home the previous week. You can show off books that you are excited about and it's also a great opportunity to showcase books that you may not actually have the time to read or review.


Since I took a week off from blogging due to
the loss of my Beloved Milo
, this is a double edition.  Two weeks for of books. And if you know me…that means a ton of new e-books!! Yes, I am addicted to my nook and e-books!!
Added to my Bookshelf for Pleasure:
Paperback copy of
Lorna Crawford has a great boyfriend, longtime friends, and a well-paying job as special- events coordinator at a premium ice-cream manufacturer. But, out of sorts and filled with self-doubt, the 33 year old soon realizes that what she really wants is to stay on the spiritual path she keeps diving off of. Lorna jump-starts her efforts at a silent yoga retreat. But after returning from the mountain, she quickly loses her connection in the face of scheming coworkers, judgmental girlfriends, and, especially, her overly critical mother. Lorna also wrestles over her future with her boyfriend, a hot guy who takes her to the hottest places, but who can't discern a meditation cushion from a toad stool. Reading spiritual books and visiting a channeler and energy healer move Lorna forward, but her confusion remains. Lorna's seeking is put to the ultimate test when personal tragedy strikes. Will she come to truly understand that living spiritually has little to do with how you pretzel yourself on the yoga mat (although she gets plenty good at that), and everything to do with embracing the twists in everyday life?





When her boyfriend breaks up with her on the first day of sophomore year, Lucy has no idea how she's going to make it through homeroom, let alone the rest of her life. Enter three stunning girls with a magical offer Lucy can't refuse. All she has to do is get a guy to fall in love with her in the next seven days, and then…break his heart and collect one of his brokenhearted tears. As the girls teach Lucy how to hook a guy (with the help of a little magic), she quickly discovers how far she is willing to go—and who she is willing to cross—to get what she wants. 
Hardcover copy of
The Twin's Daughter
by Lauren Baratz-Logsted
Lucy Sexton is stunned when a disheveled woman appears at the door one day…a woman who bears an uncanny resemblance to Lucy's own beautiful mother. It turns out the two women are identical twins, separated at birth, and raised in dramatically different circumstances. Lucy's mother quickly resolves to give her less fortunate sister the kind of life she has never known. And the transformation in Aunt Helen is indeed remarkable. But when Helen begins to imitate her sister in every way, even Lucy isn't sure at times which twin is which. Can Helen really be trusted, or does her sweet face mask a chilling agenda?
="text-align:>
Hardcover copy of
The Flame Alphabet
by Ben Marcus
From one of the most innovative and important writers of his generation: a brilliant, mesmerizingly dark new novel in which the speech of children is killing their parents.
At first it's just Jews–then everyone. People are leaving their families to survive. Sam's wife, Claire, is already stricken and near death. In a year or two, as she grows into adulthood, their daughter, Esther, too, will become a victim. Sam and Claire decide to leave Esther on her own, hoping a "cure" will miraculously appear. Sam's car is waved off the road at a government-run laboratory where horrific tests are being conducted to create non-lethal speech. Throngs bang on the doors to be subject volunteers; they're all carried out half-dead. When Sam realizes what's going on, he makes a desperate escape, vowing that if he dies it will be with his family, the only refuge of sanity and love.
How do you feel? Sometimes you feel happy, sometimes sad. At times you feel curious, but that may be followed by feeling . . . surprised. And of course you feel bored or lonely once in a while as well. With spare words and simple, graphic illustrations, quintessential chimp renderer Anthony Browne draws on insight and humor to reassure children with an exploration of the varied emotions they experience.
Added to my Bookshelf for Review:
All marriages have a breaking point. All families have wounds. All wars have a cost. . . .
Like many couples, Michael and Jolene Zarkades have to face the pressures of everyday life—children, careers, bills, chores—even as their twelve-year marriage is falling apart. Then an unexpected deployment sends Jolene deep into harm's way and leaves defense attorney Michael at home, unaccustomed to being a single parent to their two girls. As a mother, it agonizes Jolene to leave her family, but as a solider she has always understood the true meaning of duty. In her letters home, she paints a rose-colored version of her life on the front lines, shielding her family from the truth. But war will change Jolene in ways that none of them could have foreseen. When tragedy strikes, Michael must face his darkest fear and fight a battle of his own—for everything that matters to his family.
Added to my nook for Pleasure:
(All three purchased from BN.com)
Added to my nook for Review:
(The first three are courtesy of the authors as part of blog tours and the last three courtesy of the publishers via NetGalley)
What exciting books have come into your hands this week??
Content ©2011-2013 Melissa's Eclectic Bookshelf ~ ~
If you are reading this anywhere other than Melissa's Eclectic Bookshelf, a feed reader, or via email subscription, then this content has been stolen.