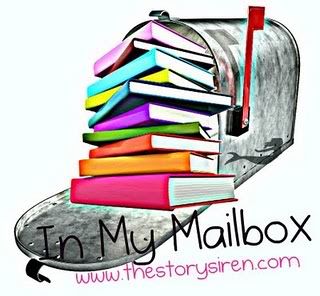 In My Mailbox is a weekly meme created by
The Story Siren
to share whatever books and bookish goodies that you've bought, borrowed, won, or been gifted and have thus entered your home the previous week. You can show off books that you are excited about and it's also a great opportunity to showcase books that you may not actually have the time to read or review.
Added to my Bookshelf for Pleasure:
 Emily Benedict came to Mullaby, North Carolina, hoping to solve at least some of the riddles surrounding her mother's life. Such as, why did Dulcie Shelby leave her hometown so suddenly? And why did she vow never to return? But the moment Emily enters the house where her mother grew up and meets the grandfather she never knew—a reclusive, real-life gentle giant—she realizes that mysteries aren't solved in Mullaby, they're a way of life: Here are rooms where the wallpaper changes to suit your mood. Unexplained lights skip across the yard at midnight. And a neighbor bakes hope in the form of cakes.
Everyone in Mullaby adores Julia Winterson's cakes—which is a good thing, because Julia can't seem to stop baking them. She offers them to satisfy the town's sweet tooth but also in the hope of rekindling the love she fears might be lost forever. Flour, eggs, milk, and sugar . . . Baking is the only language the proud but vulnerable Julia has to communicate what is truly in her heart. But is it enough to call back to her those she's hurt in the past?
Can a hummingbird cake really bring back a lost love? Is there really a ghost dancing in Emily's backyard? The answers are never what you expect. But in this town of lovable misfits, the unexpected fits right in.
 
In 1940, Iris James is the postmistress in coastal Franklin, Massachusetts. Iris knows more about the townspeople than she will ever say, and believes her job is to deliver secrets. Yet one day she does the unthinkable: slips a letter into her pocket, reads it, and doesn't deliver it.

Meanwhile, Frankie Bard broadcasts from overseas with Edward R. Murrow. Her dispatches beg listeners to pay heed as the Nazis bomb London nightly. Most of the townspeople of Franklin think the war can't touch them. But both Iris and Frankie know better…

The Postmistress is a tale of two worlds-one shattered by violence, the other willfully naïve-and of two women whose job is to deliver the news, yet who find themselves unable to do so. Through their eyes, and the eyes of everyday people caught in history's tide, it examines how stories are told, and how the fact of war is borne even through everyday life.
 
Few things are as lasting as the bond between sisters. In her poignant debut, Elizabeth Bass explores the lengths one cobbled-together family will go to for each other. . .
Sassy Spinster Farm is a place to find solace. At least, that's what it's become since Rue and her sister, Laura, transformed their childhood Texas homestead into a successful tourist destination. It's where Rue is raising her pre-teen daughter on her own—while trying to keep her outspoken sister in check. It's not easy, but together, it seems there's nothing the two can't handle—until an unexpected, and not entirely welcome guest shows up in the middle of one warm summer night.
Moving and uplifting, here is a beautifully written novel about the bonds we are born into and those we create for ourselves—and of the strength that comes in loving without limits.
 
Set in a posh hotel in nineteenth-century Dublin, Albert Nobbs is the story of an unassuming waiter hiding a shocking secret. Forced one night to share his bed with an out-of-town laborer, Albert Nobbs' carefully constructed facade nearly implodes when the stranger discovers his true identity—that he's actually a woman. Forced by this revelation to look himself in the mirror, Albert sets off in a desperate pursuit of companionship and love, a search he's unwilling to abandon so long as he's able to preserve his fragile persona at the same time. A tale of longing and romance, Albert Nobbs is a moving and startlingly frank gender-bending tale about the risks of being true to oneself.
 Twenty-two-year-old Skeeter has just returned home after graduating from Ole Miss. She may have a degree, but it is 1962, Mississippi, and her mother will not be happy till Skeeter has a ring on her finger. Skeeter would normally find solace with her beloved maid Constantine, the woman who raised her, but Constantine has disappeared and no one will tell Skeeter where she has gone.

Aibileen is a black maid, a wise, regal woman raising her seventeenth white child. Something has shifted inside her after the loss of her own son, who died while his bosses looked the other way. She is devoted to the little girl she looks after, though she knows both their hearts may be broken.

Minny, Aibileen's best friend, is short, fat, and perhaps the sassiest woman in Mississippi. She can cook like nobody's business, but she can't mind her tongue, so she's lost yet another job. Minny finally finds a position working for someone too new to town to know her reputation. But her new boss has secrets of her own.

Seemingly as different from one another as can be, these women will nonetheless come together for a clandestine project that will put them all at risk. And why? Because they are suffocating within the lines that define their town and their times. And sometimes lines are made to be crossed.
 
"I'm extraordinarily patient, provided I get my own way in the end." Long-standing (1979-1990) British prime minister Margaret Thatcher made no apologies for her unflinching attitude. In fact, when a Russian defense ministry newspaper derisively nicknamed her "The Iron Lady," she embraced the term. In this paperback original, the only U.S. one-volume account of Thatcher's life, veteran biographer John Campbell presents a formidable portrait of this indomitable leader. (P.S. Meryl Streep will portray Thatcher in the already much-heralded December release, also titled The Iron Lady.)
The first three I bought used at our local GoodWill store.  
The last three were a prize pack won from Penguin!  
Added to my nook for Pleasure:
A Hidden Fire (Elemental Mysteries)
Added to my nook for Review:
What exciting books have come into your hands this week??
Content ©2011-2013 Melissa's Eclectic Bookshelf ~ ~
If you are reading this anywhere other than Melissa's Eclectic Bookshelf, a feed reader, or via email subscription, then this content has been stolen.