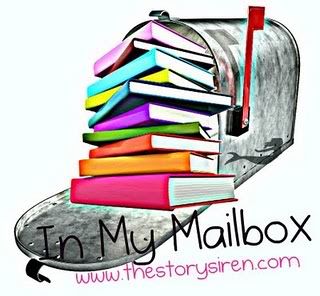 In My Mailbox is a weekly meme created by The Story Siren to share whatever books and bookish goodies that you've bought, borrowed, won, or been gifted and have thus entered your home the previous week. You can show off books that you are excited about and it's also a great opportunity to showcase books that you may not actually have the time to read or review.

Paris in Love: A Memoir
 – Eloisa James
In 2009, 
New York Times
 bestselling author Eloisa James took a leap that many people dream about: she sold her house, took a sabbatical from her job as a Shakespeare professor, and moved her family to Paris.
Paris in Love: A Memoir
 chronicles her joyful year in one of the most beautiful cities in the world.
With no classes to teach, no committee meetings to attend, no lawn to mow or cars to park, Eloisa revels in the ordinary pleasures of life—discovering corner museums that tourists overlook, chronicling Frenchwomen's sartorial triumphs, walking from one end of Paris to another. She copes with her Italian husband's notions of quality time; her two hilarious children, ages eleven and fifteen, as they navigate schools—not to mention puberty—in a foreign language; and her mother-in-law Marina's raised eyebrow in the kitchen (even as Marina overfeeds Milo, the family dog).  
Paris in Love invites the reader into the life of a most enchanting family, framed by la ville de l'amour.
The Angel At No. 33 – Polly Williams  
Some love stories never end
One evening Sophie Brady kisses her husband, Ollie, and young son Freddie goodbye, closing the door on number thirty-three. At ten pm she's with her best friend Jenny, polishing off a second bottle of wine. By midnight, she's dead. Except she doesn't feel dead… 
How can she leave the people she loves? Ollie is a man who once watered a houseplant for a year before realising it was plastic. Freddie is so little. And Jenny? There's something she desperately needs to know…
Rhodes Scholar Gloria Zimmerman has come to Oxford University to study feminist poetry. Yet the rigors of academia pale in comparison to her untreated Obsessive-Compulsive Disorder, fueled by her overachieving parents and manifested in a deathly aversion to germs and human contact. Her next-door neighbor (who is also, to her mortification, her loomate) is Henry Young, the appealing but underachieving English music student. Still mourning the death of his supportive mother while enduring the mockery of his disapproving and merciless father, Henry is haunted by the unexpectedly serious ramifications of a reckless and tragic youth. 
Gloria and Henry's relationship evolves from a shared obsession with Van Morrison's music into a desire to fill the gaps in each other's lives. Yet the constraints of a debilitating illness and the looming revelation of a catastrophic secret conspire to throw their worlds into upheaval and threaten the possibilities of their unlikely yet redemptive love.
Protecting their children comes naturally for Zoe and Will Tyler—until their daughter Leah decides to actively destroy her own future.
Leah grew up in a privileged upper-middle class world. Her parents spared no expense for her happiness; she had all-but secured an Ivy League scholarship and a future as a star athlete. Then she met Todd.
Leah's parents watch helplessly as their daughter falls into a world of drugs, sex, and wild parties. While Will attempts to control his daughter's every move to prevent her from falling deeper into this dangerous new life, Zoe prefers to give Leah slack in the hope that she may learn from her mistakes. Their divided approach drives their daughter out of their home and a wedge into their marriage.
Twelve-year-old Justine observes Leah's rebellion from the shadows of their fragmented family. She desperately seeks her big sister's approval and will do whatever it takes to obtain it. Meanwhile she is left to question whether her parents love her and whether God even knows she exists.
What happens when love just isn't enough? Who will pay the consequences of Leah's vagrant lifestyle? Can this broken family survive the destruction left in Leah's wake?
Content ©2011-2013 Melissa's Eclectic Bookshelf ~ ~
If you are reading this anywhere other than Melissa's Eclectic Bookshelf, a feed reader, or via email subscription, then this content has been stolen.