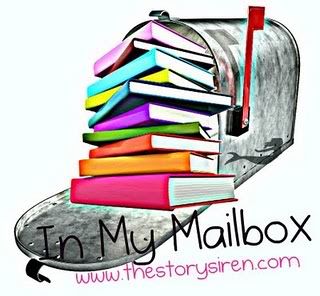 In My Mailbox is a weekly meme created by
The Story Siren
to share whatever books and bookish goodies that you've bought, borrowed, won, or been gifted and have thus entered your home the previous week. You can show off books that you are excited about and it's also a great opportunity to showcase books that you may not actually have the time to read or review.
 Hardcover of The Song Remains the Same – Allison Winn Scotch
One of only two survivors of a plane crash, Nell Slattery wakes in the hospital with no memory of the horrific experience-or who she is, or was. Now she must piece together both body and mind, with the help of family and friends, who have their own agendas. She filters through photos, art, music, and stories, hoping something will jog her memory, and soon, in tiny bits and pieces, Nell starts remembering. . . .
It isn't long before she learns to question the stories presented by her mother, her sister and business partner, and her husband. In the end, she will discover that forgiving betrayals small and large will be the only true path to healing herself-and to finding happiness.
ARC of The Hunt – Andrew Fukuda
Don't Sweat.  Don't Laugh.  Don't draw attention to yourself.  And most of all, whatever you do, do not fall in love with one of them.
Gene is different from everyone else around him.  He can't run with lightning speed, sunlight doesn't hurt him and he doesn't have an unquenchable lust for blood.  Gene is a human, and he knows the rules.  Keep the truth a secret.  It's the only way to stay alive in a world of night—a world where humans are considered a delicacy and hunted for their blood.
When he's chosen for a once in a lifetime opportunity to hunt the last remaining humans, Gene's carefully constructed life begins to crumble around him.  He's thrust into the path of a girl who makes him feel things he never thought possible—and into a ruthless pack of hunters whose suspicions about his true nature are growing. Now that Gene has finally found something worth fighting for, his need to survive is stronger than ever—but is it worth the cost of his humanity?
16 years old Lacey was never the center of attention, unless she was tripping, stammering, or being deposited into a pool by the local popular kids. All she wanted was to fit in, until one night when everything changed.
Jade and Tasha, her two best friends, helped her create an online personality that was everything she wanted to be – and it was only the beginning. In doing so she attracted the attention of Henry, her lifelong crush and next door neighbor. Unfortunately it was Farrah her online personality and not herself he was interested in.
She also attracted Chase the brooding, quiet, anti-social new kid of Brownsburg High School, who easily figured out her secret and blackmailed her. They forged a friendship that was both unique and complicated.
Lacey must decide if revealing herself to Henry and her entire school as the cool, charming, and funny Farrah is worth possibly losing him forever, and she finds herself needing to make an even harder decision than she ever thought possible. When did the lines between truth and lies get so blurred?
Becoming a Butterfly is a story about coming of age and finding yourself when you never knew you were lost.
Sam Elliot works for an internet dating company, but he still can't get a date. So he creates an algorithm that will match you with your soul mate. Sam meets the love of his life, a coworker named Meredith, but he also gets fired when the company starts losing all their customers to Mr. and Ms. Right.
When Meredith's grandmother, Livvie, dies suddenly, Sam uses his ample free time to create a computer program that will allow Meredith to have one last conversation with her grandmother. Mining from all her correspondence—email, Facebook, Skype, texts—Sam constructs a computer simulation of Livvie who can respond to email or video chat just as if she were still alive. It's not supernatural, it's computer science.
Meredith loves it, and the couple begins to wonder if this is something that could help more people through their grief. And thus, the company RePose is born. The business takes off, but for every person who just wants to say good-bye, there is someone who can't let go. 
In the meantime, Sam and Meredith's affection for one another deepens into the kind of love that once tasted, you can't live without. But what if one of them suddenly had to? This entertaining novel, delivers a charming and bittersweet romance as well as a lump in the throat exploration of the nature of love, loss, and life (both real and computer simulated). Maybe nothing was meant to last forever, but then again, sometimes love takes on a life of its own.
An original fairy tale about a princess who hires the witch from The Frog Prince to get revenge on a Mean Girl at school. What could go wrong?
Content ©2011-2013 Melissa's Eclectic Bookshelf ~ ~
If you are reading this anywhere other than Melissa's Eclectic Bookshelf, a feed reader, or via email subscription, then this content has been stolen.