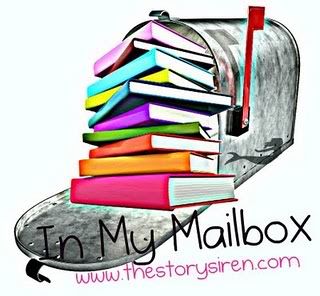 In My Mailbox is a weekly meme created by The Story Siren to share whatever books and bookish goodies that you've bought, borrowed, won, or been gifted and have thus entered your home the previous week. You can show off books that you are excited about and it's also a great opportunity to showcase books that you may not actually have the time to read or review.



Added to my Bookshelf for Pleasure:
When Rose's mom dies, she leaves behind a brown paper bag labeled Rose's Survival Kit. Inside the bag, Rose finds an iPod, with a to-be-determined playlist; a picture of peonies, for growing; a crystal heart, for loving; a paper star, for making a wish; and a  paper kite, for letting go.
As Rose ponders the meaning of each item, she finds herself returning again and again to an unexpected source of comfort. Will is her family's gardener, the school hockey star, and the only person who really understands what she's going through. Can loss lead to love?


Added to my Bookshelf for Review:


Lately strange things have been happening to Daire Santos. Animals follow her, crows mock her, and glowing people appear out of nowhere. Worried that Daire is having a nervous breakdown, her mother packs her off to stay in the dusty plains of Enchantment, New Mexico with a grandmother she's never met. 
There she crosses paths with Dace, a gorgeous guy with unearthly blue eyes who she's encountered before…but only in her dreams. And she'll get to know her grandmother—a woman who recognizes Daire's bizarre episodes for what they are. A call to her true destiny as a Soul Seeker, one who can navigate between the worlds of the living and the dead. Her grandmother immediately begins teaching her to harness her powers—but it's an art that must be mastered quickly. Because Dace's brother is an evil shape-shifter who's out to steal her powers. Now Daire must embrace her fate as a Soul Seeker and find out if Dace is one guy she's meant to be with…or if he's allied with the enemy she's destined to destroy.
Added to my nook for Pleasure:


The Catastrophic History of You and Me – Jess Rothenberg
Dying of a broken heart is just the beginning…. Welcome to forever. 
BRIE'S LIFE ENDS AT SIXTEEN: Her boyfriend tells her he doesn't love her, and the news breaks her heart—literally. 
But now that she's D&G (dead and gone), Brie is about to discover that love is way more complicated than she ever imagined. Back in Half Moon Bay, her family has begun to unravel. Her best friend has been keeping a secret about Jacob, the boy she loved and lost—and the truth behind his shattering betrayal. And then there's Patrick, Brie's mysterious new guide and resident Lost Soul . . . who just might hold the key to her forever after. 
With Patrick's help, Brie will have to pass through the five stages of grief before she's ready to move on. But how do you begin again, when your heart is still in pieces?
Added to my Nook for Review:
Girl I've loved, girl I'm falling for. Now that they're both in view, the problem is clear. 
After losing Sarah, the friend he's loved, to some other guy, Jameson meets Sky. Her Native American roots, fluid movements, and need for brutal honesty become addictive fast. This is good. Jameson needs distraction – his dad leaves for another woman, his mom's walking around like a zombie, and Sarah's new boyfriend can't keep his hands off of her. 
As he spends time with Sky and learns about her village, her totems, and her friends with drums – she's way more than distraction. Jameson's falling for her fast. 
But Sky's need for honesty somehow doesn't extend to her life story – and Jameson just may need more than his new girl to keep him distracted from the disaster of his senior year.
Content ©2011-2013 Melissa's Eclectic Bookshelf ~ ~
If you are reading this anywhere other than Melissa's Eclectic Bookshelf, a feed reader, or via email subscription, then this content has been stolen.