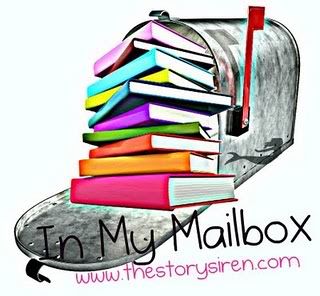 In My Mailbox is a weekly meme created by
The Story Siren
to share whatever books and bookish goodies that you've bought, borrowed, won, or been gifted and have thus entered your home the previous week. You can show off books that you are excited about and it's also a great opportunity to showcase books that you may not actually have the time to read or review.
Murder Unleashed: A Novel
Unscrupulous bankers, abandoned homes, and a cold-blooded killer on the loose: Mags Rogers and her wire-haired dachshund, Baxter, dig up the dirt in the second scintillating novel in New York Times bestselling author Rita Mae Brown's delightful new series featuring some doggedly determined canine sleuths and their intrepid human companions.
Settling into ranch life outside Reno, Nevada, with her gregarious great-aunt Jeep Reed and Jeep's German Shepherd, King, former Wall Street trader Mags doesn't miss the cutthroat world of investment banking—because its destructive tentacles have reached westward to the Silver State. The foreclosure crisis has taken a huge bite out of the local real estate market, where rows of homes sit unsold and forsaken—but not empty.
A group of squatters, including desperate single mothers with children, are living under the radar in the houses on Reno's Yolanda Street—without water or electricity. Big-hearted real estate broker Babs Gallagher enlists Jeep and Mags to start a community outreach program, but that means going up against uncaring utility companies, corrupt officials, ruthless politicians—and a merciless murderer. When a former banker is found brutally slain in one of the abandoned homes, the notion of "cutthroat business practices" takes on a whole new meaning.
Baxter, King, and some other canine detectives leave no bone of contention buried as they help their human charges untangle a string of murders rooted deep in the heart of Red Rock Valley's prominent citizenry. Though Reno deputy—and Mags's unofficial significant other—Pete Meadows uncovers evidence of blackmail, shady real estate ventures, and rumors of lost treasure, the killer seems to hold all the cards in a city of gambling and sin. Luckily, Mags, Jeep, and Babs still have a few tricks up their sleeves. As nefarious sexploits and backroom backstabbing reverberate throughout the county, the dogs are officially off the leash—and on the hunt for a killer. Along the way, they encounter curious coyotes, human kindness and treachery, and a long-buried stash of riches.

A Duke's Temptation: The Bridal Pleasures Series
Samuel Charles Aubrey St. Aldwyn, Duke of Gravenhurst, is a radical rogue and champion of unpopular causes. No one would dream that he is also the author of a bestselling series of dark historical novels, a writer accused of corrupting the morals of the public, and a master seducer who counts among his passionate fans wellborn Miss Lily Boscastle. But Lily is no stranger to disrepute.

When her engagement to another man ends in a tarnished image and public disgrace, Lily is forced to seek employment outside London – as housekeeper for Gravenhurst himself. Her sharp wit and sensuality appeal to his wicked instincts – and she's a perfect match for every beguiling move he makes. Yet there's more to him than Lily imagined – a secret known to few living souls, ghosts from the past that haunt both of their futures in ways too dangerous for even the duke to have invented.
Wildefire
Every flame begins with a spark.
Ashline Wilde is having a rough sophomore year. She's struggling to find her place as the only Polynesian girl in school, her boyfriend just cheated on her, and now her runaway sister, Eve, has decided to barge back into her life. When Eve's violent behavior escalates and she does the unthinkable, Ash transfers to a remote private school nestled in California's redwoods, hoping to put the tragedy behind her. But her fresh start at Blackwood Academy doesn't go as planned. Just as Ash is beginning to enjoy the perks of her new school—being captain of the tennis team, a steamy romance with a hot, local park ranger—Ash discovers that a group of gods and goddesses have mysteriously enrolled at Blackwood…and she's one of them. To make matters worse, Eve has resurfaced to haunt Ash, and she's got some strange abilities of her own. With a war between the gods looming over campus, Ash must master the new fire smoldering within before she clashes with her sister one more time… And when warm and cold fronts collide, there's guaranteed to be a storm.
Stuck In Estrogen's Funhouse
Martina "Marti" MacCale, bartender extraordinaire at Flash Point, the best bar in town, is happily married to her best friend, Spencer and having the time of her life… until without warning, her own body rudely sets out to destroy her happiness. Pregnancy tests negative, she becomes a whirlwind of emotion and confusion. And amidst the unexplained mood swings and strange food cravings, she finds herself craving someone who is not her husband… What's a girl to do when not even a good old-fashioned Sex on the Beach can soothe the ache?
Crazy in Paradise
Dying in the middle of the summer in the Florida Keys is sweaty business. Welcome to Tarpon Cove. Madison Westin inherits her aunt's beachfront motel along with a variety of colorful tenant's – drunks, ex-cons and fugitives. Only one problem: First she has to wrestle control from her lawyer and conniving motel manager. She enlists the help of her new best friend who's motto is never leave home without your Glock. Only in South Florida, land of hot tan lines, drugs on demand – not to mention blackmail and murder.
Waking Hours (The East Salem Trilogy)
All towns have secrets. Some have demons.
Welcome to East Salem. A sleepy town with a history older than America where things are just a bit off. Where the supernatural bleeds into the everyday.
And where a tragic murder mystery is underway. A high school girl is found dead in the town park. And where forensic psychiatrist Dani Harris wants answers. All the suspects are teenagers who were at the party with her the night before-but who woke up the next morning with no memory of what transpired. Even though evidence confirms they were all at the scene of the crime.
Former pro-football linebacker-and local celebrity-Tommy Gunderson finds himself drawn to the case. And to Dani-who he last spoke with on their one high school date forever ago. Yet his celebrity status opens doors barred to Dani-so they form an awkward alliance.
They soon realize that there's more to the mystery than murder. And more to the evil they are facing than a mere human killer.

Cascade: A Novel (River of Time Series)
Mom touched my underdress—a gown made six hundred years before—and her eyes widened as she rubbed the raw silk between thumb and forefinger. She turned and touched Lia's gown. "Where did you get these clothes?"
Gabi knows she's left her heart in the fourteenth century and she persuades Lia to help her to return, even though they know doing so will risk their very lives. When they arrive, weeks have passed and all of Siena longs to celebrate the heroines who turned the tide in the battle against Florence—while the Florentines will go to great lengths to see them dead.
But Marcello patiently awaits, and Gabi must decide if she's willing to leave her family behind for good in order to give her heart to him forever.
The Hunger Games Trilogy Boxed Set
The extraordinary, ground breaking New York Times bestsellers The Hunger Games and Catching Fire, along with the third book in The Hunger Games trilogy by Suzanne Collins, Mockingjay, are available for the first time ever in a beautiful boxset edition. Stunning, gripping, and powerful. The trilogy is now complete!
Content ©2011-2013 Melissa's Eclectic Bookshelf ~ ~
If you are reading this anywhere other than Melissa's Eclectic Bookshelf, a feed reader, or via email subscription, then this content has been stolen.